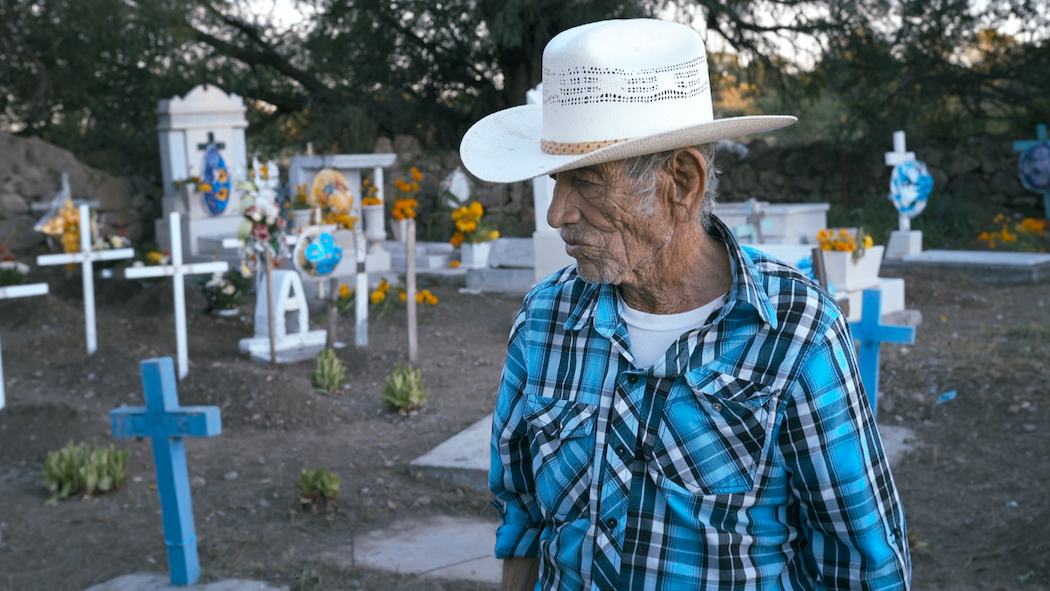 (The 2022 SXSW Film Festival runs March 11-20 in glorious Austin, Texas. Check out Chris Reed's movie review of What We Leave Behind. Join the conversation with HtN on our Letterboxd Page.)
How do we document the life of a loved one and do it justice? Such is the challenge filmmaker Iliana Sosa (Detained in the Desert) sets for herself in What We Leave Behind, her moving tribute to Julián, the aging family patriarch, now in his nineties, and her grandfather. When the movie begins, he is still robust, carrying planks and other items to and from the construction site he has started next to his existing home in San Juan del Rio, Mexico. As the story progresses, though, he declines, as we all must do, aging and shrinking in front of the camera. Sosa intersperses these moving observational scenes with photographs from Julián's earlier life, resulting in a cinematic portrait that is as sweet as it is comprehensive.
We start in the United States, where Sosa grew up, her mother (one of Julian's seven children, all still alive) having emigrated from home when she was 14, courtesy of a so-called "black bridge" of undocumented workers. Julián is there for a visit, and granddaughter Iliana then follows him on the return journey to Mexico for the ensuing narrative. Once back in San Juan del Rio, we meet the nearly blind Jorge, another child, himself now an old man, who lives with his father in a small house, one which Julián plans to leave to him or another son once he's gone. Theirs are the primary interactions we witness, though Julián occasionally addresses Iliana directly, as well.
He's a pleasant old guy, grizzled but jovial, and nice enough to those around him. Widowed at 45, he marvels that he has outlived his wife by so much (and never remarried). He visits her grave at some point, and we see she died at 39, presumably of cancer. He'll join her soon, he imagines, predicting that he only has another year or so left. His final project is that new house next door, for whichever son doesn't get the current one. We watch him interact with the workmen, urging them on before it's too late.
But that's not what we leave behind, the objects we touched and the buildings we inhabited. No, it's the relationships and family we nurtured, and based on the love on display, Julián has much to be proud of. Work hard and live well, and you'll long be remembered, and fondly at that. In the case of the movie What We Leave Behind, you'll also be beautifully photographed (Sosa is one of three credited cinematographers). Justice has, indeed, been served, in the best possible way.
– Christopher Llewellyn Reed (@ChrisReedFilm)
2022 SXSW Film Festival; Iliana Sosa; What We Leave Behind documentary movie review