Wendy is a drifter, almost broke and headed to Alaska to find work in a fishery. She is sober and kind and it's unclear what kind of bad luck has befallen her, but she is petrified about money and keeps track of her expenses in a small notebook. The Thelma to Wendy's Louise is Lucy, a golden mutt as wide-eyed and soft-spoken as her owner. When Wendy's car breaks down somewhere in Oregon and she runs out of dog food, she makes a desperate decision that tips her precarious equilibrium. Suddenly, and silently, she has slipped through the cracks.
Wendy and Lucy is the definition of a small movie. It is compact, barely 80 minutes long, and focuses on just a few days in the life of one petite woman (Wendy is played by Michelle Williams) stranded in a tiny town. Adapted from a story by director Kelly Reichardt's frequent collaborator Jon Raymond, it has the lean arc of a piece of short fiction, free of gristle. Reichardt is a truly economic—and truly gifted—visual storyteller, as proven by Old Joy, her quiet 2006 masterpiece about a damaged male friendship. Wendy and Lucy is not as visually stunning as Old Joy, unfolding in more confined, distinctly human spaces (versus scenes of awesome natural beauty). But it packs even more punch than its lyrical predecessor because, small in scope as it may be, the film raises some awfully timely questions about American life below the poverty line.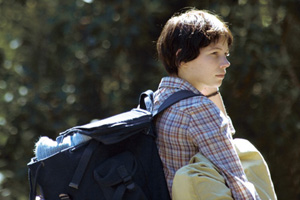 "You can't get a job without a job, you can't get an address without an address," a Walgreen's security guard (Wally Dalton) tells Wendy, laughing at the absurdity of it all. He is the only person who shows Wendy any kindness, or who seems to even notice her, as her situation begins to spiral out of control. We wonder why no one reaches out to help her until it becomes apparent; they can barely help themselves. "We're strapped," Wendy's sister mutters through the payphone, "What do you want us to do?" The specter of hunger and homelessness hardens the people who populate Wendy's world, and their fear of dipping past the point of no return makes them cold. Sensing her desperation, the security guard forces a wad of bills into Wendy's hand, tells her not to argue. When she counts the cash, she is six dollars richer.
Williams imbues her sporadic lines with enough purpose to shed light on Wendy's unspoken past of slim pickings and probable pain. Indeed, the film belongs as much to Williams as it does to Reichardt. The sparsely populated, yet utterly claustrophobic, reality of Wendy's life means that we are alone with her a great deal and a fully realized lead performance is essential to the film's success. Williams' Wendy has doleful eyes and a shy, quavering voice that belies her anger and distrust. In the film's bleakest scene, Wendy is asleep in the woods. A disturbed, muttering man (co-producer Larry Fessenden) approaches her prone form. Wendy awakens with a start. "Don't look at me," he hisses. She covers her mouth with her blanket. We can only see her eyes but they're all that is needed to understand how paralyzed she is, both by this nightmarish moment and by the personal crisis that has her in a figurative full-body cast. We hear a small scream—no more than a squeak really—escape from her lips. Much like Lucy, whining, tied to a bike rack while Wendy heads into the supermarket in search of some sustenance, the sound is heartbreakingly restrained.
— Lena Dunham
(Wendy and Lucy is available on DVD
, Amazon Instant
, and at iTunes through Oscilloscope Pictures. Visit the film's official website to learn more.)