(Wedding Doll, in Hebrew with English subtitles, opens in New York and LA on April 15th. It was nominated for nine Ophir Awards (Israeli Oscars), where it won Best Actress among others.)
When we first meet Hagit, a pretty 24-year-old woman still living at home with Mom, she is painting intricate miniatures in exquisite detail. These figurines – all in wedding attire – are what we see, initially, as director Nitzan Giladi (Yeman Mishpacha) opens his movie with a series of tight close-ups on the objects before finally revealing his protagonist, bathed in the golden hues of a work light. She's single-minded in her focus, both in work and, we will see, in life.
This obstinacy could, in someone else, be a positive, but Hagit is somewhat mentally disabled, and her divorced mother, though loving, can barely keep her wits about her with such a daughter prone to running off on her own. We gradually learn bits here and there about Hagit's occasionally tragic past, but very little of that fraught history seems to touch her, as she lives mainly in the present, where her world is suffused with colors similar to that of her workspace. They live in the desert, overlooking a vast expanse of gorgeous, if desolate, wasteland. It's a haunting visual metaphor for Hagit's prospects in in life: a beautiful person trapped in an unforgiving landscape.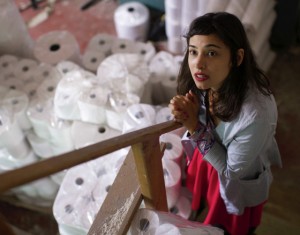 Hagit is played by Moran Rosenblatt (Apples from the Desert), an Israeli actress whom I had never seen before, who brings a quiet emotional power to the part. In her capable hands, Hagit's gentle reserve barely masks the roiling emotions beneath. She dreams of marriage, and not just to anyone, but to Omri, the (non-disabled) son of the man she works for in a decaying toilet-paper factory (the cardboard rolls are the materials with which she makes her dolls). As played by Roy Assaf (Wounded Land), Omri is a bit of a cipher, simultaneously callous and thoughtful. He flirts with Hagit, and seems genuine in his affections, yet also turns a blind eye on the full implications of her obsession. Could he actually be serious? Hagit certainly thinks so.
Alternately sweet and heartbreaking, Wedding Doll holds one's interest throughout, primarily because of Rosenblatt's riveting performance, amply supported by both Assaf and Assi Levy (Ana Arabia) as Sara, Hagit's overwhelmed mother. Cinematographer Roi Rot (Bein HaShmashot) delivers stunning camera work, as well. This is director Giladi's first narrative feature, after a number of documentaries, and he reveals a sure hand with actors and story (he also wrote the script). If at times the drama is too intense – how can Hagit's aspirations in any way be reconciled with the reality of her condition? – what propels it forward is our sense that the threads must somehow come together after such painstaking set-up. The ending, when it comes, is as harrowing as we expect, yet also deeply cathartic. This is fine filmmaking, indeed.
– Christopher Llewellyn Reed (@ChrisReedFilm)