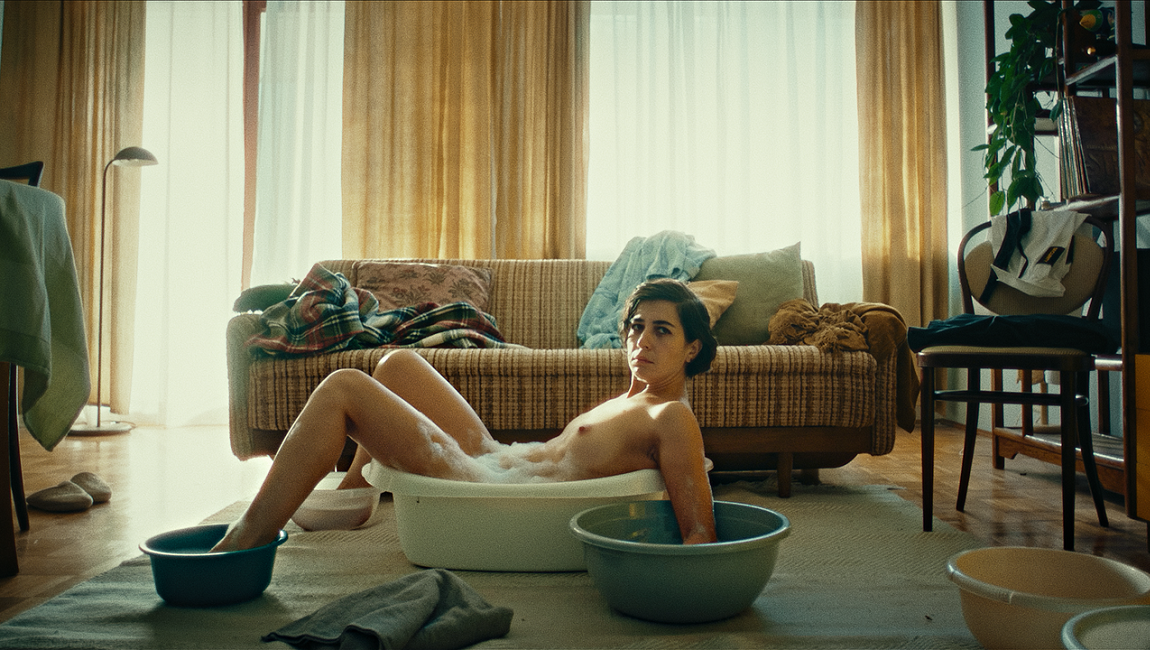 (The 2022 Tribeca Film Festival ran June 9-26 both online and in-person. Check out Jack Schenker's movie review for We Might As Well Be Dead. Seen it? Join the conversation with HtN on our Letterboxd Page.)
Critics have been quick to compare German director Natalia Sinelnikova's latest film, We Might As Well Be Dead, to the work of the Greek auteur Yorgos Lanthimos, with its deadpan humor and dry dialogue. As I watched the film, I understood the Yorgos comparison, however there is also a current of Wes Anderson in there that I think people are missing. Though the plot is loosely structured, the filmmaking is precise. It also has a quirkiness that is hinted at in the title. It is the type of film where you watch certain sequences unaware of whether they are meant to be funny or dramatic. For better or worse, the film feels like Lanthimos-Lite. I always wanted it to go further, but perhaps general audiences will appreciate this film as it is more accessible than something like Dogtooth.
The story follows Anna (Ioana Iacob) as a security officer in a highfalutin, strange and exclusive community. The film doesn't follow a conventional plot structure, rather, Anna deals with a series of issues until she reaches her breaking point. The two most prominent issues are that her daughter will not leave the bathroom and one of the tenants dog's has gone missing. It is the type of movie where it is less about what is actually happening in the plot and more about how it is presented. The story itself, unfortunately, did not interest me as much as the stylings. It is a pretty obvious takedown of Fascism, at times too spoon-fed. Thankfully the unusual dialogue and unique camera work drew me in.
The cinematic stylings become more straightforward as it goes along, however in the first act, the film throws you into a whirlwind of strange. It begins with a desperate family receiving a tour of the property from Anna. Despite the content of this sequence not being particularly odd, the way it is shot is idiosyncratic and creates an eerie mood. It is as if we are watching this sequence from security cameras in the corners of every room. Barely anything in this film is centered. Iacob's performance holds these proceedings together, as she is able to say so much through her facial expressions. While the film can be on the nose about its messaging, it's never on the nose about its characterization. This leaves lots of room for Iacob to deliver a subtle yet powerful performance.
We Might As Well Be Dead is unique for many reasons. It is a dramedy with thriller aesthetics that is making a statement. Sinelnikova is biting off a lot, and she proves for the most part that she can chew it. Another unique aspect of this film is how one of the performances is achieved almost entirely behind a door. There are many sequences between Anna and her daughter with a bathroom door locked in between them. We view these sequences from the perspective of Anna, so we never see the daughter. It is quite an impressive feat that these scenes are the most emotional in the film. In fact, they were the only sequences that made me feel any emotion.  Although the camera work becomes a bit more standard as the story proceeds, the dialogue is always head-scratching. The film does a good job disguising its humor. Generally, I enjoyed the dialogue as it follows in the footsteps of the dry, off-kilter approach to dialogue in The Killing of a Sacred Deer.
Sinelnikova and Iacob are talents to look out for. The director has a clear love for cinema as there is passion behind every shot, and Iacob has the subtle acting chops that normally you would see from a veteran actor. Albeit the film never exploded into the violence I was hoping for, I do appreciate Sinelnikova's willingness to subvert audience expectations so greatly.
– Jack Schenker (@YUNGOCUPOTIS)
2022 TribecaFilm Festival; Natalia Sinelnikova; We Might As Well Be Dead movie review