WE MET IN VIRTUAL REALITY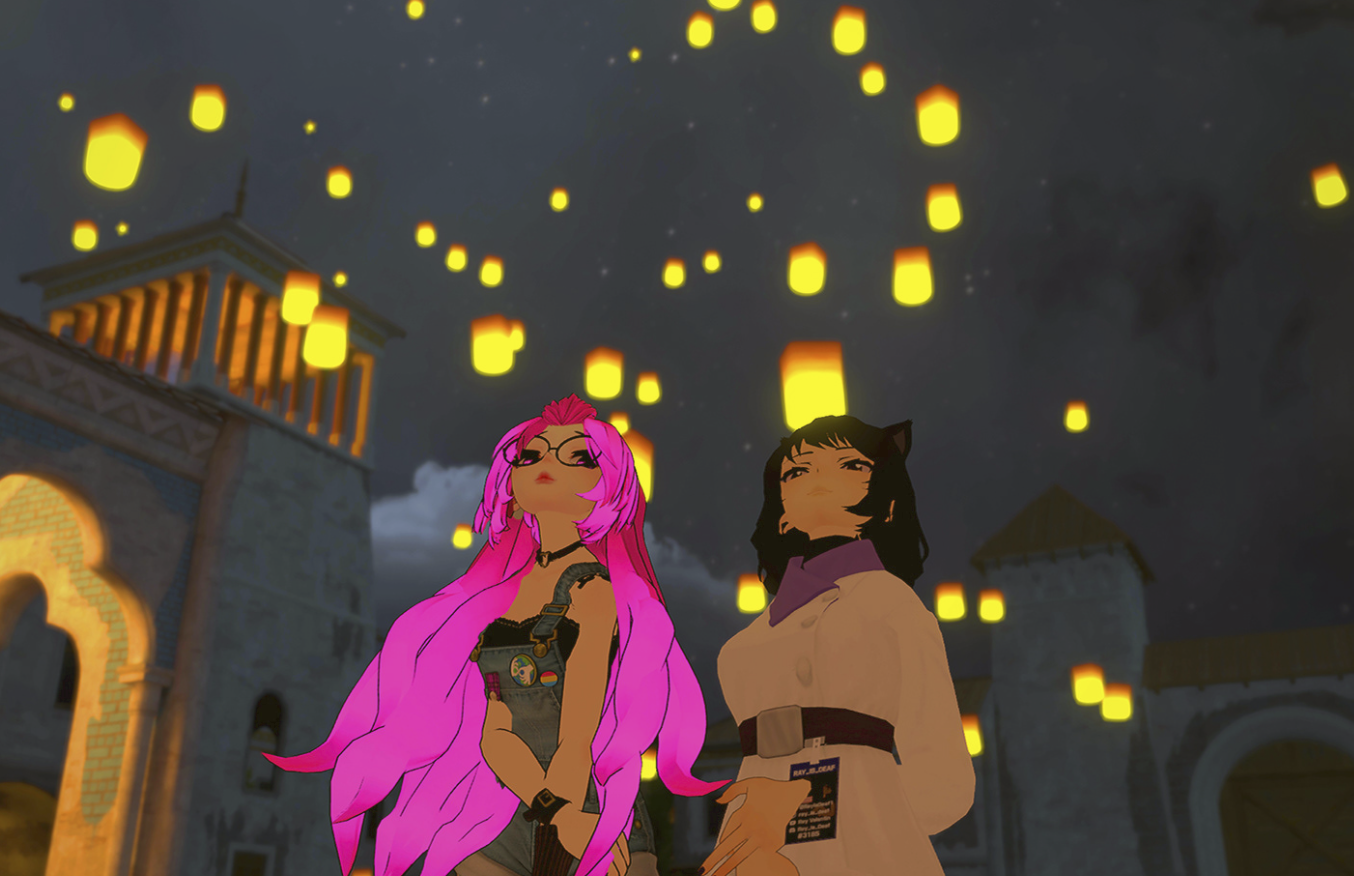 (The 2022 Sundance Film Festival runs January 20-30 all virtually. Check out Melanie Addington's movie review of We Met in VR. Like what you see here on Hammer to Nail? Why not pay just $1.00 per month via Patreon to help keep us going?)
A dust bunny and a toaster fall in love. Gizmo camps out with friends. Kermit learns sign language. If you can dream it, you can be it. The new wild west has been computer based for awhile now but thanks to the pandemic and more affordable virtual reality options, community gathering spots like VRChat have grown exponentially since 2018. Director Joe Hunting sets the world in We Met in Virtual Reality which premiered Friday, January 21 at Sundance.
With traditional documentary storytelling methods yet set in an unconventional setting. Hunting sets the framework of how the world works for non users immediately, showing the variety of communities within VR Chat and the range of motion many with full body sensors have discovered online.
But while VR enthusiasts may be disappointed how little Hunting explores the impact on the world, he does dive instead into the heart of it: human connection at a time we are isolated. Set over the 2020-2021 years of COVID, the relationships span over love stories with one leading even to a VRChat wedding to friendships, new hobbies and skills and even a way to process grief.
Of particular interest to me was Jenny who we meet at the Helping Hands Community where they teach a variety of sign languages within virtual reality. She has an auditory processing disorder and began learning when she met Ray in virtual reality. Now up to 2,000 members are in the deaf/sign language community in VRChat and it is growing steadily.
In fact, representation is something in this utopic world that matters. Not only can you be who you really feel you are, but you can be just about anything. Self-identity is limitless in VR. And sometimes by joining you find out who you really are as is the case for several subjects, interviewed in traditional talking head style about their experiences while as their avatars.
Toaster who met his girlfriend in VR said in his interview that unlike expectations in real life when you come into VR no one knows who you are or who you were. What matters is how you treat them and speak to them and you get to be yourself.
Another interviewee said as non binary it allows them to represent themselves how they see fit that day and while misgendering can happen in the world, there is more a sense of control of how you are seen.
While full body tracking allows for better VR movement. Moving objects in the universe has not quite been perfected so what feels simple like closing a door or walking is amongst the hardest things to get right. But the early pioneers in VRChat are finding a way. For Toaster's girlfriend, Dust Bunny, teaching dance in VRChat lets people try something at home that they may not otherwise.
While Hunting, as a VRChat user, may not have provided the most subjective look at the movement, he does remind us that in the two years we have struggled with loss, mental health and isolation, in one world people found not just romantic love but friendship, kinship and acceptance and that is quite the feat.
The film has a second screening available January 22-25 for replay at Sundance. .
– Melanie Addington (@MelAddington)