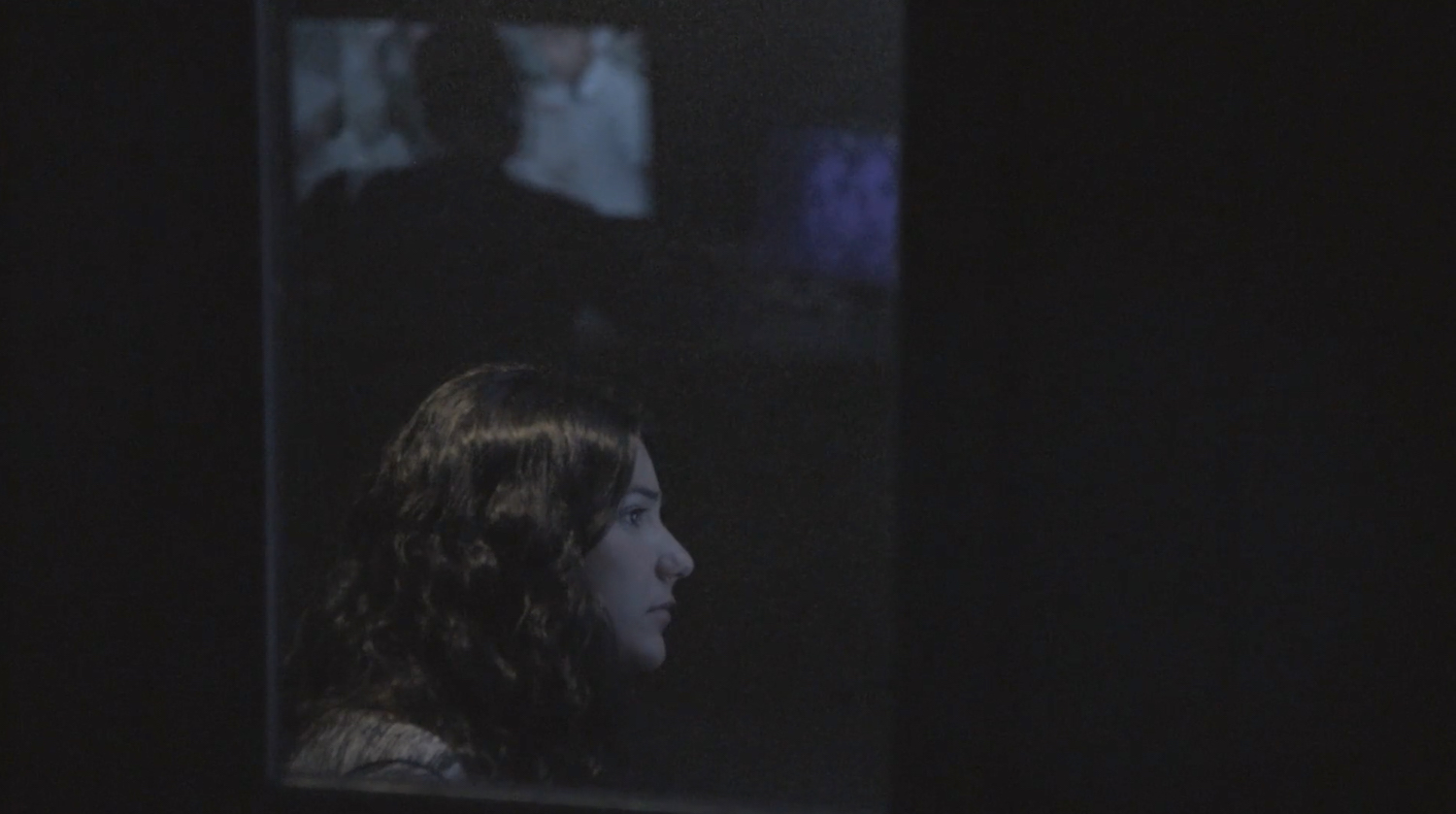 (DOC NYC ran online Nov 11 – 19, 2020 and Hammer to Nail has TONS of reviews to keep you in the loop! Like what you see here on Hammer to Nail? Why not give just $1.00 per month via Patreon to help keep us going?)
Israeli director Ra'anan Alexandrowicz (The Law in These Parts) has a problem in his latest documentary, The Viewing Booth: as a filmmaker, he believes that the moving image, when manipulated by an expert practitioner, holds the power to sway the viewer with its audiovisual argument. However, if a member of the audience is sophisticated enough, through repeated exposure to similar films, then the tricks of the trade may not work so well. What, then, to do? Run experiments!
Which is what he does, while in residence at an American university, setting up a "viewing booth" in a video lab, with a camera set up inside to photograph his subjects in close-up. Out of 7 college students, he chooses to focus on one, Maia Levy, who though American has Israeli parents and therefore a deep interest in the sociopolitical landscape of their homeland. With an interface that offers 20 videos made by human-rights organizations (many from B'Tselem) and 20 by more conservative groups, all dealing with Israeli-Palestinian interactions, the room offers Levy free reign to watch what she wants to watch, to start and stop, repeat views, and more.
Alexandrowicz sits in an adjacent space, able to see Levy (though she can't see him) and communicate with her directly. We cut between her, what she is watching, and him, at least in the first half. In the second half, she returns, over 6 months later, by which point Alexandrowicz has edited together a sequence of what she did prior, adding that into the mix of her new viewing experience and asking her to comment on whether she feels the same or differently about the videos and their messages.
While 71 minutes of this kind of footage, intensely focused on a dialogue between two people, one of whom (Alexandrowicz), we see only from behind, hardly sounds intriguing, The Viewing Booth gradually emerges as a vibrant meditation on how context determines interpretation. Though Levy is but one person, and a young one at that, her commentary on why she feels the way she does proves remarkably intricate and profound. We quickly begin to understand why Alexandrowicz chose her out of all the students in his initial pool.
For Levy, though a compassionate soul, moved by images of suffering, is also prone to seek out reasons to justify the actions of Israeli soldiers, even when such reasons seem elusive. That's not to say that she automatically assumes that everything in the conservative videos represents the truth – she actually finds them worse in their ostensible deceit – but that she always seeks to know what transpired before and after the capturing of the footage, and the edits that might mislead the viewer. She is primed to resist even the semblance of manipulation.
As it turns out, Alexandrowicz is, himself, a maker of the kinds of liberal films that arouse Levy's suspicion, and struggles to understand why their messages don't resonate more with her. How can she watch children being disturbed in the night by soldiers, filmed by a smartphone held by their parents, and emerge wondering about context? On the other hand, he respects her reactions, and she returns that respect by engaging with him in lively conversation.
By the end of the documentary, we, ourselves, have been given quite a lot to process. How much do we ignore, or engage with, context? It does matter; it is right to question one's initial emotional reaction to, well, everything. Cerebral analysis is a marvelous human asset. Where and how one draws the line, however, between sympathy and cynicism is something we should all consider, especially in our polarized times. We all have our own "viewing booths," already, constantly with us. Who controls whom? That, indeed, is the essential question.
– Christopher Llewellyn Reed (@ChrisReedFilm)