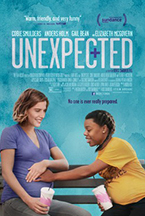 Filmmaker Kris Swanberg's third feature, Unexpected (after Empire Builder and It Was Great, But I Was Ready to Come Home), premiered at the 2015 Sundance Film Festival. I was lucky enough to see it at the Maryland Film Festival. A movie that manages raw emotions in a polished format, it is mostly a gentle wonder. With solid lead performances from veteran Cobie Smulders (How I Met Your Mother) and relative newcomer Gail Bean (At Mamu's Feet), the film is a coming-of-age story for children and adults alike, exploring issues of motherhood, responsibility and reconciliation in a manner surprisingly…unexpected.
At first, this seems like it might go badly. A middle-class thirty-something white high-school teacher, Sam (Smulders), finds out she's pregnant, and then discovers that her star African-American pupil, Jasmine (Bean), is also expecting. As the story unfolds and we follow the two women's parallel, but contrasting (due to age, social class and race), experiences, there is a moment (at least for me) where Swanberg flirts uncomfortably with urban clichés, but then it becomes clear that she is doing so only to subvert them shortly thereafter. For neither Sam nor Jasmine are anything but fully three-dimensional – and unique – characters. Each teaches the other important lessons, and each discovers her limitations as teacher, pupil and parent.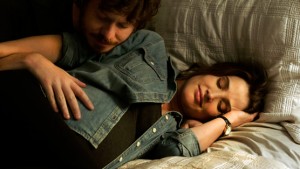 Beautifully shot by cinematographer Dagmar Weaver-Madsen (10.000 Km) and perfectly scored by Keegan DeWitt (Listen Up Philip), Unexpected also features fine support work from Anders Holm (The Intern), as Sam's supportive partner and Elizabeth McGovern (Downton Abbey) as Sam's less supportive mother. Smulders, herself, began production while seven months pregnant (according to the press kit), which lends an especial verisimilitude to her own work.
If I have one (very small) bone to pick with the director, it is the same one I pick with almost every filmmaker who tackles the issue of teachers and schools: the work just looks too easy. We only ever see one relatively well-behaved class, and there's no actual on-screen evidence of the true challenges of the job. The best film I have ever seen to deal with the utter chaos of urban public schools is the 2008 French movie The Class ("Entre les murs," in French), a quasi-documentary narrative where the teachers and students within play versions of themselves. The exigencies of time-limited drama frequently force most screenwriters to condense and conflate, so it's no wonder why we rarely get a true glimpse of actual teaching. Still, in Unexpected, we do get a real look at the truth of human experience, and that is a wonderful thing.
– Christopher Llewellyn Reed (@ChrisReedFilm)