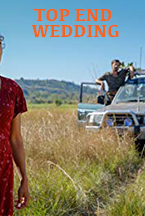 (The 2019 Sundance Film Festival ran January 24-February 3 in Park City Utah. Hammer to Nail guarantees more reviews from the fest than any other website around. That alone is worth $1.00 per month to help keep us going!) 
A frequently charming, sometimes silly, romantic dramedy of cross-cultural love and marriage, Wayne Blair's Top End Wedding presents a young, upwardly mobile Australian couple as they struggle to plan what should be the happiest moment of their lives in the middle of a familial crisis. Lauren (Miranda Tapsell, The Sapphires, also the film's co-writer) has just been made an associate in her law firm when her longtime boyfriend Ned (Gwilym Lee, Bohemian Rhapsody) proposes. He, too, is a lawyer, though unhappy in the profession. In fact, he has just quit, though Lauren doesn't know. She insists the nuptials take place in her native Northern Territory – also known as Australia's "Top End" – so that her parents can join in the fun. Unfortunately, what she doesn't know is that her mother has just disappeared, leaving her father a note saying she needs more, and leaving him bereft, as well. Nothing further can happen until she's found, so the search is on, made especially frantic since Lauren's draconian boss has only given her 10 days off. But where could Mom have gone?
The movie actually begins with a prologue that shows Lauren's mother as a young woman on the island of Tiwi, home to one of Australia's many Aboriginal communities. On the verge of her own wedding, she flees, and we will later learn that it was to wed Lauren's father, a white man who had come to work on the island. Now tired of a marriage gone stale, has Mom gone back to Tiwi to reconnect with her past? Even more importantly, how will the journey to find her affect Lauren, who has never visited the island nor met her grandparents? Still, with a loyal, devoted Ned by her side, who is just happy to no longer be stuck in a courtroom, all will surely end well. Unless, that is, Ned's sudden easygoing attitude proves too much of a distraction for the anxious Lauren. Perhaps they are not meant to be together, after all.
With a lovely mix of laughter and tears – shifting from the former to the latter, and then back again, as the film progresses – Blair (Septembers of Shiraz) moves things along at a brisk clip, his ensemble of actors delivering consistently engaging performances. He also never misses an opportunity to showcase the gorgeous scenery of the barely developed wilderness through which Lauren and Ned drive, making of Top End Wedding as much travel brochure as anything else. No matter the glossy cinematography or light jokes, however, at the heart of the story lies the deep, abiding melancholy that affects those who have lost their roots, or never known them to begin with. The Tiwis are calling Lauren, and all she has to do is listen.
If this sweet, heartfelt movie has any issues, they lie with the central relationship, itself (as well as with the occasionally forced farce and some questionable supporting-character motivations). Tapsell has written herself a part that is not very generous, at least not to Ned, and by the final act of the story, we wonder why he sticks around, so often self-centered is Lauren's behavior. Still, the ending more than makes up for any script deficiencies, as Blair brings us to Tiwi to explore the people and the culture, showcasing both with deep respect. All is forgiven in these concluding moments, the joy of a love fulfilled conquering everyone's reservations.
– Christopher Llewellyn Reed (@ChrisReedFilm)
Like what you see here on Hammer to Nail? Why not pay just $1.00 per month via Patreon to help keep us going?