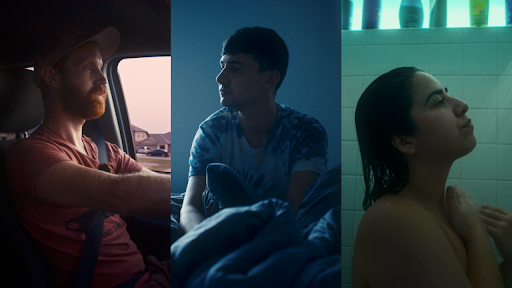 (The 2022 Tribeca Film Festival runs June 9-26 both online and in-person. Check out M.J. O'Toole's movie review for Three Headed Beast. Seen it? Join the conversation with HtN on our Letterboxd Page.)
Writer-directors Fernando Andrés and Tyler Rugh's romantic drama Three Headed Beast depicts a bisexual polyamorous relationship with delicacy and empathy, but its main appeal is its quietness. Told with almost no dialogue, it revolves around the three people involved who each yearn for different things. What helps make it work are the subtle, yet fervent performances from the actors. The poetic filmmaking is in part thanks to Andrés taking on triple duty as cinematographer. Humming along on the chemistry of its trio of leads, Three Headed Beast builds into a meditative, no-holds-barred, powerful encapsulation of a couple trying to make sense of their relationship(s) over the course of one month.
Set in the filmmakers' hometown of Austin, it follows partners Nina (Dani Hurtado) and Peter (Jacob Shatz), who for some time before the film's introduction have been in an open relationship. Both are bisexual, and they use it as an opportunity to explore their sexualities while staying committed to one another. While Nina has a few friends with benefits, Peter has frequent rendezvous with Alex (Cody Shook), a proud gay man in his early twenties who is at a stage of living life and seeking experiences without any commitments. Their bond seems to be stronger than what Nina has with her various partners. Despite the lack of dialogue in the first half of the film, the actors are successfully able to convey their inner emotional states physically without having to speak a word. It becomes clear that Peter is uncertain about both his home life and his relationship with Alex, yet does not know how to explain it to Nina. Is the film's silence a way of emphasizing these protagonists' lack of communication with one another?
Nina, on the other hand, is experiencing her own bouts of doubt and sadness in terms of Peter's close relationship with Alex. She senses something is wrong, and for guidance, religiously reads and listens to the work of an open relationship expert to help her come to terms with the couple's new stage in their arrangement. As for Alex, despite having numerous one-night stands, Peter is the one he has a stronger connection with and more often yearns for his presence. Cody Shook's performance as Alex stands out for his ability to manifest the inner sense of loneliness and disconnect in his character's life, except for whenever he's with Peter. The romantic chemistry that Peter has with both Nina and Alex is strong, and it becomes harder to decide which person he should settle for. Though at the same time, he seems to have the least emotional involvement, compared to how both Nina and Alex try to hold onto him.
Peter and Nina are preparing to go out of town and Alex has agreed to look after their dog, but Nina wants to meet him first. This marks the pivotal point of the film where all three lovers are finally in the same room with one another for a dinner party, which is the only scene that carries sustained dialogue. We begin to learn more about the three protagonists' pasts, which includes a sex party introduction and a divorce. Despite everyone trying to make the situation gratifying for one another, there is an underlying sense of awkwardness that adds to the social discomfort. Three Headed Beast would be considered a more quiet version of last year's dialogue-filled romance Ma Belle, My Beauty, although that was about the reunification of a former polyamorous relationship while this film shows the possible beginning of one as its characters try to navigate their own feelings, relationships, and dynamics to figure out what the future holds for them all.
In Three Headed Beast, the experimental approach first-time filmmakers Andrés and Rugh take with the lack of verbal communication may seem irritating at first, but eventually, it works as it gives the actors more of an opportunity to express their emotional range while having the viewer make their own observations on each moment and character interaction. Fernando Andrés' cinematography helps give the film its Malickian aesthetic thanks to its natural/practical lighting and playful camera movements. Shook, Hurtado, and Shatz use the silence to their advantage as each of them successfully channel their characters' desires, states of mind, and longing for love. With the final contemplative shot, these three will reach a point where spontaneous romantic trysts are barely an option anymore and a decision about their futures must be made. Overall, it is a poetic, introspective, and bracing exploration of love, intimacy, and relationships.
– M.J. O'Toole (@mj_otoole93)
2022 Tribeca Film Festival; Fernando Andrés and Tyler Rugh; Three Headed Beast  movie review