THIS WORLD IS NOT MY WORLD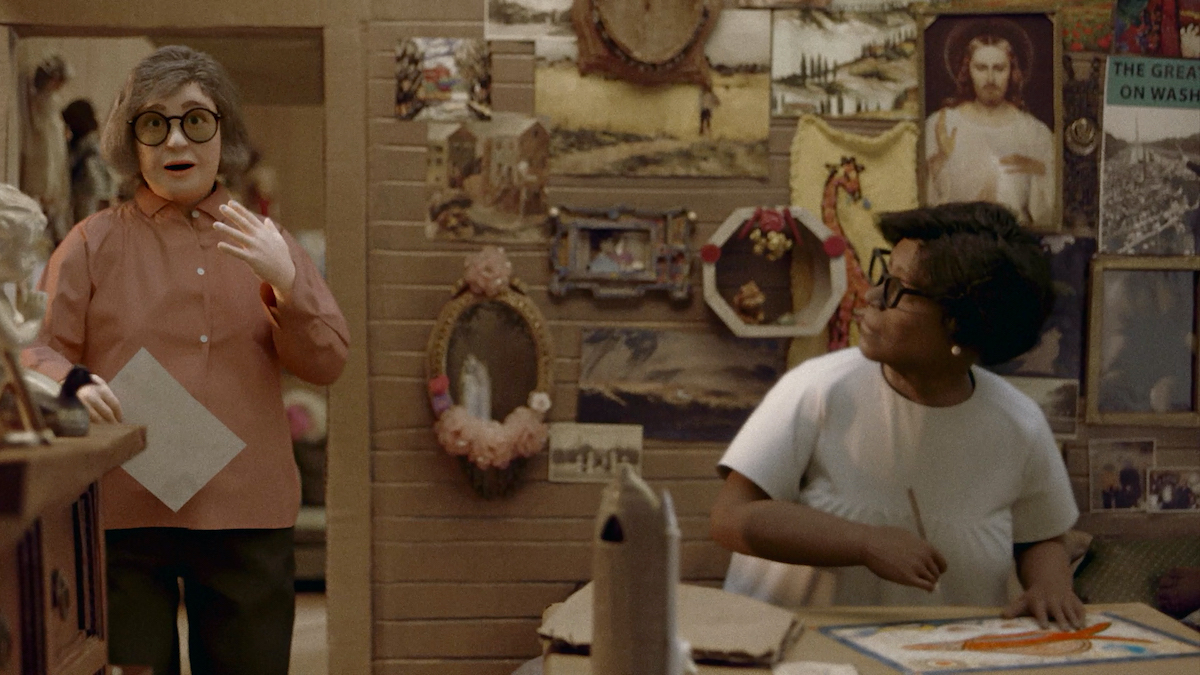 (Austin Texas'  2023 South by Southwest (SXSW) Film Festival ran March 10-19. Check out this movie review of This World Is Not My World . Seen it? Join the conversation with HtN on our Letterboxd Page.)
Plato believed that art is a divine inspiration or a realized example of what the world could be through the lens of the artist. For Nellie Mae Rowe, a folk artist raised in 1900 outside Atlanta, Georgia, her version of the world was her own. Opendox's documentary This World Is Not My World premiered at SXSW and plays at Milwaukee Film Festival on April 23 and 27th this month.
The documentary plays with Rowe's art, building a 3D animated world from her work and actress Uzo Aduba using quotes historically tied to Rowe. Opendox created film sets that reimagine Nellie's "Playhouse," and partnered with Kaktus Film to design and animate 3D characters in Nellie's and her gallerist's likenesses.
Exploring the history of the 20th century through her lens, acknowledging the racist colonial society of the deep South, but also acknowledging an independent woman who gave up on men early and chose her path. Her family moved to Vinings, GA after the Atlanta race riots, stock market crash, and destruction of cotton fields from boll weevils. Her husband died, and she became a maid to white women. One day she bought a 56 Chevy from her employer despite being unable to drive and hired her nephew to drive her around.
Told in four acts, we next meet the woman who influenced Rowe and "discovered" her, i.e. introduced her to the white community of art collectors in the Atlanta art scene only a few years before Rowe died. Judith Alexander is as much an eccentric character as Rowe and the two bond. Alexander is voiced in the documentary reenactment scenes by Amy Warren. And while the two women were deeply independent, especially for the time they were born, the documentary weaves the tale of how Atlanta society impacted both of them.
The detail in the recreation of the art makes the story stand apart as does the tapestry of the story of the two women woven into a patriarchal racist society and thriving despite it. Historians speak to the early origins of afro-futurism in Rowe's art and her folk art background, propped up by the Civil Rights movement and her own experiences, shines a light on that. In 1948 she demanded no more men, no more cooking, no more marrying, no more. She spoke to her desire to express hope in her art and to design her life the way she wants it. Her outlook and at the time she had it was quietly ignored out in the county on a small road in Vinings until another woman recognized what she had created and forced the world to recognize it.
Rowe was not alone. During the 1950s and 60s, many people were working in mills, factories, in fields, they could not protest, but they could create art to express their inner turmoil and inner dreams.
And while Alexander's story is told a bit more traditionally than Rowe's in the documentary, they are both set up with the thesis that their life was better led without men deciding their fate. A fate bound together by men in the 1920s and their lives intertwined long before they knew it. The film weaves a lot of stories through the lens of these two women but it is Rowe's vision of Georgia in the 20th century, despite the hurt, despite the racism, that celebrated life.  Rowe lived a simple life but it was her own. The documentary sheds a complicated light onto this through the lens of a society that told her no and in a way that a traditional documentary may not have succeeded at doing. Their work brings her to life in such a warm way that you walk away from the film feeling as if she is but a phone call away.
– Melanie Addington
2023 SXSW Film Festival; Opendox; This World Is Not My World documentary movie review