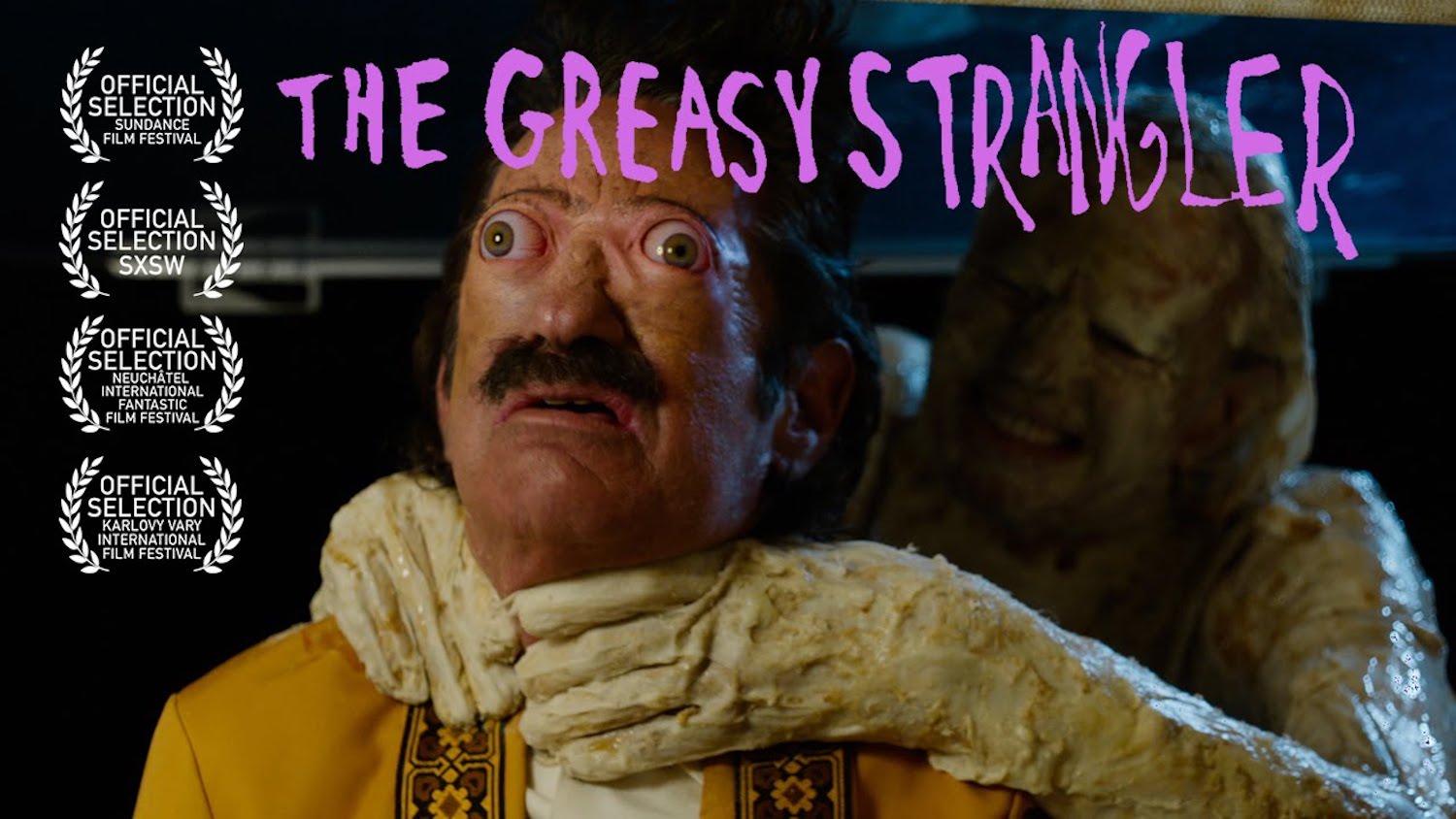 (Jim Hosking's The Greasy Strangler has been grossing out and offending audiences since it premiered at the 2016 Sundance Film Festival. The film is available now in limited theaters and on VOD (if you dare) via FilmRise.)
How can one do justice, in words, to an absurdist (also, absurd) movie about a septuagenarian serial killer who covers himself in grease (possibly animal fat, possibly something more toxic) before strangling his victims, all the while living a double life as a single father to a fortysomething misfit son who still lives at home? When not killing innocents, Big Ronnie, as he's called, leads walking Disco tours of his city, accompanied by said son, Big Brayden, dressed in garish, ill-fitting costumes seemingly designed by a member of Santa's workshop for a member of Santa's workshop, if the designer were both colorblind and lobotomized. Whenever someone crosses Big Ronnie, in anyway, s/he is sure to become his next victim. After each murder, the strangler cleans himself off in a local carwash, where the blind proprietor suspects nothing. And so it goes.
Did I mention the constant full-frontal nudity? Or the repetition, ad nauseum, of certain phrases, such as "bullshit artist" or "I am not the greasy strangler," shouted, paradoxically, in a hysterical monotone until one begs that the greasy strangler come and put us out of our own misery? Maybe that's the point. Like viewers of the demonic video in The Ring, we are all doomed to die just by watching this demented fable, which just happens to be one of the most unpleasant films ever made.
This is not meant to be a nasty review, since I firmly believe that first-time director Jim Hosking and his creative team know exactly what they're doing. The repulsion factor is fully intended. Like John Waters in his early Mondo Trasho days, the goal here is to shock and subvert normal narrative expectations. Whether or not one appreciates the experiment will very much depend on one's tolerance for gross-out humor. I would say that the prime target audience is 12-year-old boys, except that the amount of penis shots – and later, when Brayden gets a girlfriend, sex of all varieties – would land me in prison if I ever did bring such a group to the theater. But imagine a prematurely grown-up child, à la Tom Hanks in Big, suddenly handed a camera and a randy adult crew, and you'll get a feel for the aesthetic.
Speaking of that girlfriend, she's by far the best thing in it. Elizabeth De Razzo (the HBO series Eastbound & Down), as Janet, is the one actor who seems to have received a direction other than "be as annoying as possible." Either that or, for her own future career, she just decided to layer on some nuance. Whatever the reason, she draws the viewer's eye, rather than repel it as do Michael St. Michaels (Another), as Ronnie, and Sky Elobar (Don Verdean), as Brayden. To be fair, the film has the courage of its own convictions, such as they are, and I tip my hat to the director for the integrity of his vision, such as it is. The Greasy Strangler plants itself firmly in the grand tradition of "midnight movies," complete with all manner of cheesy special effects. I just wish it were enjoyable, rather than merely disgusting.
– Christopher Llewellyn Reed (@ChrisReedFilm)