(Filmmaker David Schisgall's doc Theo Who Lived takes a look at Peter Theo Padnos was kidnapped in Syria by an Al Qaeda affiliate in 2012. The film is in limited release now via Zeitgeist Films.)
In October, 2012, American freelance journalist Peter Theo Padnos was kidnapped in Syria by an Al Qaeda affiliate. He would spend nearly two years in captivity, shuttled between prisons, sometimes escaping only to be recaptured and then tortured. Finally, in late August, 2014, following the gruesome beheading of another American journalist, James Foley (which led to second-guessing about what the U.S. could have done to save him), the government of Qatar managed to secure Padnos' release, and so he came home, bruised and battered (physically and mentally), but very much alive. Now filmmaker David Schisgall (Very Young Girls) offers up this intimate portrait of the man that takes us back to the area where his ordeal began, with Padnos, himself, as our guide. Equals parts Jonathan Demme's Swimming to Cambodia (by Schisgall's own admission) and Werner Herzog's Little Dieter Needs to Fly, the documentary is a profound journey into the significant human costs of global conflict, narrated by one who never lost his own belief in faith, hope and love, even in the midst of horrible suffering.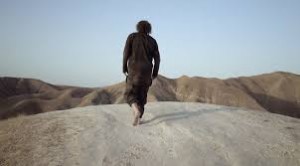 We begin in Turkey, where Padnos explains how he was lured from there into Syria by a group of men whom he thought would help him with a story. Instead, as it turned out, they wanted an American prisoner, someone to abuse and potentially use as a bargaining chip in future negotiations. We next travel through a series of locations meant to be in Syria (though they're not, since this particular film crew is not insane, choosing safe reenactments over dangerous excursions), as Padnos explains what followed. We also jump to Vermont, where his mother and cousins live, and hear their thoughts on what transpired, and how they worked together to free him.
The whole film is beautifully photographed, though not inappropriately so when the subject requires harsh realism, and at 86 minutes clips along at a brisk pace. Always, there is Theo Padnos, his ever-smiling countenance conveying calm and optimism. It's no wonder he survived, since he eventually made his captors see him as more than just a prop in their grievances against America. It helps that he speaks fluent Arabic, though good CIA agents probably do, as well. Still, there's an openness to him that most likely worked in his favor, though he feels that Foley's killing is the factor that opened the last door of his cell. One man's death leads to another's survival. And so Theo lived.
What's remarkable is how strong remains Mr. Padnos' commitment to helping the inhabitants of the region into which he almost disappeared for good. At film's end, we find him on the Island of Lesbos, greeting Syrian refugees as they come ashore. His sense of humor never left him, either. Musing on the reasons why so many of his jailors seemed like personable young men in need of something to do, he dryly quips, "It's a lot of fun, Jihad. Very underrated, in the West." Recognizing that his capture was "his own fault," and grateful to those who helped liberate him, he nevertheless continues to reflect on what the United States is doing in the Arab world to foment hatred against America. There are no easy answers to the problems of this world, but with more people like Theo Padnos, able to forgive and move on, perhaps we might emerge from the cycle of conflict and seek true peace. Schisgall has made a remarkable film that is a fitting tribute both to the one who lived and the reconciliation he espouses.
– Christopher Llewellyn Reed (@ChrisReedFilm)