BUSTER KEATON'S THE GENERAL & THREE AGES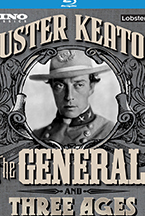 (We here at Hammer to Nail are all about true independent cinema. But we also have to tip our hat to the great films of yesteryear that continue to inspire filmmakers and cinephiles alike.  Today HtN's own Brad Cook get's his nostalgia on for Buster Keaton's indispensable films The Generall and Three Ages gloriously released on Blu ray by Kino Lorber.)
My high school, Cherry Hill West in New Jersey, had a really cool film class that was taught by Mr. Truitt, one of the English teachers. It wasn't a "Goof around and watch some flicks on VHS tapes" kind of class, either: Mr. Truitt showed many of the classics, with a rotating list of films, and we saw all of them on a projector, complete with an explanation of aspect ratios.
Buster Keaton was a staple in the class, of course, and The General was shown when I took the course during my sophomore year. I can still remember Mr. Truitt extolling the virtues of Keaton's directorial style, and how he would halt filming even if a soldier way in the back of a scene had his coat unbuttoned.
This was back in the mid-80s, when home video was going through its early growing pains and many classic films were either getting shoddy treatment on VHS or were ignored completely. Today, though, we have companies like Criterion and Kino Lorber to keep the classics alive, and the latter has brought us a Blu-ray featuring Keaton's 1926 classic The General paired with his 1923 film Three Ages.
The General, which flopped during its initial release and resulted in Keaton losing the creative power he had held for several years, is set during the Civil War. Old Stone Face, as he was famously known, stars as a train engineer who tries to enlist in the Confederate Army to win the affection of Annabelle Lee, who loves a man in uniform. He's turned away, but when Union spies swipe his train while Annabelle is aboard, he gives chase. The General is famous for not only its lavish production values but also some of the most impressive stunts of Keaton's career.
Three Ages, which Keaton made to satirize D.W. Griffith's classic Intolerance, also features the theme of unrequited love. This time, Keaton competes with a macho man for the affections of a woman in the prehistoric era, ancient Rome, and a modern metropolis. While it's not as well-remembered as The General, it's worthy viewing for anyone who wants to expand their knowledge of Keaton's career.
Both films have been lovingly restored and look about as good as you can expect them to appear today, although both are 2K restorations and there's apparently a 4K restoration of The General in the works. I don't have prior releases of either movie, but my understanding is that Kino's 2009 Blu-ray of The General had a sepia tone applied to it – this version has a much cleaner black-and-white appearance.
Each film has a choice of two orchestral accompaniments, along with a smattering of bonus features. If you own either the 2012 or 2016 Keaton boxed set, you likely have most of the extras, although there is a new one: an audio commentary on The General by a pair of film historians. Like Criterion's more scholarly tracks, this commentary is structured like a film class lecture about Keaton's career, the movie's historical accuracy, and many other topics.
The General also features introductions by Orson Welles and Gloria Swanson, as well as the archival short film Return of The General, which documented the restoration of one of the locomotives that Keaton used.
Three Ages has an Alka-Seltzer commercial and a Candid Camera clip, both featuring Keaton, as well as the D.W. Griffith short film set during prehistory, Man's Genesis. The Griffith movie is included because it was also spoofed by Three Ages.
While it would be nice to have more bonus content for a classic like The General, this is still a worthwhile purchase for fans as well as anyone who wants to immerse themselves in a bit of film history.
– Brad Cook (@BradCWriter)