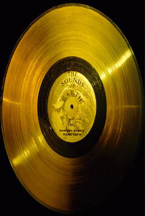 (Read this excellent interview at The Atlantic with Penny Lane about her film, and also visit her official website to learn more.)
The personal essay film is one of those "please, everybody, do not try this at home" genres, but when you toss the word "experimental" into the mix… capital RUH, capital ROH. From the very beginning of Penny Lane's The Voyagers, it's evident that this film is different; it's so much more than some heady exercise in stylistic precocity. Even without the knowledge that Lane made The Voyagers as a gift to be shared with her husband on their wedding day, something about it feels more soulful than your ordinary movie. Though, of course, once you understand that The Voyagers wasn't made as a class assignment, or with the intention of getting into a film festival, or perhaps that it wasn't ever even intended to be screened for more than a few loved ones, it begins to make sense. With this wedding present of a film, Lane takes a risky concept and turns it into something deeply personal and cosmically transfixing.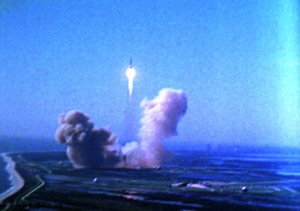 Using grainy stock footage, Lane begins her 16-minute cine-letter to her husband with a bit of a history lesson. Back in 1977, NASA launched two rockets into outer space: Voyager 1 and Voyager 2. Though their primary purpose was to gather data from out there in the great unknown, Carl Sagan included a Golden Record on each, which contained the binary codes that would reveal some of the best and most glorious sights and sounds that Earth had to offer should intelligent life stumble upon them. The expected life span of both Voyagers? Two years. Well, it appears that experts slightly underestimated these machines, as over 30 years later, they are still careening into the far reaches of the cosmos.
In the midst of this launching of the Voyager rockets, Sagan and associate Annie Druyan had a long-distance miracle of their own. Without ever having been intimate with one another—Sagan was in fact married at the time—they fell in love at the same moment while talking on the phone. Lane quotes Druyan's breathtaking statement about this unexpected—and uncontrollable—turn of events: "I finally understood what it must be like to make a scientific discovery." Two days after the launch of the Voyagers, Carl and Annie announced their engagement. They stayed together until Sagan passed away in 1996.
Lane lets us know in some of her early voice-over that she isn't talking to us as viewers; she's talking to someone in particular. At first, it sounds like it might be a former lover. But as the film unfolds, sidetracking into the shocking memory of the 1986 Space Shuttle Challenger explosion, she begins to speak of marriage. Again, at first, it's hard to tell if this is written from the perspective of lonely hindsight. But exhilaratingly, we begin to discover that this isn't the case. By the film's conclusion, we realize that The Voyagers isn't a lament for lost love at all. It is the bracingly heartfelt voice of an individual on the precipice of marriage, who has been brave enough to express a healthy amount of doubt and concern, yet who ultimately believes that this is the most epic, powerful, life-affirming thing she and her lover can can do. To risk everything for love. To climb into a rocket ship and careen eternally into the empty, endless cosmos.
***WATCH IT RIGHT NOW***
— Michael Tully