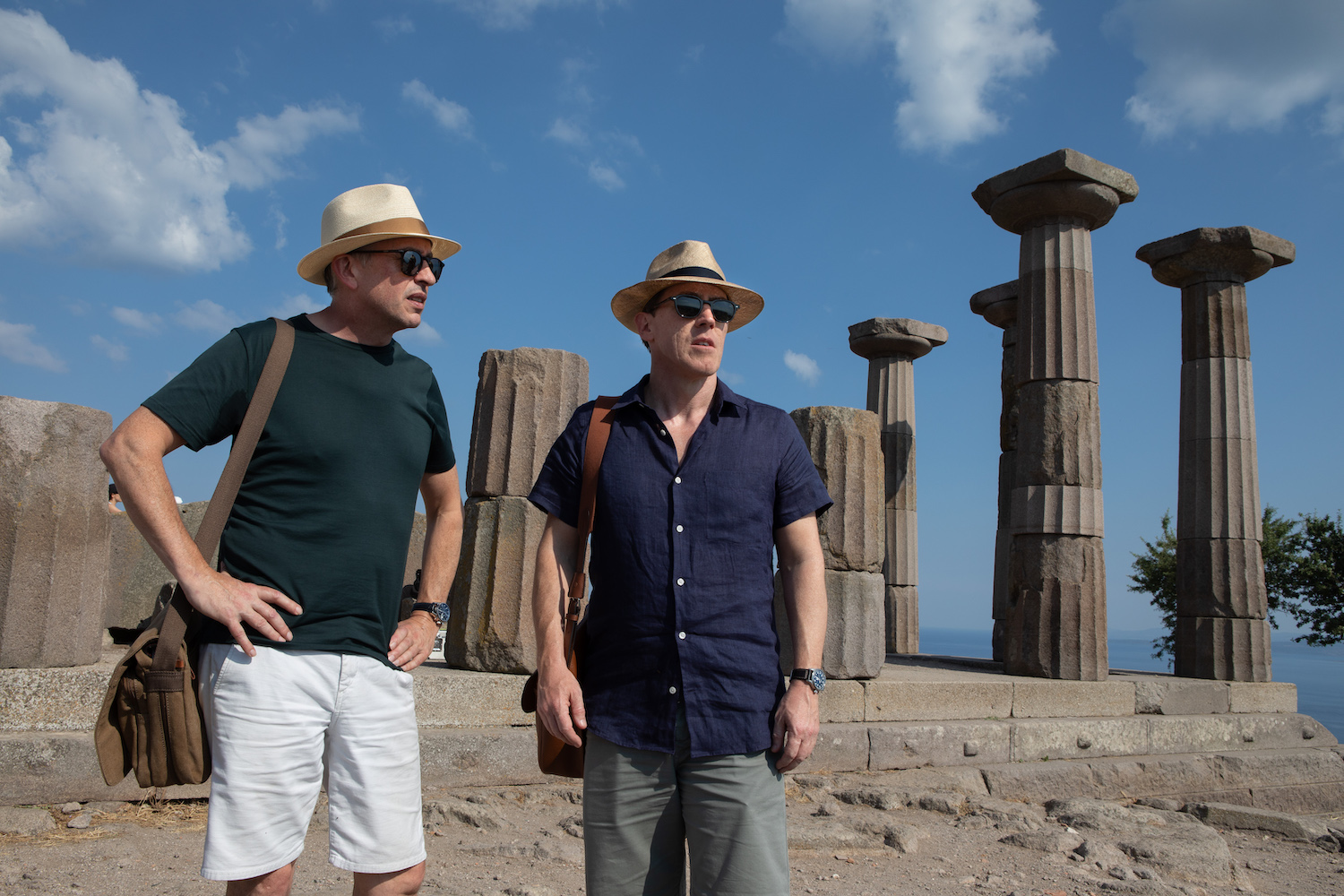 (Michael Winterbottom's delightful "The Trip to…" series continues with The Trip to Greece, available now via IFC Films. Like what you see here on Hammer to Nail? Why not give just $1.00 per month via Patreon to help keep us going?)
In 2010, British director Michael Winterbottom released The Trip, adapted from his eponymous BBC series, in which actors Rob Brydon (Swimming with Men) and Steve Coogan (Stan & Ollie) played fictionalized versions of themselves as they made their way through England's Lake District on a gastronomical tour, paid for by the Sunday newspaper The Observer, for the purposes of an eventual entertaining write-up. The result, as a movie, was a delightful series of comic sketches in which the two men – here more frenemies than friends – engaged in many a round of one-upmanship as each tried to outdo the other in vocal mimicry and joke telling. Viewers were treated to dueling James Bonds, witnessing Brydon and Coogan expertly switch from Sean Connery to Roger Moore mid-paragraph, and a wild verbal parry and thrust of a Michael Caine-off. Was there a plot? Sort of, but the delight was in the manic improvisations on display.
Then, in 2014, came The Trip to Italy, and in 2017, The Trip to Spain, the narrative of neither of which I remember too clearly, but which each continued in the same vein, with the added bonus of each actor's cinematic alter ego confronting the uneasiness of rising middle age (and then some). Now we have The Trip to Greece, which could be the end of the series, or presage more changes ahead. Whatever the makers' intentions (if they even know), the result is an always pleasant diversion, if not as fresh as the first installment at least more memorable than the second and third. Even as they advance in years (though still in their fifties), Brydon and Coogan manage to make the same old shtick work, with some new bits for good measure. Yes, we still have James Bond, but also competing Arnold Schwarzeneggers and Werner Herzogs, as well.
In addition, Winterbottom, whose last film was the miserable misfire Greed (also starring Coogan), brings in some nice, self-reflexive touches that critique the film's very structure and conceit, wryly acknowledging the first-world white privilege that allows such a journey in the first place. The director and stars have always poached their own actual lives for material, and in this Trip engineer a coincidental meeting with a supporting actor from Greed, a Syrian refugee (who played a Syrian refugee in that other movie) named Kareem whom Coogan doesn't remember, who asks them for a ride back to his camp. He's good-natured about the experience, but seeing where he lives places the rest of the movie's gorgeous opulence in stark perspective.
Which doesn't mean we shouldn't enjoy the landscape or the food, both equally splendid. Greece is, after all, magnificent in its history and geography. Even as we drive relentlessly towards a more somber conclusion than that in the other films, we enjoy both the visuals and the constant comedy. Though not all impresses the onscreen Brydon, who remarks, upon arriving at the ruins of Stagira, in Greek Macedonia: "Not a lot to look at. Can you imagine if they charged? There'd be an uproar. Legoland costs an arm and a leg, but you get your money's worth." Ha! As do we here, for sure. Now, where should they go next?
– Christopher Llewellyn Reed (@ChrisReedFilm)