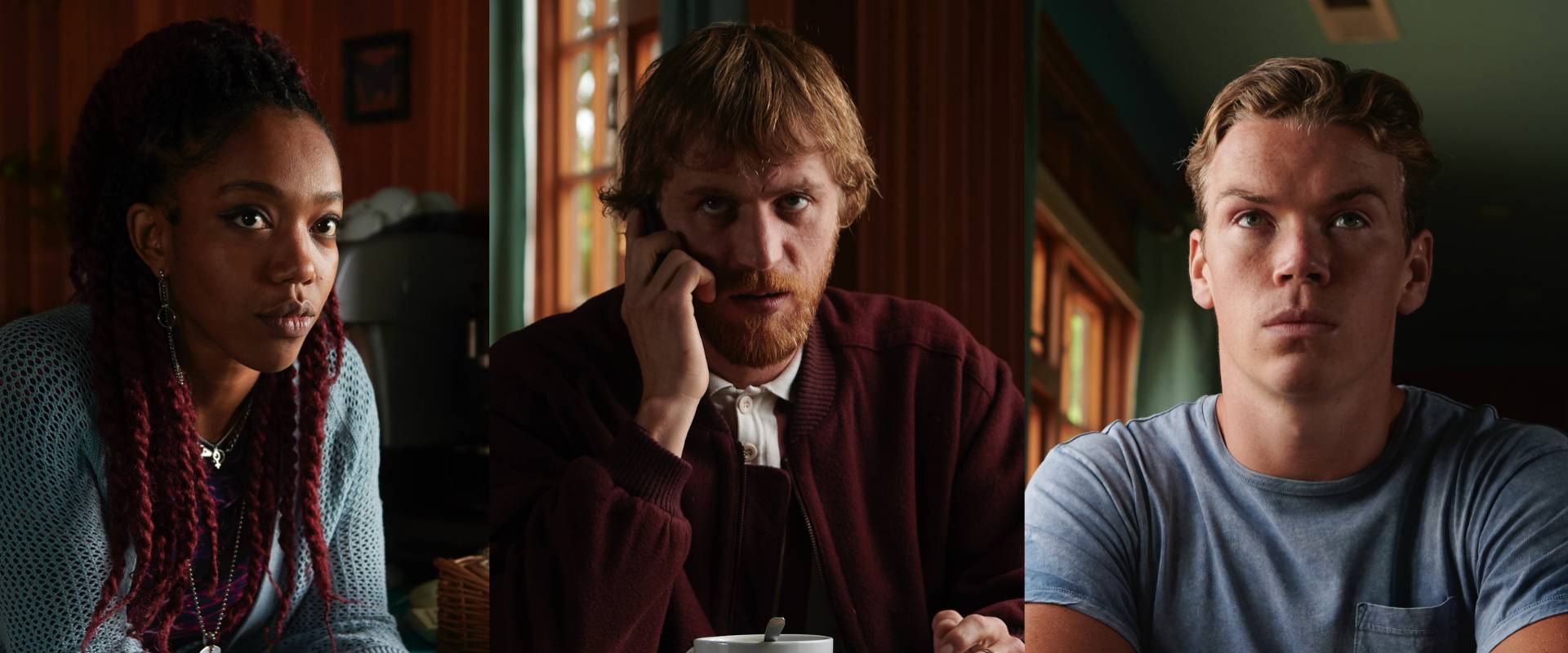 (The 2021 Toronto International Film Festival runs Sep 9-Sep 18 in Toronto, Canada. HtN has a ton of coverage from the fest so stay tuned! Like what you see here on Hammer to Nail? Why not give just $1.00 per month via Patreon to help keep us going?)
With three extremely talented people leading the way, The Score balances on the edge of absurdity and genius throughout this 90 minute heist-thriller-romance musical. In virtual Toronto International Film Festival as a TIFF Industry Selects program (out of competition but curated 22 features showcased virtually), the new musical stars Will Poulter, Johnny Flynn and Naomi Ackie (star of the upcoming Whitney Houston biopic) was written and directed by Malachi Smyth and produced by Ben Pullen and Matthew James WIlkinson (Yesterday).
Also featuring music by Flynn, the film starts off strong with action, sliding into a musical in a cleverly edited way where at first the music is non-diegetic but then evolves to match the character's on screen and then evolves again to mickey mousing the actions to finally underscoring the actions on scene as the characters begin to sing the words. An absolutely clever way to slide into a musical performance on screen, the opening captures your attention.
However, the middle does little to hold it instead relying heavily on a long stretch of people waiting in a diner as Poulter's character, Troy, falls head over heels with Ackie's character, Gloria, and we slowly learn more of the intentions of Flynn's character, Mike. There is a lot of music mixed in the middle focusing more and more on the romance while somehow continuing to build tension between Troy and Mike.
Flynn, who has had a meteoric rise from musician to lead actor, takes on a less lovable character than many may recall from his role as Mr. Darcy in the latest Emma. With Troy (Poulter from Maze Runner) taking on the lovelorn slightly gentler character, the emphasis truly falls on his continual wordplay with Gloria. The film even opens with his musings on the word "score" and how many things it can be interchanged with – all tying back to the story that lies ahead.
Shot during the pandemic, the film manages to host a pre-pandemic world without masks and no references despite the challenges on set to make that happen. Started in March, the production shut down due to COVID and restarted in August. With one primary location (the cafe) and a few car scenes, the amount of actors required is minimal and works as a great model for future productions on keeping a bubble around cast and crew to remain safe and able to finish. The United Kingdom based film told Variety earlier this year they had to replace one cinematographer who was US based but otherwise were able to remain on track.
Overall the film is incredibly bizarre (which isn't really a bad thing) as it tries to blend three tonally different genres into one but finds some moments within the chaos and thanks to the strength of the three leads, holds your attention throughout. Not a perfect film, but The Score does manage to break through the ennui to stir one's attention, and even days later, think back often on the film. With so many average films released nowadays in the content wars, a film that stands out is a refreshing surprise.
Ideally, stumbling across the film when it releases later this year, you will become a new fan of Flynn, Poulter, and most importantly Naomi Ackie. After this performance, I am on pins and needles to see her transform into Whitney Houston on screen net year. The Score is being represented by West End Films and no announcements on a sale have been made.
– Melanie Addington (@MelAddington)