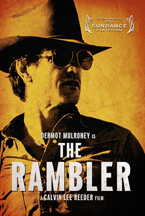 (The Rambler is now available on DVD
, Blu-ray
, and at Amazon Instant
. It world premiered at the 2013 Sundance Film Festival. Distributed by Anchor Bay Entertainment, it opened theatrically in NYC at the reRun Theater on Friday, June 7, 2013, and in Los Angeles on Friday, June 14th, at the Downtown Independent. More information can be found here.)
Even for those of us who have never served time, it's easy to imagine how difficult it must be to acclimate to life on the outside after having spent a solid amount of time in the pokey. A return to "normal life" must be anything but that. In the case of Calvin Lee Reeder's The Rambler, it's something slightly more extreme. It's a trip-and-tooth-shattering-face-plant into a batshit gonzo nightmare from hell.
Based on Reeder's 2008 short of the same name (watch that 13-minute gem here), The Rambler tells the ambling tale of an ex-convict (Dermot Mulroney) who can't seem to catch a break. Upon returning home, he discovers that his girlfriend Cheryl (Natasha Lyonne) has gone the full bonkers. Fleeing their trailer with his guitar in hand, The Rambler begins hitchhiking his way to Portland, where his brother lives and where life seems to be nice and slow and stable. On the road, he meets a demented scientist (James Cady) who says he can record a person's dreams to VHS tape, though all this wacko is actually doing is making his clients' heads explode (as in, literally explode). Along the way, he somehow finds himself goaded into participating in an underground fighting ring by a mysterious man who eventually admits to his new recruit that he should never have trusted him in the first place. And then there's the steadily hovering presence of The Girl (Lindsay Pulsipher), a kind-hearted, smiling, pretty blonde our troubled hero keeps seeing wherever he goes.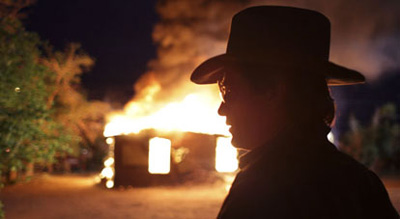 Describing The Rambler in the above manner makes it seem like a straightforward enough movie. Which it isn't. At all. But lest you feel challenged-to-the-point-of-fury by Reeder's nightmare logic approach to narrative, it's important to consider that girl. The more often we see her, the feeling rises that maybe she isn't there at all, that maybe she was there, once, and that her presence might very possibly be connected to The Rambler's incarceration. At the very least, it could explain his steely demeanor. The Rambler begins and ends with our anti-hero standing outside, staring at a house fire. Maybe that fire is his guilt?
In contrast to the gritty, messy, dirty 16mm aesthetic of his previous short films, here Reeder moves into a widescreen digital presentation. But his vision remains intact. A fanatical attention to sound design carries over from his debut feature The Oregonian, as does his tripped out approach to editing (steady collaborator Buzz Pierce again works double-time as editor and sound designer). Part acoustic folktale, part slapstick mushroom trip, part experimental cinematic assault, The Rambler is a midnight movie if there ever was such a thing. Strum its crazy strings and you'll see some crazy things.
— Michael Tully