(The Pool is now finally available on DVD
thanks to Kino Lorber. Visit the film's official website to learn more.)
Arguments arise all the time about "white" or "American" filmmakers venturing into indigenous lands or communities to make films that reflect a culture unlike their very own. Naysayers feel that on every single level, without exception, this is an act of extreme ethnographic arrogance. This is an idiotic perspective, one that limits filmmakers and wishes to keep them compartmentalized (when they stick too close to home, they're lambasted for being unadventurous). While this concept doesn't always produce successful results, many of independent cinema's most stellar recent achievements belong to this burgeoning movement: Lee Isaac Chung's Munyurangabo, Sean Baker and Shih-Ching Tsou's Take Out, and Lance Hammer's Ballast. With The Pool, Chris Smith has produced another remarkable work similar to those, which transcends its superficial cultural elements to reach a greater state of profound humanism.
The Pool is based on a short story by co-screenwriter Randy Russell. Originally, it was set in Iowa. But here's where Smith took his artistic vision one step further, challenging himself in a way that most directors wouldn't. Having spent a brief amount of time in Goa, India, Smith felt strongly about shooting a film there, and when he imagined transferring Russell's story from America to India, something clicked. Understanding the debilitating troubles inherent in this act—shooting in an unfamiliar country, directing actors who don't speak your language—Smith forged on anyway. One can visualize the movie that would have resulted had Smith stayed in the Midwest, and there can be no debating: it would have been an infinitely less rich and vibrant experience than the one Smith has delivered here.
The Pool is a perfect title for this social realist fable, which concerns a poor young teenager who yearns to swim in a rich man's exquisite backyard pool. Venkatesh (Venkatesh Chavan) is illiterate and spends his time working in a hotel and selling plastic bags with his adolescent friend Jhangir (Jhangir Badshah). Mired in poverty—though not of the hopeless variety that many lesser filmmakers use to bludgeon their viewers into submission—Venkatesh finds a literal symbol of success and freedom in the nearby pool that belongs to the stern Nana (Nana Patekar). But Venkatesh isn't simply infatuated with the pool. Nana's young daughter, Ayesha (Ayesha Mohan), fills him with further yearning, and after befriending her and getting hired by Nana to work in the garden, Venkatesh finds himself not only closer to swimming in the pool, but closer to living a life of genuine prosperity.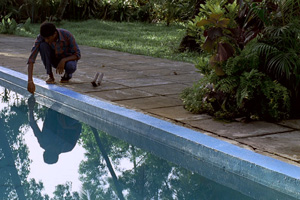 Smith's background in non-fiction pays off immensely in telling this fictional tale, for he brings a documentary-like realism to the photography and performances. Most notably in the casting of Chavan and Badsha, two non-actors who exhibit a natural sweetness that trained child actors rarely accomplish (how an American who doesn't speak Hindi elicited these performances is a miracle unto itself). It must also be mentioned that Patekar, who is one of Indian cinema's biggest stars and who had no intention of acting in the film, agreed to play the father after seeing some of Smith's early footage. For an accomplished professional of Patekar's stature, this speaks volumes and should smother any arguments against Smith's inherently noble mission.
What makes The Pool so special is how it uses such a seemingly simple framework to speak so profoundly about many different elements of human nature. Without being forceful or pushy, Smith has produced a beautiful, tender film that thoughtfully addresses issues of adolescent yearning, universal poverty, and parental sorrow, without ever feeling like he's trying to speak so deeply. He lets these themes emerge from the inside-out, not the outside-in, using a direct, unadorned style to produce a work that is suffused with documentary-like realism and symbolic poetry at the exact same time. The Pool is a quiet marvel of a movie.
— Michael Tully