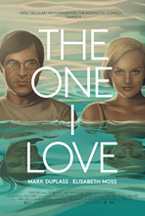 (The One I Love world premiered at the 2014 Sundance Film Festival, where it was bought by RADiUS-TWC. It was released theatrically on August 22, 2014, and is now available on VOD at iTunes and Amazon Instant
. Visit the film's Facebook page to learn more.)
When it comes to independent cinema, the 21st century has given birth to a new genre: the indie-sci-fi-rom-com. Some examples of this are Eternal Sunshine of the Spotless Mind, Happy Accidents, Safety Not Guaranteed, and Midnight in Paris. Though it combines two mainstream genres, the indie-sci-fi-rom-com stands outside the mainstream with an inventiveness that represents what indie film is all about: spirited filmmaking that tells new kinds of stories at any cost. I really love this genre. Mostly because it promotes feelings over thinking, which the indie set needs a little more of sometimes, especially in non-lethal emo/mumblecore/Wes Andersonian doses! There is something so sweet (naïve?) in the genre too, an implication that even in a world of scary unpredictable futures there still exists the most basic form of human emotion, that of love. I think this genre has been steadily growing too, mostly because we're living in an increasingly unstable time. Indie-sci-fi-rom-coms sooth our fears of scientific destruction, promote human connection and, most importantly, make us laugh despite the terror of so many mounting unknowns. "Don't worry," they say, "Everything is going to be okay. Hugs will save us even if science can't." What I am trying to say is, The One I Love is pretty damn sweet, and dark, and oddly hopeful, and if Mark Duplass is the indie-sci-fi-rom-com alternative to Hollywood's Tom Hanks, so be it!
Uptight Ethan and unsatisfied Sophie, played by Duplass (star of Safety Not Guaranteed) and Elisabeth Moss (Mad Men, Top of the Lake), are a young married couple whose love has been eroding away for a few years. The spark elusive, the magic spent. Trust has been broken to a seemingly irreparable degree. They go to couple's therapy, where Ted Danson, doing his aloof-yet-creepily-in-control act that his persona and physicality lends itself to so well, is their marriage counselor. He sends them on a vacation to a beautiful mansion on a scenic mountain range with orange trees and a swimming pool and all of the quiet, charming comfort one could want. Ethan comes across a digital guestbook of the many happy couples who have left the retreat. A sense of hope glimmers.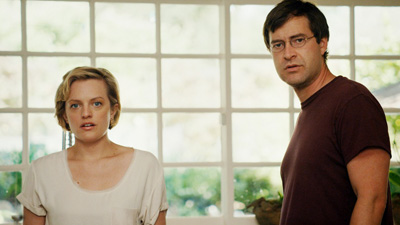 Ethan and Sophie seem to be trying, their now familiar bad habits slowly drifting away in the idyllic altitude. As the first night unfolds, things start to seem really good between them. Eerily good. Almost perfect. Instead of embracing the perfection, though, the two start to bicker about it. Details of "how good" things are become a point of contention that opens the door for their incessant fighting once again. Irked by the sudden extremes in their discord, and the need to be right, Ethan begins to overthink the situation, searching out answers to explain the inconsistencies. Ultimately what he discovers is something so otherworldly that the couple is forced to face each other head on, together and alone, in a way no one ever has before. The sci-fi twist of the film has managed to skirt the world of spoiler alerts so I am going to respect that. Luckily, there's enough to talk about here without giving away the twist!
The acting is well played and not overdone despite the possibility for falling into camp territory. The screenplay by Justin Lader is dark but has enough humor and truth in it, especially regarding the turmoil of relationships, that the story remains instantly relatable, easing you into the plots turn with no resistance. The dialogue has a smirk and sadness but not the overtly punchy edge that so many young, indie romantic comedies suffer from. Danny Bensi and Saunder Jurriaans' score is perfectly toned, a twisted, bubbly driver that underscores the unhinged humor of the situation. The setting and costumes offer a calculated coolness but not to an overbearing degree. The whole production is so tautly, confidently realized that there is never a moment to reflect on the believability of the unbelievable story. I find it hard to believe this film is the debut feature of director Charlie McDowell?!
Genre films tend to offer slightly exaggerated versions of the real world, which is exactly what The One I Love plays on in many ways, and I think that's why I love the indie-sci-fi-rom-com genre. They might show blown out versions of our world, but similarities remain. These films shy away from completely peaceful or solid conclusions, or constant CGI effects, which mainstream genres so often crave. Indie-sci-fi-rom-coms might indeed be romantic comedies, but they don't always end with a laugh. More often, they end with the comfort of a question mark. They remind us that the unknown is a quiet, consuming variable we can never be too sure of, both onscreen and off. But they also remind us that we will always have a hand to hold as we travel into the great undiscovered future.
— Donna K.