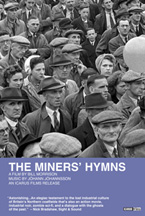 (The Miners' Hymns is being distributed by Icarus Films. It opens at the Film Forum on Wednesday, February 8, 2012. Visit the film's page at the Icarus website to learn more.)
Bill Morrison's films are not for the narrative of heart. The Miners' Hymns is no exception. Though it technically qualifies as "documentary cinema," this 52-minute historical tone poem has more of a direct kinship with Morrison's longtime work as a multimedia artist. Knowing that distinction before settling into The Miners' Hymns might prove useful. For even at a film-savvy venue like the Film Forum, I fear that some audience members will be scratching their heads at not just The Miners' Hymns, but at the three-short-film program that precedes it (Release [2010, 13m], Outerborough [2005, 8m], The Film Of Her [1996, 12m]). Or maybe I'm underestimating things?
Whatever the case, The Miners' Hymns is a hypnotizing experience. I just recently wrote something to this effect, but I'll say it again. When it comes to atmospheric cinema such as this, I prefer put my stomach in the foreground and my brain in the background. And while it's impossible to deny the obvious contrast in footage from present-day, color aerial landscape shots of the locations Morrison is about to show us from a much more distant, grainer, black-and-white vantage point, I have gotten to a point where I now make an unconscious decision to not get scholastic and process the film as some sort of intellectual treatise. Instead, I am perfectly content to sit back, relax, and let the images and sounds wash through me.
Since those sounds have been made by Icelandic composer Jóhann Jóhannsson this time around, they are indeed lovely. In crucial core, superficial ways, I'm actually the most pathetically easy audience member for a film like The Miners' Hymns: Jóhann Jóhannsson score, black-and-white documentary celluloid imagery? You had me at both of those, thank you very much. Which is to say that I have no insight to bring to the table when it comes to The Miners' Hymns. In fact, when I do contemplate it on those terms, I enjoy the film less. Does slow-motion imagery, set to Jóhannsson's score, equate to a sad lament for lost lives, for dead industries, for a faded world, for modern humans who live among the ghosts of their past but don't even realize it? Maybe? Maybe not? Who cares? My humble suggestion is to turn your brain off and simply let your senses be soothed and guided by Morrison's meditative vision.
— Michael Tully