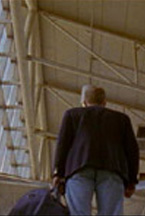 (The Mean Time screened this summer at Rooftop Films and will hopefully be making the rounds at festivals this winter.)
David is a sad-eyed astronaut who has just come home from a mission. He wears a wedding ring but there is no one to greet him at his mid-century modern home. The television is his only companion as he consumes a massive freeze-dried strawberry and drifts in an out of anxious sleep, awaking only to answer questions from a fetching young reporter about his experience in outer space. This is the basic premise of The Mean Time, a unique and delightful short film from writer/director Zachary Treitz. And while the story is relatively easy to summarize, the odd and engaging world Treitz fashions over the course of 18 minutes is not.
David seems hardly to have returned to earth at all as he struggles to answer the telephone and declines to even change out of his blazer and loafers. The appearance of a neighbor eager to ask him about his experience prompts him to lock his door. He is only able to answer the sweet, girlish reporter's questions with generic quotations that seem to have been crafted long before he actually went into orbit.
Red-haired, baby-faced David looks far too young to be an astronaut and the newspaper gal couldn't be much older than fifteen. Is this Bugsy Malone style casting? Or is the displaced Rocket Man seeing the world through a child's eyes? Whatever the answer may be, the oddball casting is just one of the many unexpected choices Treitz makes that pay off. He allows his audience to brew in uncertainty for just long enough but satisfies with a surprisingly cheerful finale that bridges the gap between dead-inside David and the viewer who has curiously watched his painful return home.
Treitz works as a part of Red Bucket Films, the collective behind The Pleasure of Being Robbed and countless innovative shorts which can found on their website (ed. note: we've already written about some of them right here). Fellow Bucket member Brett Jutkiewicz provides the film with its subtle but stunning camera work, long quiet shots that are a distinct departure from the handheld work he did on Robbed. The camera regards David coldly and curiously, mimicking his inability to connect with the sights and sounds of home after so much time hermetically sealed in a rocket that "smelled like a dentist's office."
Treitz shares aesthetic concerns with his fellow Red Bucketeers, particularly Josh and Benny Safdie, whose films have a handcrafted appeal that I'm sheepishly inclined to call quirky, even though that adjective says virtually nothing and implies a Wes Andersen vibe that isn't there at all (despite the attention to aesthetic detail and the self-conscious mixing of eras present in the art direction). But while the Safdies' work dabbles in surrealism, using dreamy art direction to add contrast to verite character studies, Treitz crafts a world almost entirely unrelated to our own. It may look similar but the rules have clearly changed.
— Lena Dunham