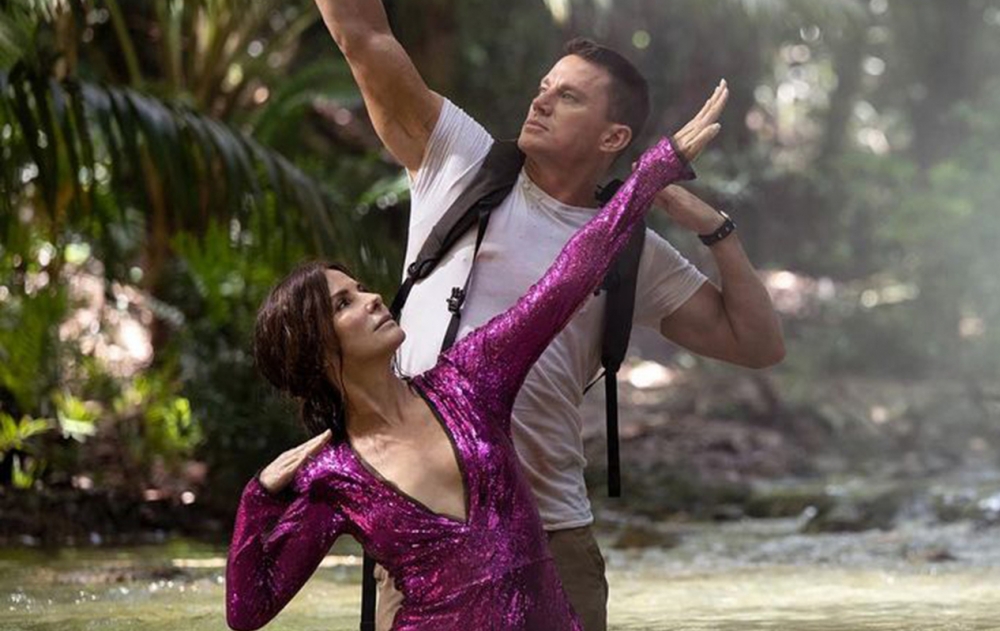 (The 2022 SXSW Film Festival runs March 11-20 in glorious Austin, Texas. Check out Melanie Addington's movie review of The Lost CIty. Join the conversation with HtN on our Letterboxd Page.)
Sometimes going into a film with zero expectations lets you enjoy the ride. With The Lost City, a fun comedy produced by and starring Sandra Bullock, premiered at South by Southwest this weekend before its theatrical run, which starts off as a basic Romancing the Stone premise and then subverts expectations.
Romance writer Loretta Sage (Sandra Bullock) and Alan, handsome cover model for her books (Channing Tatum), go on a book tour which then goes awry when an eccentric billionaire (Daniel Radcliffe) kidnaps her to find an ancient city's lost treasure that she talks about in her book. Directed by Adam and Aaron Nee, this third feature together is their first studio film. Adam joked before the film that they always hated the films that took a spot for a real indie but now they are those guys.
But watching the growth of the brothers since their first film at SXSW, The Last Romantic, it was interesting to watch the evolution and what a little bit of cash and star power can do to make a studio film. Starring Bullock, Channing Tatum, Daniel Radcliffe, with wonderful supporting cast of Da'Vine Joy Randolph, Oscar Nuñez, Patti Harrison and Bowen Yang.
Brad Pitt's cameo (as a real life hero) kicks off the fun and puts a new hero in the path of Loretta. Alan, very much a cover model and not a heroic man, wants to save the smart writer who is grieving and oblivious to anything other than her pain. While the movie pokes fun at the genre while also celebrating fun 80s and 90s swash buckling rom-coms, it is overall a fairly average comedy with some great one-liners from each of the cast. Radcliffe gets to play a fun bad boy even if a little over the top.
Harrison and Yang's characters are tonally perfect for the story but there is a weird shift with Nuñez who feels out of place and stereotyped. His lines feel off putting despite his adorable charm. But Tatum is a charmer in the film using his body for comedy in some lecherous ways that will make for some loud laughs at the theater.  And then of course there is Bullock's purple sequin skin tight outfit that really stands out in the rainforest and almost becomes its own character.
The film is written by Seth Gordon (King Kong: A Fistful of Quarters) and is a blissfully short 92 minutes. The movie opens in theaters March 25.
– Melanie Addington (@MelAddington)