RESTORATION CINEMA: THE LONG GOODBYE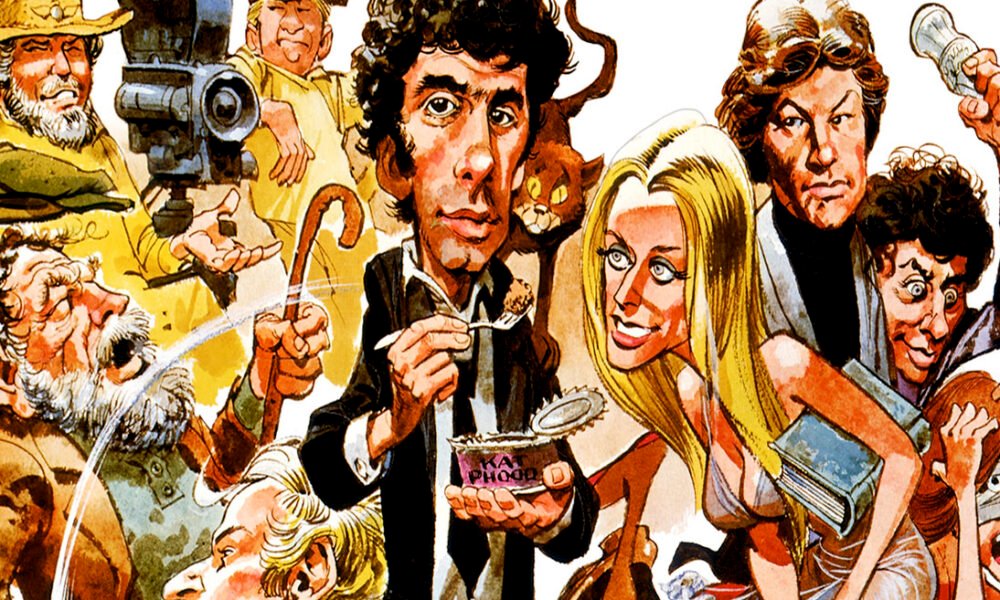 (Cinephiles across the globe have been blessed with weekly releases of classic films that have been given the 4K treatment. Hammer to Nail is full of cinephiles and thus, we bring you Restoration Cinema, a new area where our staff can dig in on newly restored classics like this 4K Blu-ray of Robert Altman's The Long Goodbye, from Kino-Lorber. Like what you see here on Hammer to Nail? Why not pay just $1.00 per month via Patreon to help keep us going?)
It had been quite a few years, maybe even decades, since I last watched Robert Altman's scruffy 1973 gem The Long Goodbye and as such, not much stuck with me aside from Elliott Gould's iconic, almost dazed performance as Raymond Chandler's literary anti-hero Phillip Marlowe. While Marlowe's character has been played onscreen multiple times over the years, many will remember the role as "best" played by Humphrey Bogart in The Big Sleep (1946) while more diligent fans will say that top title belongs to Robert Mitchum in Farewell My Lovely (1975). It doesn't really matter who your favorite Marlowe is because the entire point of Altman's film is to not only subvert the Film Noir genre but also, subvert the gritty Noir detective character. Who better to do that than Gould, the sort of sexy 70s everyman who had recently graced the cover of Time Magazine with the header, "Star for an Uptight Age."
Indeed, Gould as an actor at that stage was anything but uptight. After an Oscar nomination for Best Supporting Actor in his first big role in Paul Mazursky's Bob & Carol & Ted & Alice, Gould then went on to play Trapper John in Altman's MASH. But from there, previously unbeknownst to me, things went a bit sideways for Gould, career-wise. More on that later.
The basic premise for The Long Goodbye is that Gould plays Marlowe, a chain-smoking private eye in 70s Los Angeles. His longtime friend Terry Lennox (former MLB player Jim Bouton) comes to him in the wee morning hours with a scratched face and a big problem. He asks Marlowe to drive him to the Mexico border and Marlowe, ever the good pal, agrees to do so. From there, things get twisty (hey, it's a Noir) and Marlowe finds himself somewhat adjacently attached to the murder of Lennox's wife. I'll spare further plot as again, it doesn't really matter. What does matter and what is front and center to the film is Gould's Marlowe, slowly wandering around Los Angeles, running into and out of trouble. On the case but not really on the case as he strikes a wooden match on any available surface to smoke an ever-present cigarette, all the while mumbling the catch-phrase "it's o.k. with me" to just about anyone in any situation. 
In rewatching The Long Goodbye via an excellent 4k restoration from Kino-Lorber, the ambling nature of the film is again front and center. So much so, it really sank in that the first 15 or so minutes of the movie feature Marlowe getting awakened by his cat at 3am and the bed-headed private dick trying to find food to feed the finnicky feline. Odd start for a film noir? You bet. And Altman (via a script from Leigh Brackett who had wrote the aforementioned The Big Sleep as well as co-wrote The Empire Strikes Back) keeps this thesis firmly in place throughout the entire film. Yet, it never gets boring and is in fact one of the most strangely engaging films you're likely to see. 
The Long Goodbye meanders, like no other, in a series of seemingly non-sequitur scenes that eventually add up to a whole. After the Lennox situation begins to unfold, Marlowe takes on another case, this time from a blonde, sort-of film fatale (another Noir trope Altman twists a bit) in Eileen Wade (Nina van Pallandt), the fed-up wife of drunken, Hemingway-esque writer Roger Wade (a truly fantastic Sterling Hayden) who's gone missing after a major bender. Judging by her attitude towards her spouse Mrs. Wade can take him or leave him but her sweet Malibu digs suggest the former. 
Another reason the film is so successful, aside from the Gould presence and Hayden performance, is the camera work by Vilmos Zsigmond, it never stops moving. In each scene it gently glides side to side, pushing in and back, subconsciously and sometimes, consciously, engaging the eyes and mind, meandering without a point until we realize that is the point. Gould is just so frustratingly charming as he wanders about, one moment engaging the 4 mostly nude hippy neighbors he has (it's definitely o.k. with him) to getting his ass kicked by cops and mobsters. 
I caught many things in this viewing that I hadn't in my previous one, the score by John Williams, particularly the theme song (sung by Johnny Mercer alongside Williams) was probably the biggest. While the film features it up front as a swooning Noir torch number, the song later crops up throughout the film as Muzak in a grocery store, via a Mexican marching band and even in a doorbell chime. I hadn't previously noticed that and it was cool! This information is relayed in a featurette called Rip Van Marlowe that has more recent interviews with Gould and Altman including discussion about how the two saw Marlowe as a Rip van Winkle character who had been asleep for 20 years before waking up in 1970s Los Angeles. This angle adds a ton to the overall viewing and several other terrific insights are brought to light in the featurette. The other I watched was an insightful chat with film critic David Thompson who edited a 2006 book of Altman interviews entitled Altman on Altman. 
In this discussion, Thompson talks about how at the time of The Long Goodbye Altman had fallen out in Hollywood. After the massive success of MASH he followed up with the oddball (yet wonderfuly weird) Brewster McCloud (1970) and then McCabe and Mrs. Miller (1971) which is revered now but at the time flopped due to Altman's subversion of the still-beloved Western genre and it's–in hindsight–bold use of overlapping dialogue. From there he upped the ante in aiming for his Hollywood demise by making his version of a European art film with Images in 1972. Subsequently at this time, and previously unbeknownst to me, Gould had also pretty much blown all his cred by getting a reputation as "difficult" which then grew to "unmanageable" due to a series of bizarre behaviors on the set of the first movie he was to star in and produce, A Glimpse of Tiger. While the Thompson featurette doesn't go into much detail, they break ground on a rabbit hole for the film (which was never completed) that one can crawl online and is a fun "what if…" type of read. 
As always, Kino-Lorber has done an excellent job with the 4K transfer and simply loaded the Blu-ray with special features. In addition to the aforementioned, there's one with Vilmos Zsigmond who discusses how he got the weed-hazed look of the film, a conversation with Tom Williams all about Raymond Chandler, 2 theatrical trailers, a TV spot and audio commentary with film historian Tim Lucas which, I'm excited to hear. In fact, I'd have listened sooner if The Long Goodbye wasn't the kind of film you want to overdo. Rather, letting it slowly sink in and wander around your brain like Gould's Marlowe is the way to go and, that's o.k. with me.
– Don R. Lewis (@ThatDonLewis)
Kino-Lorber; Robert Altman; The Long Goodbye Blu-ray;