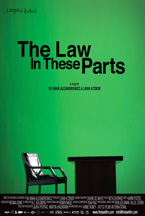 (The Law In These Parts is now available on DVD. It won major awards at the Sundance Film Festival, Full Frame, Hot Docs, and the Jerusalem Film Festival. It is distributed by Cinema Guild and opened theatrically in New York City at the Film Forum on Wednesday, November 13, 2012. Visit the film's official website to learn more.)
Compared to the conversational fire-starter that was America's recent presidential election, a discussion about the ongoing Israeli-Palestinian conflict is certain to ignite a raging nuclear bomb. There really is no political topic on present-day planet Earth that rivals it. So which side of the line does this admittedly ignorant and removed Westerner stand on? Well, let's just say that instead of writing "the ongoing Israeli-Palestinian conflict" two sentences ago, what I really wanted to write was "Israel's corrupt and unlawful occupation of Palestine." But after watching Ra'anan Alexandrowicz and Liran Atzmor's The Law In These Parts and listening to these lawmakers "explain" their positions on how this situation got to be where it is, it's difficult… it's complicated… frankly, it's hard not to want to punch Israel in its imperious face.
While Emad Burnat and Guy Davidi's recent 5 Broken Cameras presented a wholly convincing argument for the persecuted Palestinian's plight by speaking from a heart-wrenchingly humane place, its story was nonetheless told by a Palestinian, perhaps allowing for less sensitive detractors to brush the film off as some form of sappy propaganda. Which is where The Law In These Parts comes into play. Taking the exact opposite approach, Alexandrowicz and Atzmor instead sit down with some of Israel's most influential lawyers and judges to let them explain themselves. These doughy white men—all doughy, all white, all men—were each responsible, in some way, shape, or form, for creating and upholding the laws that were drafted and enacted after Israel's takeover of the West Bank and Gaza Strip during the Six Days War in 1967. Questions are asked and questions are answered, but they generally aren't answered with any sort of humane, balanced logic that would uphold one's faith in that country's Supreme Court.
Before this turns into an outright rant, I should clarify right now that ultimately what makes The Law In These Parts such a smart and provocative and vital film isn't that it is an outright condemnation of Israel—or should I say it isn't a condemnation of these doughy white men in particular. This doesn't lessen the blow, however, for the film's more unfortunate lesson is that the multi-faceted, murky vagueness of the Palestinian occupation was manipulated and supported by Israeli powers-that-be in a numerous different ways. If the situation were simply black-or-white, it might be easier to swallow. But it is ugly-and-broad-and-gray, and that only adds to the oppressive atmosphere.
For fear of re-stoking my own inner rage, it doesn't seem like a good idea to recount any of the film's more eye-opening examples of just how and where the Israeli political system tipped the scales from 'questionable' into unlawful in the past five decades. But just listening to these judges and lawyers confirm that there are indeed two rules of law used to govern the same territory—one for their country's citizens and the other for their 'held' occupants—okay, see, I have to stop now, because writing that concrete fact, which no one can dispute, makes me want to stop typing and start making fists again.
While movies—even the greatest of documentaries—aren't likely to change one's mind about a conflict as heated as this one, they can certainly open eyes a little bit wider. The one-two punch of The Law In These Parts and 5 Broken Cameras does that and then some. If you haven't seen these movies yet, you must. You really must.
— Michael Tully