(The Juche Idea is now available on DVD thanks to Lorber Films. It screened theatrically for one week at Anthology Film Archives from Thursday, May 27th through Wednesday, June 2nd, 2010. It will be preceded by two of Jim Finn's short films: El Paraguas (2004, 4 minutes, video) and Decision 80 (2003, 10 minutes, video). Visit Finn's official website to learn more.)
I'm not sure if it's a) Jim Finn's ingenuity as a filmmaker; b) Kim Jong Il's outlandishly hokey propaganda tactics; or c) my own embarrassingly broad political ignorance, but trying to distinguish between fact and fiction in Finn's latest mini-feature, The Juche Idea (62 minutes), is a confounding task. Are there really artist retreats in North Korea that house outsiders like the South Korean video maker that is profiled here, in which the North Korean ideology of "The Juche Idea"—based around the importance of political independence and economic self-reliance—is fostered? (No way.) Did Jong Il really devote so much time to writing film theory? (Yes way.) Are those the correct subtitled translations of those old movie clips or have they been reworked by Finn to best serve his purposes? (Maybe way?) While I think I understood what was what while watching The Juche Idea, I also can't deny that my head was tilted to the side, locked in a state of pleasant bafflement throughout (note: this is a very good thing).
I haven't seen Finn's most well known film, Interkosmos, yet I have seen some of his other shorts. From what I gather, his primary obsession as an artist appears to be exploring the notion of utopian thought and how propaganda distorts, enhances, and oftentimes self-satirizes this particular way of seeing the world. To do this, he takes an undeniably experimental stylistic approach, yet this never feels pretentious or alienating. The Juche Idea owes as much to sketch comedy as it does outsider video art—yet it isn't necessarily those things, either. I'm not sure what it is, exactly, which is why after having only made a few films, I've decided to coin a new adjective to describe this artist's work: Finnian.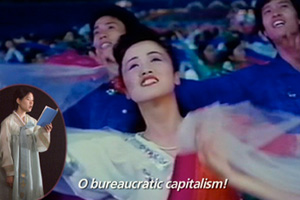 With Kim Jong Il and North Korea, Finn has found a boundlessly rich target, but he doesn't just go after Jong Il in The Juche Idea—he points his pesky fingers in many different directions. Through laughably stilted and shoddy examples of the work being produced in that fake artist retreat, the "Juche Farm Residency," Finn is able to poke fun at America (or at least America as its detractors see it). By choosing to make his subject at the fake retreat a young artist who doesn't seem to know exactly what she's saying with her work, he lampoons not just the emptiness that abounds in so many artists like this one, but he makes a critique about artist colonies themselves. And by splitting the screen to show Jong Il's lofty quotes about the power of cinema next to footage of gaudy North Korean melodramas that contradict his words—not to mention turning newsreel footage of old government parades and marches into splashy spectacles of big-screen entertainment—yes, Jong Il and North Korea are painted in a silly light. But all this picking is never bitter, for it is quite  obvious that Finn is genuinely infatuated with kitsch and how political ideologies shape our world. (As an aside, I would love for someone to program The Juche Idea and The Red Chapel together some time—what a fun double-bill that would be!).
The Juche Idea is like nothing else you'll encounter on a big screen this year. But that doesn't mean it belongs in the outskirts-of-the-outskirts of the theatrical universe, as its abbreviated running time and experimental storytelling approach might further imply. For this is exactly the type of expressive filmmaking that helps to redefine the notions of what independent cinema can be. As in, it can be anything. In this case, it's smart and funny and creative and wholly unique. It's downright Finnian, is what it is.
— Michael Tully