IMPERIALISTS ARE STILL ALIVE!, THE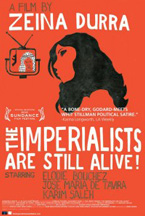 (The Imperialists Are Still Alive! is being distributed by Sundance Selects. It opens theatrically at the IFC Center on April 15th, 2011, and is also available through Video On Demand. Visit the film's official website to learn more.)
By way of reference point, I submit that The Imperialists Are Still Alive! has as much in common with the Bret Easton Ellis novel Glamorama as it does with most other films. In that book, an international terrorist ring forcibly recruits an unwitting male model on the grounds that the inherent vapidity and surface-level concerns of his world will make him an ideal candidate for reeducation. In a similar vein, The Imperialists Are Still Alive!—writer-director Zeina Durra's look at a middle eastern expat named Asya whose comfortable life in New York is made less so by the knowledge of her loved ones' hardships overseas—plays as a sort of absurdist-political tract in which the sometimes-separate worlds of art and terror/world politics, if not quite one, certainly intermingle. Toward that end, Durra populates her film with politically aware socialites in whose otherness is embedded a vague screed on the ever-increasing tendency to suspect anyone and everyone, especially if the someone in question is Arab.
Though underdeveloped, Durra's point is cleverly conveyed. She critiques art as much as the wayward political leanings of her aware-but-ineffectual cast–sympathizers rather than collaborators who hear about the entanglements of their family and friends in lieu of partaking in them–and, in so doing, links two strangely complementary threads. That she privileges one over the other, thus making her characters' underlying concern for their families as peripheral to us as it apparently is to them, may be read either as a commitment to form and content or an emotional misfire. Though Asya's behavior is far from damnable (how hands-on can you be when information is scant and distance is vast?), Durra suggests that drifting from this party to that gallery opening might not be the noblest way of honoring the sacrifices of her family.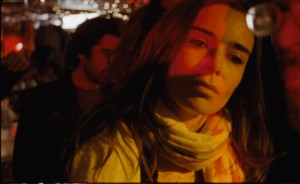 The art world is often useful in drawing a fine line between nonsense and poignancy, a line Durra sometimes toes too closely. To depict is certainly not to condone, but Durra's satire often lacks bite. This stems from (excessive?) sympathy for her characters, whom she gives a light treatment at the expense of in-depth analysis. Here, in the way Durra appears to glamorize rather than satirize, Glamorama comes to mind once more. Her characters are good-looking, intelligent, and fairly well-to-do; they're also arrogant and snobbish. It's in Asya's discussions of art (presumably the subject for which she holds the greatest passion), however, that Durra tips the scales. Gallery openings in The Imperialists Are Still Alive! function less as meetings of minds and more as collisions of half-baked thoughts and ideas. In using these scenes to exhibit her characters' quirks and flaws as the characters exhibit their art, Durra becomes something of a cinematic curator herself.
The Imperialists Are Still Alive! is propelled forward (and backward, and sideways) less by by a streamlined narrative arc and more by the hope that its free-floating characters and scenes will ultimately coalesce into a larger picture. Similarly, its initial (and almost aggressive) weirdness is tempered by such somber moments as Asya relaying news of her brother not long after huddling around the radio in a small market in order to hear news of the latest bombings in Beirut. Still, extracting meaning from Durra's film is a decidedly strange process, and The Imperialists Are Still Alive! can be as difficult to make heads or tails of as the art therein. In this way, the angle from which it's viewed is vital. Seen one way, it's inspired; seen another, it's lacking. Perspectivism aside, Durra herself holds promise, even if she hasn't entirely fulfilled it with this film.
— Michael Nordine