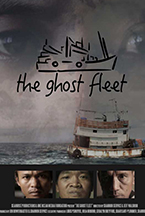 (The 9th annual DOC NYC ran November 8-15 in New York City. Lead Critic Chris Reed was there so stay tuned for his review and interviews. Like what you see here on Hammer to Nail? Why not pay just $1.00 per month to help keep us going?)
A harrowing tale of kidnapping on the high seas, though without the attendant cinematic thrill of a swashbuckler, the documentary The Ghost Fleet, from directors Shannon Service and Jeffrey Waldron (making their feature debuts), examines modern-day slavery in the Thai fishing industry. Incredible as it may seem, there are men, ripped from their ordinary lives at home, who serve up to 20 years of involuntary indentureship on ships that travel the open ocean, never returning to land. They would die out there if they did not occasionally escape or if there were not an organization called the Labour Right Promotion Network (LPN) looking for them. It is a modern-day nightmare, driven by overfishing, environmentally unsound practices, and greed. As boats had to go further and further from land to find fish, local fisherman began refusing to travel for such long periods of time, leading fishing conglomerates to stop asking, and start taking. It's an easy solution, as long as no one's looking.
 LPN's Patima Tungpuchayakul is the film's main protagonist, working hard to save those enslaved. She pursues lead after lead, embarking on journeys of discovery to the nearby Indonesian archipelago, where escapees often make new homes. It's mainly poor Thai and Burmese men who are trafficked, their families never aware of what's happened. One of Patima's helpers is a former slave, himself, named Tun Lin. He is missing fingers, though some, as we see, have it worse, missing entire limbs. Beyond the physical injuries, so many who escape suffer from PTSD and depression. They are also conflicted when Patima finds them, having married and started families in their hidden hamlets. Why go home? What awaits them there?
Tun Lin is also lucky because he, unlike most, has received compensation through the courts for his own forced labor. These cases need witnesses to succeed, and so many are dead, or still at sea. Still, Patima and her crew persist, and it pays off just enough, in terms of reconnecting lost souls, that she continues despite the obstacles of time and money. One such case is truly moving, as when a rescued slave named Pong meets his parents again after over a decade away. Though it is virtually impossible to bring the perpetrators of these crimes to justice, such moments of reunion show the value of LPN's work, nonetheless. To date, they have rescued over 4000 men, which is no small feat
Service and Waldron film many of their interviews in extreme close-up, slightly out of frame, as if to show the warped, off-kilter remains of what were once fully functional beings. It's an effective visual, as is the overhead shot of a boat, at night, mid-ocean, surrounded by nothing but water. This vast prison drains those who enter of all hope. The Ghost Fleet ends with a call to action to avoid buying food from Thai fisheries, none of which is untainted from the vicious business the film profiles. Do your research and check your labels. Make sure what you eat is "ghost"-free.
– Christopher Llewellyn Reed (@ChrisReedFilm)
Like what you see here on Hammer to Nail? Why not pay just $1.00 per month via Patreon to help keep us going?