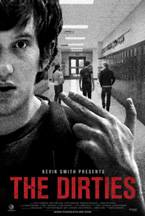 (The Dirties opens theatrically and on VOD on Friday, October 4, 2013, through Phase 4 Films. Its NYC premiere was at Rooftop Films on Saturday, June 1st, 2013. It world premiered at the 2013 Slamdance Film Festival, where it won the Grand Jury Prize. Visit the film's official website to learn more. NOTE: This review was first published on January 20, 2013. EDITOR NOTE: I, Michael Tully, was a member of the juries that awarded The Dirties the Independent Visions prize at the Sarasota Film Festival and the Next Wave Best Feature at Fantastic Fest.)
Found footage movies typically leave you a bit skeptical about why the characters were so diligent about keeping the camera running when life-or-death stakes would recommend otherwise. Here, the central character Matt (played by director/co-writer Matt Johnson) is a charismatic high school outsider who, with the help of his best friend Owen, is making a revenge-fantasy movie about taking down a real group of bullies he calls "The Dirties," using the footage captured every day by a dutiful, barely acknowledged cameraman, in a sort of reality-TV style. Matt is totally obsessed with movies: he gets worked up about the details that make a scene work, like a certain walk ("would you do that walk from Malcolm X? You know that one that Spike teaches Denzel?!"), or the right hat or glove—and all his self-respect is wrapped up in his film. Stopping the camera is never an option.
It starts out as a bit of a bromance, Matt and Owen against the world, playing clever pranks on their depressingly dim and plebeian schoolmates. There are several unironic montages (well, maybe slightly ironic, but genuinely warm and happy-making) of the two of them having fun together. But they're very different: Owen is actually interested in girls, and the cute but vapid Krissie B. seems to like him back. Matt on the other hand is clearly in love with himself, at one point dressing up in low-craft drag to sing an absurdist torch song ("Malkovich Malkovich") and drinking in the footage later, by himself.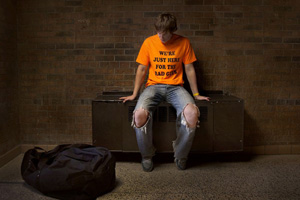 The film's vision of high school is dystopian and frighteningly realistic: the bullying scenes feel written from experience. The bullies themselves are far from stereotypical, and you can understand how they would perceive and resent someone like Matt. He can't help letting his freak out—he's a natural star, firing off hilarious and spot-on movie ideas as fast as he can articulate them, keeping Owen (and us) entertained with his brainy, childlike enthusiasm.
There's a sophistication in the way the film portrays the gradual disintegration of Matt and Owen's friendship—a series of turning points, starting with Owen refusing to let Matt comfort him after one of the Dirties hits him with a rock. The camera lingers on Owen's dumbfounded reactions as Matt starts talking about actually shooting the Dirties. A latent insanity manifests in Matt when he senses his only friend starting to pull away: on a trip to shoot guns with Matt's gun-loving cousin, he tells Owen to "whizz one past my head!"
The camera(man) is a character within the piece as well, with a tendency to lurk behind furniture or mini-blinds, sometimes turning away so it/he won't be noticed. Matt takes it utterly for granted, acknowledging the ever-silent cameraman only once, and talking to it/him as if to an audience when Matt stops coming around. The editing is distinctively poppy, with scenes unfolding in real time and then abruptly jumping forward with a few well-placed cuts, or taking advantage of the movie-within-a-movie scenario, with intentionally jarring edits out of a scene to Matt watching it on a monitor.
Johnson's most impressive sleight of hand is how he subtly shifts the tone going into the third act. What starts out as smart, irreverent comedy eventually turns into a kind of horror, giving the viewer a sense of being weirdly complicit. The Dirties draws fascinating connections between the bullying phenomenon within the sociology of high school, the psychology of the victim/outsider, and the genesis of madness.
— Paul Sbrizzi