THE CURBSIDE CRITERION: DREAMS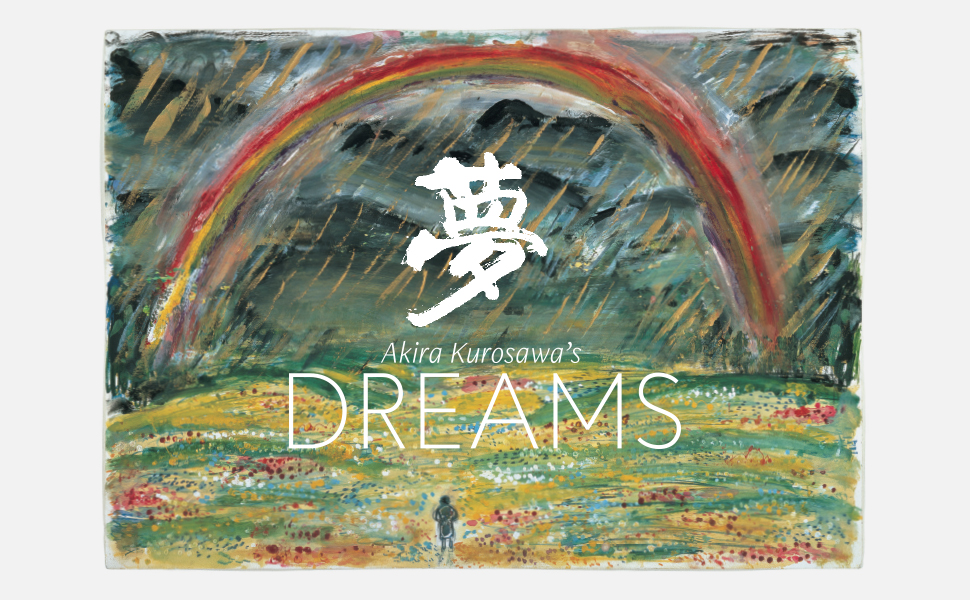 (Here at Hammer to Nail, we are all about true independent cinema. But we also have to tip our hat to the great films of yesteryear that continue to inspire filmmakers and cinephiles alike. This week, Brad Cook explores the dreams of Akira Kurosawa with the Criterion 4k Blu-Ray release of the Dreams.)
When Criterion released Akira Kurosawa's Dreams on Blu-ray several years ago, noting that it used a new 4K digital transfer, it was inevitable that a 4K UltraHD edition would come along eventually. And now here it is.
Long story short, it's the same as the previously issued Blu-ray, just with improved image quality, but read on if you missed that last release and want to know if you should scoop up this one.
Dreams is an anthology film that tells eight stories based on dreams Kurosawa had. In one, a soldier meets the ghost of his dead comrades in a tunnel. In another, a boy witnesses a fox wedding in the woods and meets the disapproval of his mother when he comes home. Martin Scorsese even makes an appearance as Vincent Van Gogh in a story that features an art student traveling through the famous painter's works to find him.
The tales are really more like vignettes that don't necessarily have a beginning, middle, and an end, but, then again, how often do most people's dreams conveniently wrap themselves up like an episode of a TV show?
The power of Dreams is more in the emotions it taps into as a nameless protagonist progresses from child to adult over a period of two hours. It's the kind of movie you might want to sit with for a little while after it ends, just contemplating its beautifully composed shots that frame moments of heightened tension.
If you have the previous disc, the question of whether or not to buy this one comes down to how important the 4K visual quality is to you. It looks wonderful, of course, but the 2K Blu-ray, which is also included, is no slouch either. Either one will probably do the job on most mid-range setups, but anyone who has a high-end home theater will likely want this new edition.
A commentary by film scholar Stephen Prince is the only extra on the 4K UltraHD platter. He has recorded commentaries for many other Kurosawa films released by Criterion, so he should be no stranger to fans of the director. It's a great track that's more like a film class lecture, and if you like that kind of thing as much as I do, you'll want to dive right in.
The rest of the supplements, which were ported over from the previous release, are found on the accompanying Blu-ray disc. Two of them, interviews with script supervisor Teruyo Nogami and assistant director Takashi Koizumi, were newly created for the other edition. They run about 33 minutes total and cover their involvement with Dreams, as well as their careers in the industry.
The centerpiece of the extras is The Making of Dreams, which runs 150 minutes and was released in 1990, the same year as the movie. It's a fabulous making-of that one wouldn't necessarily expect to find for a movie that's not usually on most people's top Kurosawa films lists.
The other bonus is Kurosawa's Way, which hails from 2011. Running nearly an hour, it features Bernardo Bertolucci, Hayao Miyazaki, Clint Eastwood, Martin Scorsese, and others talking about the famous director and his influence on their work. It's a nice change of pace from having people like George Lucas and Steven Spielberg discuss Kurosawa — I have nothing against hearing from them, but they've also talked about him a lot over the past few decades.
The North American theatrical trailer rounds out the platter. The included booklet, which is a staple of Criterion's releases, is the same one found in the prior edition; it features am essay by film critic Bilge Ebiri as well as the script for a sequence that was cut from the film.
– Brad Cook (@BradCWriter)
Criterion 4k Blu ray; Akira Kurosawa; Dreams