THE CURBSIDE CRITERION: DR. STRANGELOVE (or how I stopped worrying and learned to love the bomb)
(We here at Hammer to Nail are all about true independent cinema. But we also have to tip our hat to the great films of yesteryear that continue to inspire filmmakers and cinephiles alike. This week, our "The Curbside Criterion" continues where HtN staff can trot out thoughts on the finest films ever made. Today Brad Cook explores the new Blu-Ray release of Dr. Strangelove… the classic, essential Kubrick black comedy that finally get's the full treatment it so richly deserves.)
It's no secret that Stanley Kubrick was very concerned about the possibility of nuclear war during his lifetime, but when he made Dr. Strangelove (Or: How I Learned to Stop Worrying and Love the Bomb), he wisely decided to move away from the seriousness of the source material (the novel Red Alert) and instead find the black humor in the story. It was a choice that made the movie better and likely ensured it would become a classic, rather than a Cold War relic.
Kubrick knew that you can't go wrong when skewering the absurdities inherent in a situation where two powerful governments hate each other and could possibly end life as we know it, as long as the other side makes the first move. And when you add in some good old-fashioned tinfoil hat conspiracy thinking in the form of General Jack D. Ripper's belief that the commies are poisoning America's water supply with fluoride, well, you have the making of a farce for the ages.
Ripper (Sterling Hayden) becomes increasingly insistent about his theory, driving him to finally order a plane piloted by Major "King" Kong (Slim Pickens) to drop its payload of nukes on the Soviet Union. When milksop President Merkin Muffley (Peter Sellers) finds out, he convenes a meeting in the War Room, even inviting a Soviet ambassador to join the proceedings, much to the irritation of General "Buck" Turgidson (George C. Scott). Sellers plays two other roles: Captain Lionel Mandrake, who Ripper locks in a room with him while refusing to rescind his order, and Dr. Strangelove, a wheelchair-bound former Nazi scientist who is brought in by Muffley to help solve the problem.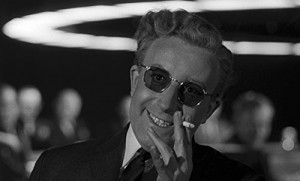 The story becomes increasingly absurd as the tension increases, culminating in that famous final shot with Pickens. I've read that, just for fun, one should try watching the film with the sound off: It looks and feels like a taut thriller for much of its running time, but the dialogue undercuts the seriousness at every turn, further driving home the idea that mutually-assured destruction is actually a very funny idea, especially when we realize that the powers-that-be are operating in a realm well beyond our ability to influence their decisions. If you can't beat 'em, laugh at 'em, right?
This new Criterion Blu-ray release of Dr. Strangelove features a 4K digital transfer that promises the best-looking version of the movie on a high-definition format yet. The company also included a three-minute 1966 audio interview with Kubrick in which he talks about the film. I'm not sure if it has surfaced anywhere else in the past, but it's billed by Criterion as a new special feature for this film on home media. It's certainly worth listening to.
Criterion also conducted several new interviews for this release with:
Mike Broderick, a film scholar who talks about the nuts and bolts of making the movie, from pre-production through editing. He has spent much time studying the director's career as well as the making of Dr. Strangelove, and he brings a learned perspective to the discussion. For example, he adds a wrinkle to Kubrick's reputation as a creative tyrant when he notes that the director was open to suggestions and improvisation. (20 minutes)
Joe Dunton (camera advisor on Eyes Wide Shut) and Kelvin Pike (camera operator on many Kubrick films), who discuss the visual techniques Kubrick used, mostly regarding this film. As many fans know, Kubrick started out as a photographer, and they start by talking about how that informed his career as a filmmaker and then get into his techniques. Both of them also have many interesting anecdotes about working with Kubrick. (13 minutes)
Richard Daniels, senior archivist and editor of the Stanley Kubrick Archives, who talks about the movie from the perspective of the documents and other materials he found in the archives. The piece is called Exploding Myths, and while it may not drop the bombshells suggested by the title, it does offer a new look at how Kubrick approached every film he made. (14 minutes)
David George, the son of Red Alert author Peter George, who talks about his father's book and his career, as well as his later collaboration with Kubrick on the film. One interesting insight: the character Dr. Strangelove doesn't appear in the novel, but he was imported from another Peter George story. (11 minutes)
Rodney Hill, a film scholar who discusses the movie's themes as expressed through its mythological references and how the characters present some basic archetypes that reinforce those ideas. (17 minutes)
The rest of the bonus features are older pieces, some of which were ported over from earlier home video releases of the movie, as noted:
The Art of Stanley Kubrick (14 minutes) originally appeared on the 2000 Special Edition DVD that was part of the Stanley Kubrick Collection and then released later as a standalone disc. It covers Kubrick's early career through Dr. Strangelove, with comments from producer James Harris, actor James Earl Jones (he made his acting debut in this movie), and others.
Inside Dr. Strangelove (46 minutes) is a basic making-of piece that still covers some interesting territory, such as the pie fight that was supposed to have ended the movie (it's shown through photos, not footage, unfortunately). It was on that 2000 Special Edition DVD too.
Publicity interviews with George C. Scott and Peter Sellers that were pre-recorded and sent to TV stations so journalists could ask questions that set up the scripted responses. Obviously no one could do that today, but back then, someone living in Poughkeepise had no idea that they were watching the same "interview" as someone in Boise. This was carried over from the 2000 disc too.
No Fighting in the War Room (30 minutes) is from the 2004 40th Anniversary DVD. It covers the general sociopolitical climate of that time period, mixing comments from Spike Lee and Roger Ebert with reflections from Bob Woodward and Robert McNamara (former Secretary of Defense), among others. McNamara recalls how the military and the White House viewed the possibility of nuclear war back then, discussing things that have eerie parallels to the movie, such as the idea of "acceptable losses," should the nukes start flying.
Best Sellers (18 minutes) is another piece from the 2004 release that covers Sellers' career, with comments from Ebert, Jones, Michael Palin, and others.
A four-minute clip of Gene Shalit interviewing Sellers on the Today show in 1980. While it was about another Sellers movie, they discuss Dr. Strangelove a bit. I'm not sure if this has appeared on another home video release of this film before.
A 17-minute exhibitor's trailer that was designed to get theater owners to show the movie, along with the theatrical trailer.
Regarding materials that have appeared elsewhere but don't show up here, Sony's 2009 Blu-ray had a picture-in-picture trivia track that wasn't ported to this disc, along with a longer interview with McNamara, so you may want to hang on to that one if you have it. I don't have that release, however, so I can't say how much this one suffers from losing those pieces.
I don't have any other home video iterations of the movie, except the 2000 DVD, so I can't say if anything else is missing, but this Criterion edition is pretty exhaustive and certainly worth the purchase, even if you have any of the previous releases.
Finally, if you're a fan of the physical materials Criterion always includes, you'll enjoy what they put in this package: An envelope marked "Top Secret" that contains a tiny "Holy Bible and Russian Phrases" booklet, as seen in the movie, a "memo" that's actually an essay by author David Bromwich, and a Playboy-like magazine with an essay by Terry Southern, who helped Kubrick with the script. An ad that asks "Have you ever seen a commie drink a glass of water?" adorns the back cover of the mini magazine. Brilliant touch, Criterion.
– Brad Cook (@BradCWriter)