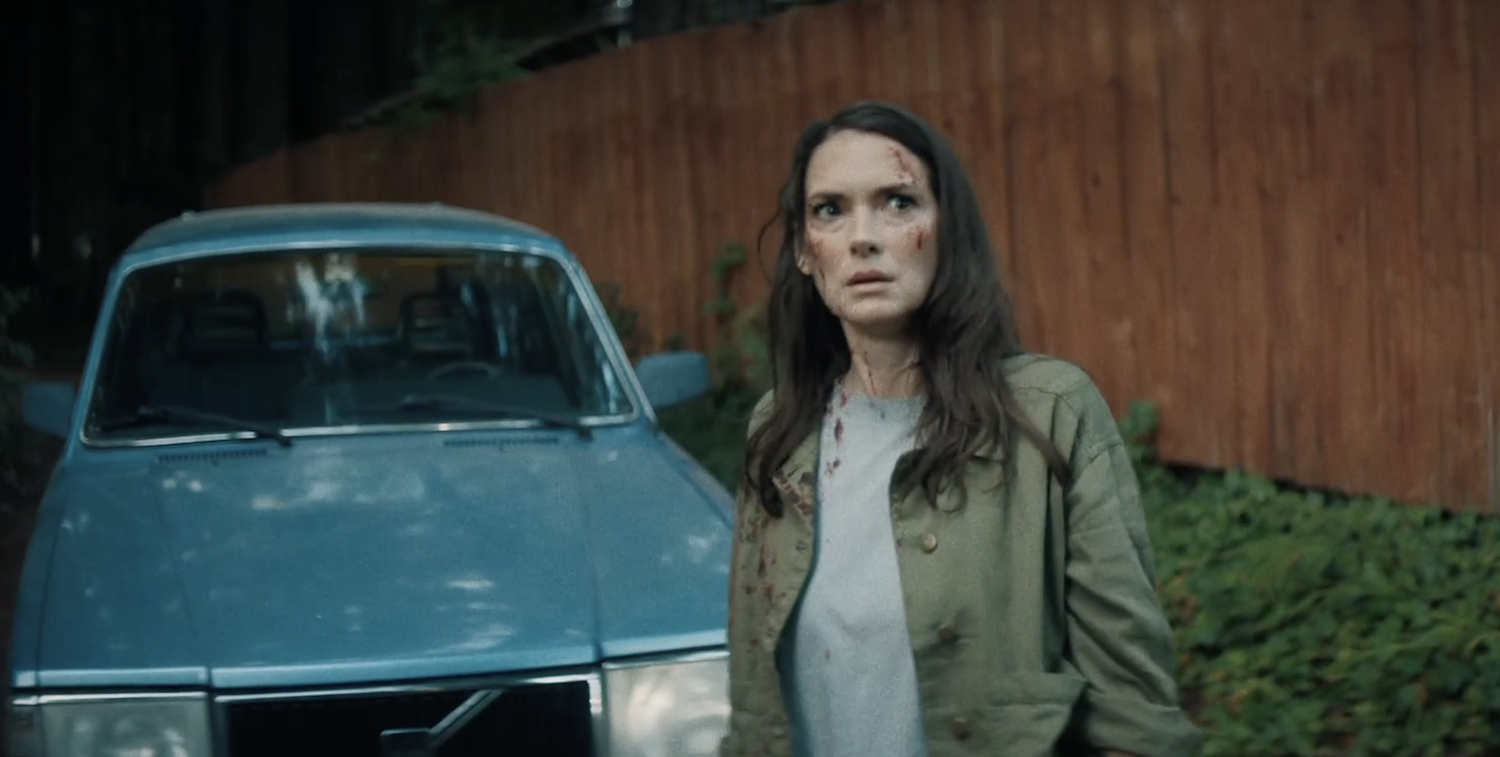 (The 2022 SXSW Film Festival runs March 11-20 in glorious Austin, Texas. Check out Chris Reed's movie review of The Cow Join the conversation with HtN on our Letterboxd Page.)
Forget sacrificial lambs, it's cattle time! Just who is the cow, however, remains the question. When Cath takes off for a weekend getaway in the woods with Max, her boyfriend of one year, she has no reason to suspect anything nefarious. Given what we later learn about that boyfriend, though, perhaps she should have. Whatever John's intentions, he is the one to disappear, leaving Cath with a mystery to solve. Or perhaps she should just let it go. But then there'd be no bizarre fun for us to watch, and The Cow, from director Eli Horowitz (director of the Homecoming podcast series), is nothing if not strange to the core, to the benefit of everyone but the characters.
Cath is played by Winona Ryder, whose career resurgence since Netflix launched its Stranger Things series in 2016 has been more than welcome. Just past 50 now, she here incarnates a woman hardly old yet made to feel so by the younger folks in the narrative. Max (John Gallagher Jr., Underwater), with his roving eye and arrogant demeanor, is no help, himself no longer a kid yet acting like it whenever he can. They're a mismatch from the start. Good riddance, I say.
But that was not the plan. Told in two overlapping, intercutting parts, the story reveals the reasons for the opening journey and why things go awry. Little by little, we gain more details, all the while getting no closer to a firm understanding of the machinations behind the events. This is not a bad thing. Along the way, we meet an excellent Dermot Mulroney (Christmas Is Canceled), the owner of the destination cabin to which Cath and Max were initially headed. Seemingly mumbly and affable, is he more than he seems?
Given the essential creepiness of two other main characters, Greta (Brianne Tju, 47 Meters Down: Uncaged) and Al (Owen Teague, Montana Story), there has to be something going on, at least with them, and as flashbacks reveal, our suspicions are not unfounded. Still, for much of the movie, we sit back and enjoy the interactions of Ryder and Mulroney, who make a pleasant pair as they investigate the central riddle. All the more disturbing when the truth comes out.
If Horowitz doesn't quite pull off the ending, that fact doesn't detract from the cinematic joys of what comes earlier. Alternating conventional coverage with unsettling sound design and a recurring zoom into a shipping container buried deep in the forest, the director hints at horrors that may not quite come to fruition yet still perplex. He swings for the fences, yet even if the ball lands in the trees, it's still a good effort. And about that cow? Milk it for what it's worth.
– Christopher Llewellyn Reed (@ChrisReedFilm)
2022 SXSW Film Festival; Eli Horowitz ; The Cow movie review