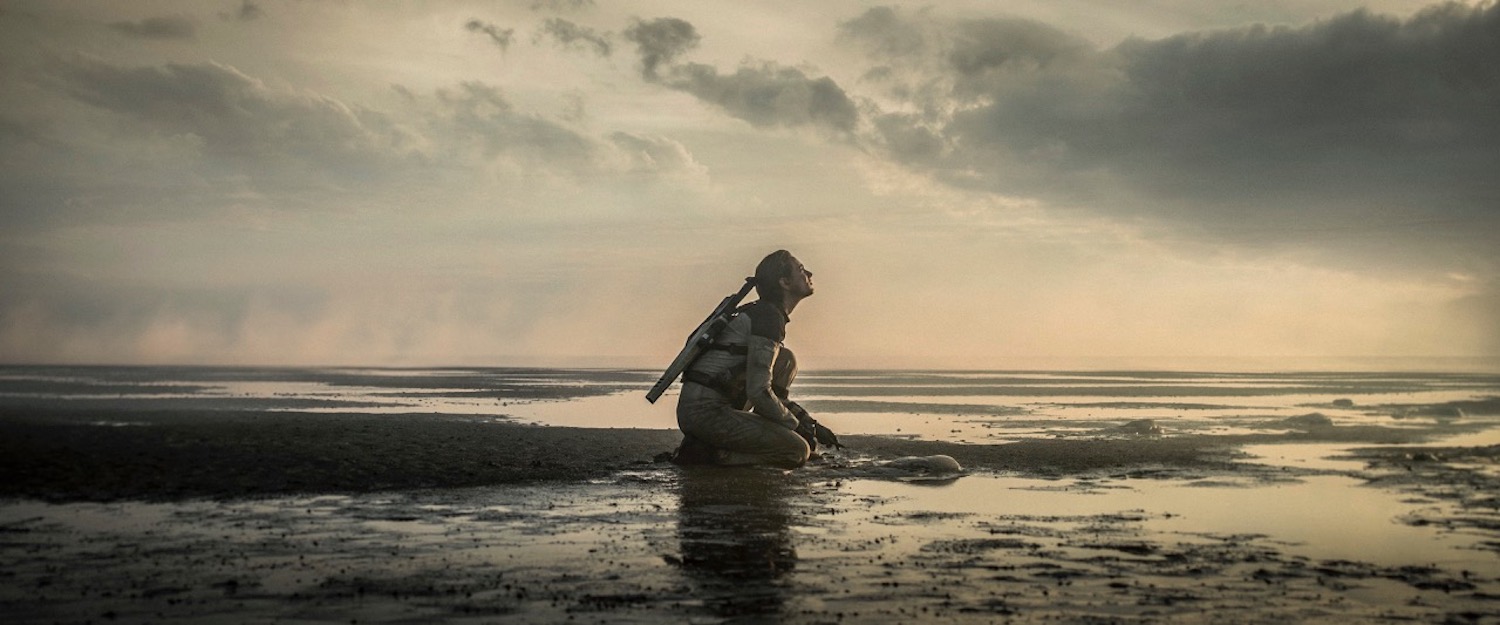 (Tim Fehlbaum's The Colony is in theaters, on VOD and digital August 27, 2021. Like what you see here on Hammer to Nail? Why not give just $1.00 per month via Patreon to help keep us going?)
Stories that borrow many elements from previous sources are not always bad (witness the recent Free Guy). It's all about the combination of details and execution of mise-en-scène. In the case of The Colony (originally entitled "Tides"), though much feels like we have seen it before, director Tim Fehlbaum nevertheless weaves the well-worn narrative threads into an appealing cinematic quilt. Think Mad Max meets Waterworld meets Children of Men, with a little Wall•E thrown in for good measure. Bolstered by strong performances, the movie offers a doomsday scenario, shrouded in dread (with a silver lining of minuscule hope) for everyone to enjoy, especially fans of high-concept, lo-fi sci-fi (though the budget does not appear all that small). Jump in your spaceship and head down to Earth. The bleak future awaits.
In an opening title card, we learn that "climate change, pandemics and war" sent our planets "ruling elite" off to a distant exo-planet, Kepler 209, in the not-so-distant past. Now, two generations later, the inhabitants of that colony have launched the Ulysses Project to travel back to Earth and assess if they might be able to return. Not declared in this exposition, but which we will soon discover, is the fact that women on Kepler are no longer fertile. The human race is therefore doomed if they do or don't. Since Ulysses 1 failed to report back, Ulysses 2, with its crew of three, is now on its way. That's where we join the story.
Among those on board is Blake (Nora Arnezeder, Army of the Dead), daughter of one of Ulysses 1's ill-fated team. She's put to the task right away when their capsule crashes into an ocean, with dire consequences. It seems that Earth, or this part of it, anyway, is covered by wide expanses of water with very strong tides (hence the movie's original title). They are there to take readings, of the atmosphere and more, and to determine whether or not life, human and otherwise, can survive. Of greater interest than mere survival is the question of reproduction. And so they get to it, though they are soon interrupted by mist, rising water levels, and intruders.
For it seems as if there are survivors on this once lush planet of ours, and they do not take too kindly to the visitors from above. As it turns out, it's more complicated than that, for they may know a thing or two about Ulysses 1. Meanwhile, Blake notices children among them, a welcome sign, and she herself begins to menstruate, a new experience. If she can get past the language barrier (Earth's current residents speak what sounds like a blend of many of our current tongues), perhaps she can figure out how to communicate with Kepler. But for that she'll need equipment that is now no longer in her hands. Just as she has a plan in mind, enter new challenges from a more militarized group, the arrival of which adds new layers to the narrative.
It's an ultimately satisfying story, with shifting allegiances and growing complexity. "For the many" (shades of Star Trek) is the Keplerite motto, yet Blake finds herself quickly off-mission, her initial ideas of right and wrong turned upside down. Arnezeder is perfect in the lead, both an able action star and compellingly pensive protagonist, assisted by a solid ensemble that includes Sarah-Sofie Boussnina (The Birdcatcher), Sope Dirisu (His House) and Iain Glen (The Windermere Children), among others. It may not win any awards for originality, but The Colony at least takes us on a well-constructed journey beyond our here and now, posing intriguing ethical questions that continue to engage well after the trip is done.
– Christopher Llewellyn Reed (@ChrisReedFilm)