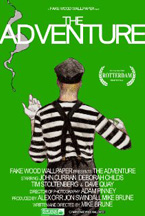 (Mike Brune is preparing to direct his first feature, Congratulations!, and as part of his fundraising campaign he has made The Adventure available for online viewing. Visit www.congratsmovie.com to learn more about that film and donate to the cause. NOTE: This review was first published on May 12, 2008. Visit the film's official website to learn more.)
Oh, to be young and gifted. Mike Brune, star of Alex Orr's outrageously graphic satire Blood Car, proves that his talent isn't relegated to acting. Brune's debut as a writer/director combines a Haneke-esque tension with a dose of off-kilter humor to produce The Adventure, a work that can be most effectively (albeit awkwardly) described as an existentialist mystery/comedy/thriller.
What happens when a young aspiring filmmaker, who has just returned from a trip to his grandparents' house, spends all night watching American comedies and European art films, and then has a dream in which these sources are blurred together in his subconscious? Maybe, just maybe, that dream would play like The Adventure, in which an out-of-touch, middle aged white couple drives into their local state park for an afternoon picnic and has a mysterious encounter with a mime.
To write about The Adventure, one must isolate the two films at work here. The first is a satire of out-of-touch wealthy white Americans (while they could stand for wealthy individuals everywhere, these characters have a distinctly awful Caucasian-American air). From the opening conversation, we realize what we're dealing with. As their car rolls through the beautiful lush greenery of a state park they clearly don't visit very often, this clueless couple's conversation turns from some tossed off comments about the beautiful landscape into a deeper discussion about how much it would cost to buy the land off the government. This type of pathetically removed dialogue continues throughout the film, even as the situation becomes more troubled. Credit goes to John Curran and Deborah Childs, who deliver flawless, fully realized performances that are satirical without ever devolving into outright caricature.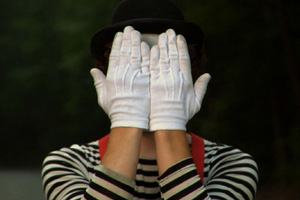 The other, perhaps more impressive, film Brune has delivered is a European art thriller. Much like the way Michael Haneke relies on his camera, not music, to establish a sense of growing tension (most specifically with regards to Cache), Brune and his cinematographer Adam Pinney accomplish that same tricky feat in The Adventure. Their camera pans and dollies with a slow, impending sense of dread, establishing a sense of unease that is all the more remarkable when considering the seemingly harmless events occurring within the frame. But even when things appear to be at their safest, that sense of dread remains, contributing to The Adventure's unusual tone. This film is a powerful lesson that, if done well, the uniting of seemingly contradictory genres and styles can produce something wholly unique.
The first time I saw The Adventure, the closing dedication to Ingmar Bergman and Michelangelo Antonioni didn't make me smile. It gave me chills. It was later that I learned the real reason for this dedication. The production for the 22-minute short took just a few days, which just happened to be the days when the world learned of the deaths of Bergman and Antonioni. Which confirmed my suspicions. The Adventure was not inspired by the loss of these cinema masters. It is, in some deeply inexplicable way, connected to them.
— Michael Tully