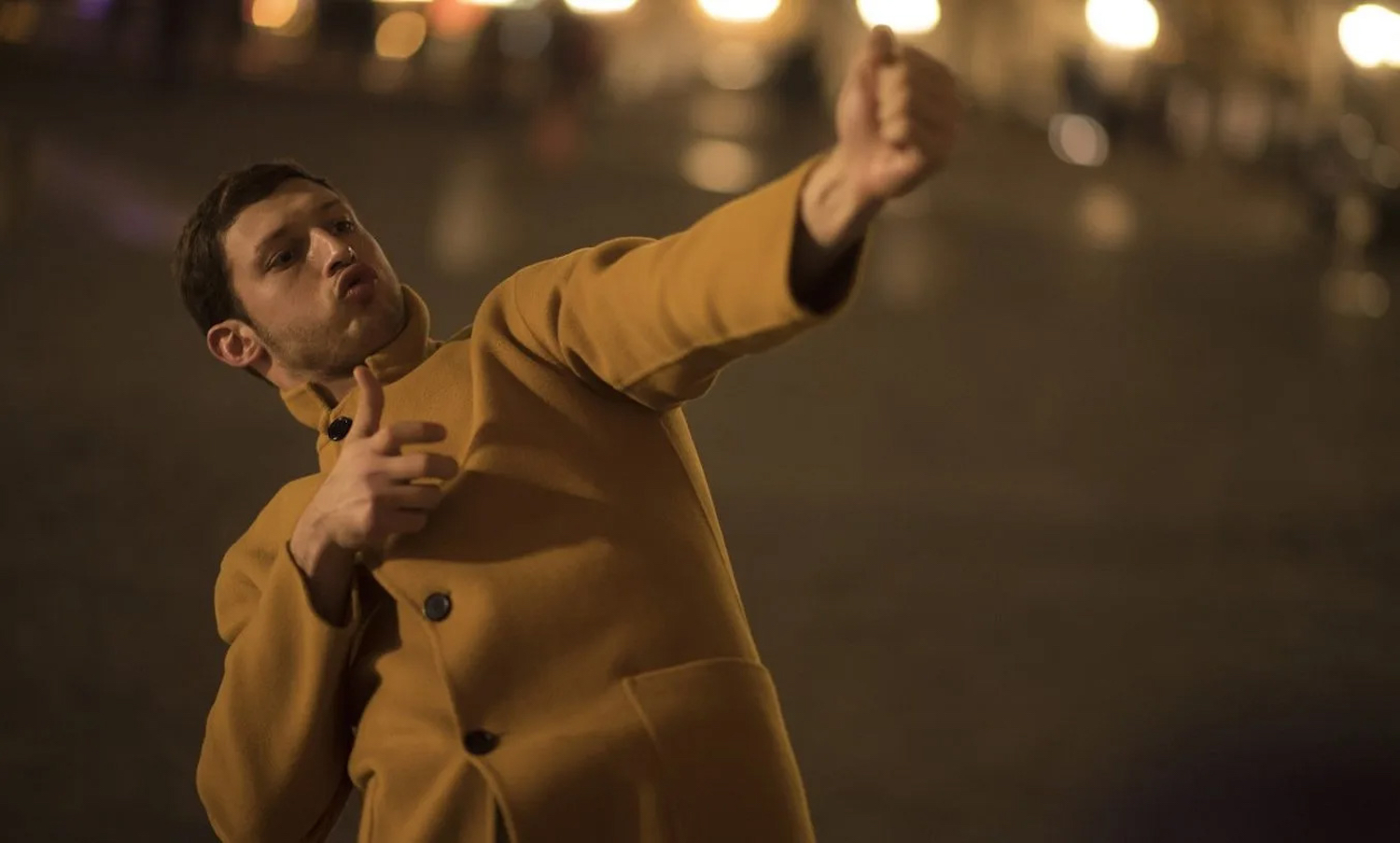 (The 2019 Toronto International Film Festival, or "TIFF," ran September 5-15. Hammer to Nail had boots on the ground with Matt Delman and Chris Reed covering so keep your browser pointed here! Like what you see here on Hammer to Nail? Why not pay just $1.00 per month via Patreon to help keep us going?)
In Synonyms, from Israeli director Nadav Lapid (The Kindergarten Teacher), we meet Yoav, just out of military service, as he arrives in Paris from his native Israel, determined to remake himself after becoming disillusioned with country and personal identity. Armed with a dictionary from which he reels off synonyms to words in his newly adopted language, Yoav embraces change with gusto, though not all he embraces hugs him back so cheerfully. What to make of a man so aggressively eager to shed the past for an uneasy, if energetic, present? No one really knows, not even Yoav.
Based on Lapid's own experiences, Synonyms offers a contemplative cinematic discourse on the nature and construct of the self. Who are we as people and who determines our personal "I"? Is it the state, our religion, our family, a combination of all of these and/or more? It's no accident that Lapid has chosen France as the center of this conversation, given that French national identity is so closely wrapped up in the French language. It's also, sadly, a country with a fraught history towards its Jewish population, no less now than before, with anti-Semitic attacks there on the rise (as they are in the United States, as well). Still, given that Yoav is repulsed by what he has seen back home, especially in the army, any place is better than where he was.
Irrespective of cultural context, a narrative about a young person searching for meaning should strike a resonant chord for most of us, since part of the metaphysics of the coming-of-age drama (which we all go through) is finding our own voice. Here, though, the specifics of Yoav's predicament add to the director's unique take on a universal, ever-repeating crisis. The titular synonyms hold significance beyond the dictionary, replacing one nation for another, one persona for another, and more. Layered storytelling is always a joy to behold.
As Yoav, newcomer Tom Mercier is a revelation, awkward and confident in equal measure, bursting the frame with his exuberant mayhem. It's his movie, though he is ably assisted by supporting actors Quentin Dolmaire (A Violent Desire for Joy) and Louise Chevillotte (Lover for a Day), as lovers whose staid relationship Yoav invades without preamble (they welcome the intrusion). Bracingly poignant, touching, moving, as well as profound, penetrating, perceptive and astute (et aussi perspicace, lucide et intime), Synonyms redefines the personal journey of discovery.
– Christopher Llewellyn Reed (@ChrisReedFilm)
Like what you see here on Hammer to Nail? Why not pay just $1.00 per month via Patreon to help keep us going?