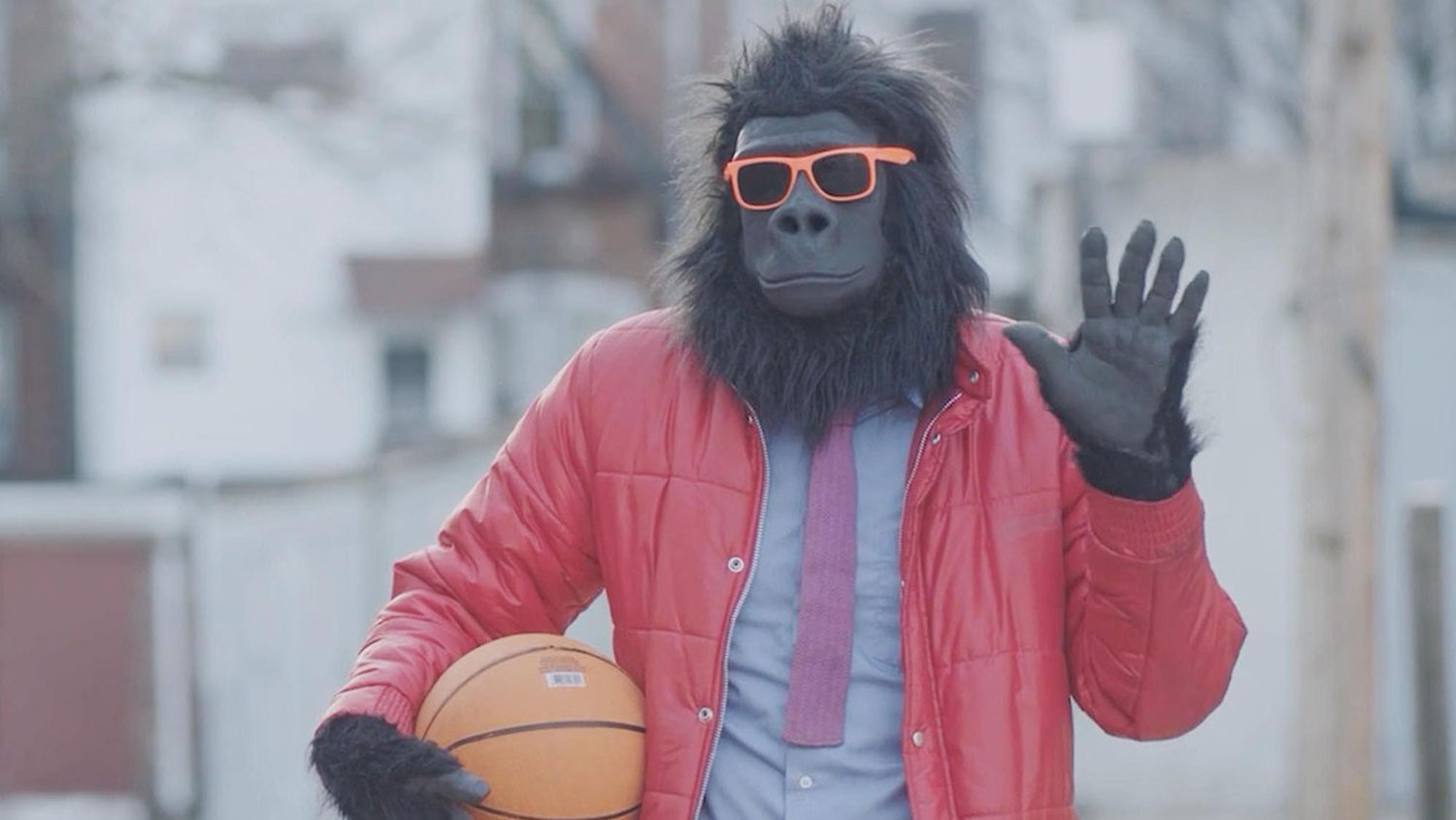 (The 2017 SXSW Film Festival opened on March 10 and runs all week until March 18. HtN has you covered and GUARANTEE more coverage than any other site! Check out this review of Sylvio, the one about the guy in the gorilla suit.)
You might recognize Sylvio from a Vine account that was run by Albert Birney called "Simply Sylvio" that chronicled the everyday activities of a gorilla attempting to live among humans. The Vine clips borrowed from silent films (because gorillas don't speak, silly), but the brevity of the format never allowed Birney to develop any real purpose behind the visual absurdities.
As a feature-length film written by Albert Birney, Kentucker Audley, and Meghan Doherty, Sylvio develops the silent-man-in-a-gorilla-suit trope into an offbeat existential character study. Sylvio (credited as himself) spends his days at an unfulfilling day job working as a debt collection agent for Chester Debt Collections. His free time is spent working on his true passion, a puppet show called The Quiet Times with Herbert Herpels. Like so many of us, Sylvio feels like life would be much more rewarding if only he could focus solely on his creative outlet and somehow make a living wage. When he fatefully stumbles into a role at a local TV station run by Al Reynolds (Audley), he seems to be on track to fulfill his artistic aspirations, but like so many artists before him, the show's advertisers see a more mainstream and dumbed-down purpose for Sylvio.
It is not too far of a reach to see Sylvio as a symbol for independent filmmakers in a Capitalist society. They are the outsiders, the weirdoes, who care more about art than commerce and don't want to give in to the mainstream philosophy that primal (or, in this case, primate) violence sells. They care about the subtle beauties to be uncovered within art and expanding the boundaries of the cinematic medium. Within the context of the Hollywood machine, filmmakers are perceived as mindless gorillas who should just blow shit up in their films if they want to become successful. Oh, and they should be silent while doing so.
Directed by Birney and Audley, Sylvio is a refreshing reminder of simpler times, when mainstream entertainment was the main source of the dumbing down of this country, and before the United States opted to take a giant leap into the world of Idiocracy with the election of a President couldn't become any more ridiculous even if he wore a gorilla suit. That said, I wonder how Sylvio is holding up in this new political climate?
– Don Simpson (@thatdonsimpson)