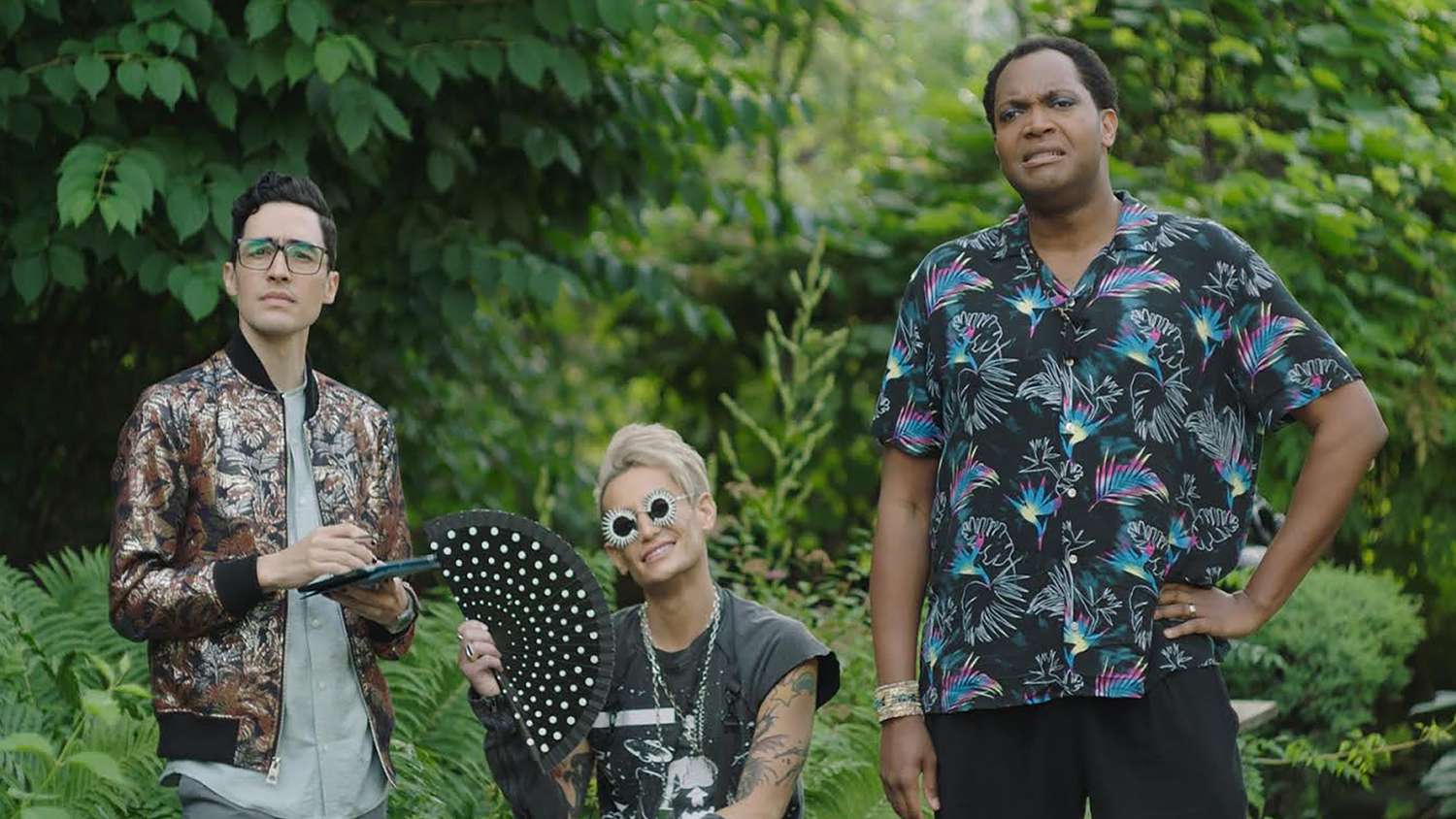 (Check out Bears Rebecca Fonté's review of the movie Summoning Sylvia be made available for rental on VOD and on most major streaming services starting April 7. Seen it? Join the conversation with HtN on our Letterboxd Page. )
By now, the Cabin-in-the-Woods film has become a genre in and of itself — even when the cabin is an Airbnb that might as well be across the street – and one of its most popular sub genres is the bachelor/bachelorette weekend away. This recognizable set up of the new camp horror comedy Summoning Sylvia serves as excuse for four flamboyantly gay friends, to come together to celebrate the impending nuptials of Larry (Travis Coles). Although right now it seems like in places like Florida, and Tennessee there couldn't be anything scarier than being queer, the low budget film from Wesley Taylor and Alex Wyse finds it scares in the Airbnb that they have rented being haunted and the seance that surprisingly succeeds.
The Sylvia of the title died in the house after murdering her very attractive twink son, someone who none of the boys would mind too much if he returned from the afterlife. Unfortunately, it's his mother who returns and wreaks havoc on their weekend.
But Sylvia is not the only uninvited guest. Larry has forgotten his promise to his intended (Jamie played by the always delightful Michael Urie) to spend the weekend with his future brother-in-law. When Harrison shows up, donning, a buzzcut and camouflage, the other boys jump to easy conclusions. With a current state of the world on my mind, you can forgive me if I thought the true horror of the film was going to be Harrison just killing all of the queers one by one, but actually he turns out to be, their best defense against Sylvia. The entire farce builds up to a delightful drag song, and dance, which again means that this film is clearly not set in Tennessee where such performances lead to incarceration.
Summoning Sylvia is a fun flick that dances back-and-forth between the right amount of camp and spices the weekend up with paranormal paranoia. There are definitely enough jump scares and juicy, creepy backstory to keep the horror fan invested but the highlight of the film is the brotherhood, camaraderie and love between these friends, and the particulars of their own love lives. The best subplot has to be one of the boys recovering from the disappointment of finding out that his perfect boyfriend that he's only met online has turned out to be an AI generated merchandising bot.
At a tight running time of 70 minutes, the film is delightful queer scream with a nice ensemble cast (including Ariana Grande's charming brother Frank), and just enough scares to preserve its place in the genre.
– Bears Rebecca Fonté (@BearsFonte)
Wesley Taylor and Alex Wyse; Summoning Sylvia movie review