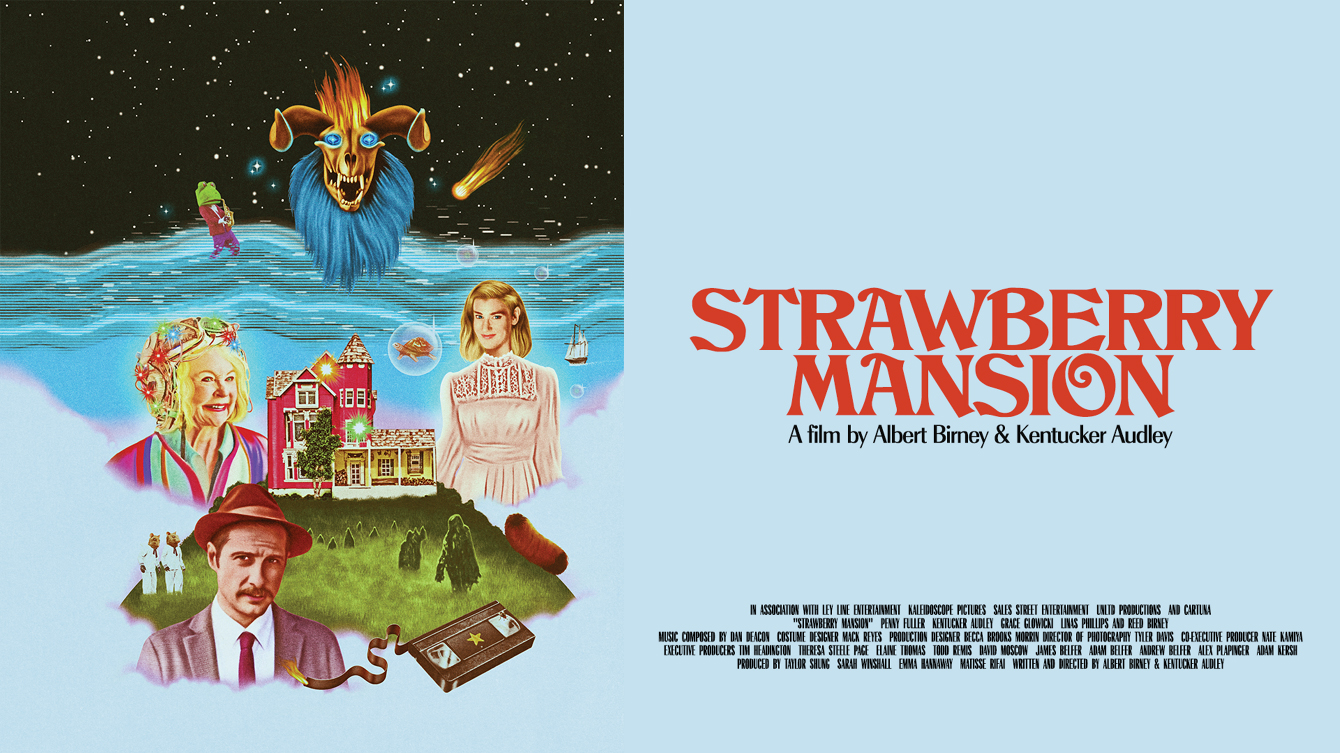 (The 2021 Sundance Film Festival runs January 28-February 3, all virtually as well as with drive-ins sprinkled around the U.S.. Hammer to Nail is bringing you a ton of coverage so, keep coming back! Like what you see here on Hammer to Nail? Why not give just $1.00 per month via Patreon to help keep us going?)
Albert Birney and Kentucker Audley follow up their Puppeteer Guerrilla film Sylvio with the SciFi conspiracy-romance Strawberry Mansion, the story of a tax auditor sent to collect on overdue dreams. The writing team discovers, in their central premise, a brilliant piece of world-building: in this near future, actually 2035, every item in our dreams, whether it's a horse or a balloon or a kiss, has a value which is taxed. In the morning everyone is required to plug their 'dream chip' into the Central Computer so that the images of the previous night can be adequately tolled. Our hero, James Preble (Audley), a man who seems to only be able to dream about buckets of chicken, journeys to a farmhouse so far off the grid its owner Bella (Penny Fuller) still records her dreams on VHS cassette tapes. As he begins to watch Bella's dreams, Preble uncovers a conspiracy that only she has found, that the government is inserting ads into our dreams.
Penny Fuller shines as the eccentric recluse, and every second she spends on screen is pure joy. Where she has been since All the Presidents Men must become a matter of national importance. Grace Glowicki plays the younger version of Bella that appears in the dream. Both women fill the film with their energy and it's easy to see why Preble falls for the girl of his dreams, or should I say of her dreams. Audley himself gives a great turn as a mild-mannered government bureaucrat in far over his head and finding love for the first time in his life. All three approach the material with sensitivity and subtlety seldom seen in science fiction. While another film might allow all this to lead to an elaborate government overthrow plot, Strawberry Mansion wisely sticks to human relationships, whether the ones that inspire us to be better people, or the more negative ones like Bella's son who dismisses his mother's ideas as ravings of a Madwoman. I'm going assume Reed Birney is related to the co-director. He gives a particularly evil performance trying to get Preble away from his mother's dreams. I also want to give a shout out to Linas Phillips, hysterical as the dream 'friend' who always seems to have a product to pitch.
Strawberry Mansion is the sort of quirky independent genre-hopping creative film that we go to film festivals for. It's never going to get a wide release, but it'll probably stay with me a lot longer and most of the other studio-prepared films that play at being independent that find their way to the Sundance screen. Everything that was great about to Sylvio is amplified in Strawberry Mansion, especially the production design which features heaps of masks and cyberpunk props. There's stop motion animation, a pirate ship piloted by rats, and a frog-headed human that plays the saxophone. The script hops along effortlessly embracing the dream logic the character encounters offering marvelous opportunities for brilliant cinematography. Throughout, a sweeping synth from Dan Deacon coats the world with future nostalgia. If I had to be critical, I might say there is some problematic endgame plotting which is difficult because the protagonist meets his true love inside a dream, but I'll just let it pass. It may be intentionally oblique to leave the viewer with the post-primer pain in the pit of the brain. Also, the film left me with such a smile on my face and a belief in the power of love to overcome repression I had to clap my hands in joy.
– Bears Rebecca Fonté (@BearsFonte)