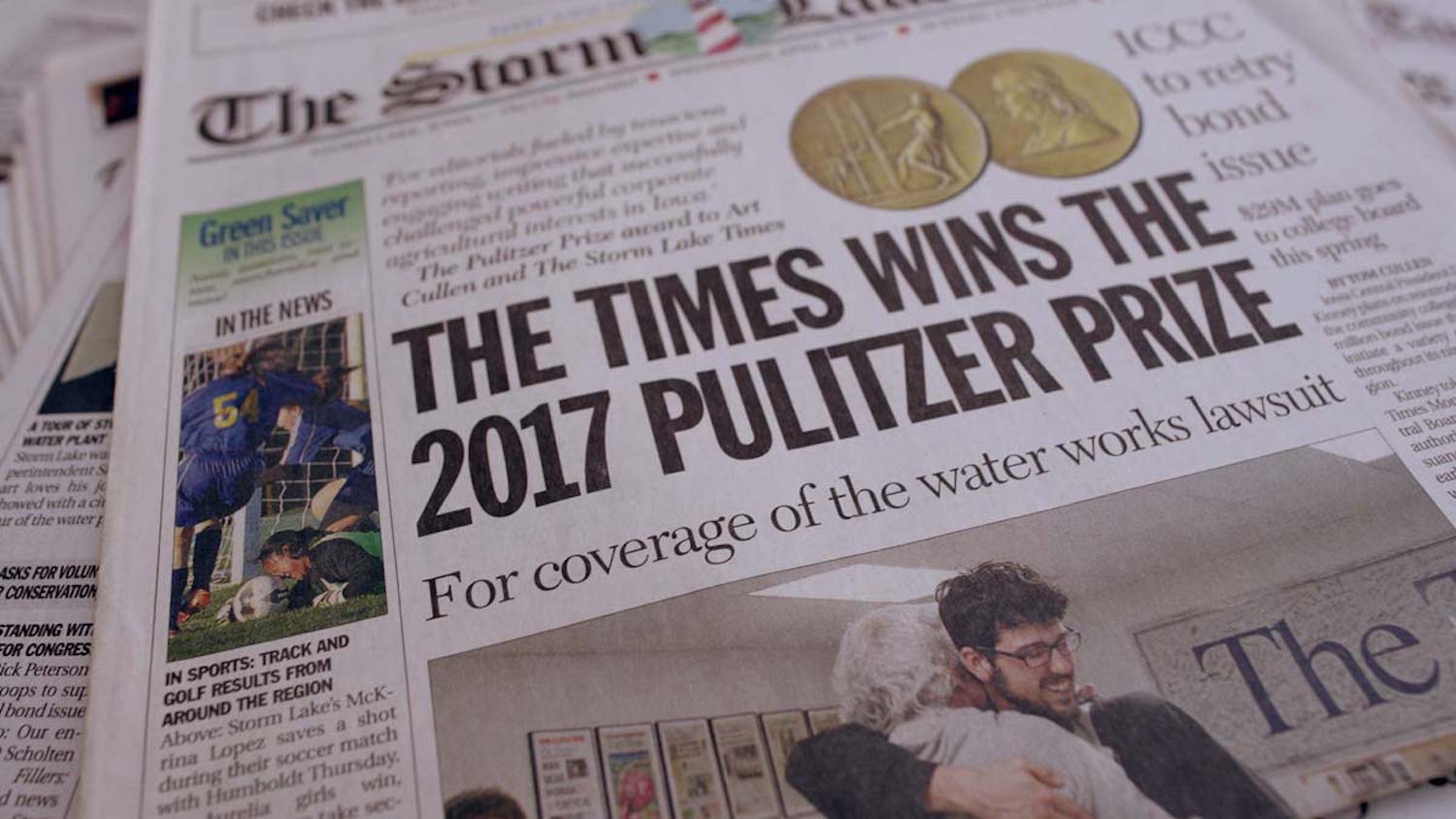 (2021's AFI DOCS ran June 22-27 virtually as well as in-person in Silver Springs, Maryland. Like what you see here on Hammer to Nail? Why not pay just $1.00 per month via Patreon to help keep us going?)
Our 21st century has not been kind to the traditional newspaper, especially of the local variety. As more and more of us have become accustomed to free journalism, reputable or not, available at the click of a link or swipe of a screen, the smaller papers and news sites suffer. And it's a problem beyond the death of an old paradigm. Without an independent Fourth Estate, democracy is in peril. Look around you: what do you see? Growing authoritarian tendencies and obsession with conspiracy theories, many of which are far too easily spread through the internet that increasingly replaces the legitimate news media. Are we doomed? Perhaps. But as we see in Storm Lake, a new documentary from directors Beth Levison (Lemon) and Jerry Risius (also the cinematographer), there are still some valiant carriers of the fading torch. 
Here, we focus on the brave souls who work at Iowa's The Storm Lake Times, founded in 1990 and still going, if not strong, then at least with enough power to feed its staff. A blue city in a red county in a red state, Storm Lake has a mixed population of mostly white folks of European background with scattered other races and ethnicities mixed in, including a large and growing Latinx immigrant community. It is a microcosm of how even middle America is changing, adapting to a world where former lifestyles and jobs change. Tyson Foods is one of the biggest employers, though farming is still a thing, hard as it may be to keep up.
The man in charge of the twice-weekly Times is Art Cullen, who bears a striking resemblance to a more famous newspaper man, of yore, Samuel Clemens (aka Mark Twain), complete with the same mane of white hair and mustache (incredibly, no one once mentions that physical similarity). Winner of a 2017 Pulitzer Prize, he is by no means the only Cullen at the paper: his brother, John, founded it; his wife, Dolores, is a photographer; and his son, Tom, is a reporter (his sister-in-law, Mary, is also involved). Even those who disagree with the Cullens' progressive politics appreciate the local coverage. After all, it's not as if anyone from a conglomerate gives two hoots about issues of interest to people in Buena Vista County.
But is the population big enough to continue to sustain the enterprise? That, indeed, is the question, one made even more dire when Covid hits (plot spoiler: they're still around, as of this writing). Before then, we are treated to quite the array of political stars when the 2020 election season gets under way, since everyone has to come to Iowa before its caucuses. And then we watch those caucuses, and see real democracy in action. It's kind of fun, despite the mess that happened on the Democratic side. People getting together to discuss ideas and debate…who knew, right?
By the end, we have come not only to love the real-life characters at The Storm Lake Times, but everyone we meet, including Lorena Lopez of the Spanish-language paper, La Prensa, who wants to combine resources with Cullen so they can double their reach in two languages. So many people appear to care about news that matters, and that's a heartening site. Perhaps the apocalypse is not quite nigh. Read on!
– Christopher Llewellyn Reed (@ChrisReedFilm)