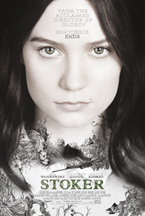 (Stoker world premiered at the 2013 Sundance Film Festival and is being distributed theatrically by Fox Searchlight. It opens on Friday, March 1, 2013. Visit the film's page at the Fox Searchlight website to learn more.)
Park Chan-wook has been arguably the greatest film auteur of the 21st Century, with a stellar run that includes Oldboy, Lady Vengeance, and Thirst. Stoker is his first experience working outside of South Korea; aside from his long-time DP Chung Chung-hoon, the cast and crew are cherry-picked Hollywood pros with impressive resumés. A lot of great filmmakers have failed at making this leap; I couldn't help walking into the theater with a mixture of excitement and trepidation.
The screenplay is a first-time effort by Wentworth Miller, best known as a TV actor. It's a Hitchcock pastiche that cuts right to the tropes, amplifying and multiplying the MacGuffins and the arch-lines-of-dialogue-ironically-repeated-later. Evelyn Stoker (Nicole Kidman) has just lost her husband in a mysterious accident; her brother-in-law, Uncle Charlie (Matthew Goode) shows up at the funeral and quickly moves into the Stoker mansion, openly seducing Evelyn but also showing an interest in her teenage daughter India (Mia Wasikowska). Like Park's previous films, Stoker creates a world of heightened reality, and India, the quiet, sensitive protagonist, has a latent propensity for violence. Charlie seems to hold the key to all sorts of juicy family secrets, but India's determined to resist his overtures; it gradually emerges that she's resisting something in her own nature.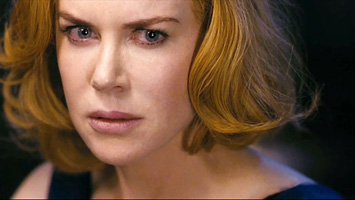 On set, Park reportedly communicated with the actors through an interpreter, and the language issue does seem to color the performances. Even allowing for intentional classic-movie flavor, the dialogue is often over-enunciated and unnatural, and the tone is inconsistent amongst the actors. Mia Wasikowska fares best: wearing pale, delicate blouses and no visible makeup, she's a goth icon: brooding intensity with a note of girlish innocence. There's nothing pretty about her—her beauty is serious stuff and the camera loves her. Matthew Goode brings Uncle Charlie to life as a character very much from another era—his Farley Granger-type persona in that sense is quite uncanny—but Charlie's implied layer of insanity doesn't really come across. Nicole Kidman fights a valiant but losing battle to make sense of her character, which to be fair must have been campy and contradictory on the page. A third-act monologue she directs at her unloving daughter is a blistering piece of writing that will likely become a favorite in acting classes; Kidman puts a lot of muscle behind it, but she ain't Bette Davis, and in any case its directness and eloquence are all wrong for the flighty, flirty Evelyn.
But whatever the film's flaws, Stoker's visual storytelling is masterful and operatic. The first act of violence is part of an impossibly complex, heady swirl of precise camera movement and editing that feels like ballet, interweaving the trajectories of the three central characters with imagery of hawks ripping meat from their prey. Equally breathtaking is a piano duet between Uncle Charlie and India—a gorgeous, gothic sex metaphor (that incorporates an original Philip Glass piece), played out largely in the movement of hands and fingers (the actors reportedly took crash-courses in piano in preparation for the shoot), and resolving with a mysterious neck embrace, faces side-by-side looking in opposite directions. The film's Peckinpah-worthy finale includes a huge bloodstain dripping down an already blood-red wall; a long, luxurious tracking shot along an absurdly wide trail of dried blood, and yet more blood sprayed across fields and flowers.
As its name suggests, Stoker is essentially a thinly-veiled vampire story, and in that sense there's a continuity from Park's previous film Thirst, which Park wrote himself—a truly wild ride that delved into the hearts of complex, fucked up characters grappling with their instincts and passions and issues of morality. By comparison, Stoker feels conceptually light and linear. Hitchcock is a great starting point, but, although the story pumps up the volume for the 21st Century, it never really turns off that familiar road. Still, the film is good fun that often strays into genius; it has a memorable lead performance by Wasikowska, and will introduce the unique movie-making alchemy of Park Chan-wook to a whole new audience.
— Paul Sbrizzi