STEVEN TYLER: OUT ON A LIMB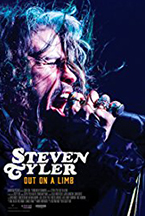 (Steven Tyler: Out on a Limb is an intimate portrait of rock icon Steven Tyler as he embraces the challenges of shifting gears, both as a solo performer and in a new genre of music. It's available on VOD via Momentum Pictures.)
Fans of concert films, take heart, for there is much to recommend in Casey Tebo's profile of Aerosmith's Steven Tyler as he pursues his first solo effort in over 40 years with the band. Steven Tyler: Out on a Limb follows its titular subject down from Boston to Nashville, documenting as he records and performs a set of country-music songs, something of a departure for the frontman of one of the world's best-known hard-rock bands. True, much of the set still sounds a bit like Aerosmith (you can listen for yourself) – if you added a fiddle and female vocalists – but the noticeable southern twang, combined with Tyler's trademark rasp, makes for engagingly fresh pieces, nonetheless. Though a bit too much of a hagiography, at times, the film offers enough visceral pleasures to be well worth watching, whether one likes Tyler or not.
I happen to enjoy Aerosmith, though I would never call myself a diehard fan or aficionado. The documentary is a bit light on details of Tyler's life, but we glean sufficient facts here and there – in breaks from the performances ­– to emerge somewhat enlightened about the man by the end. Most of our knowledge, however, centers around Tyler's dissatisfaction with the stasis and ennui that is bound to overcome anyone as successful (and rich) as he after doing the same thing for so long. There is an almost anti-Aerosmith cast to the film – done in service of promoting the new music and the renewed vigor it brings Tyler – that may annoy lovers of that band (and certainly might alienate Tyler's colleagues). It doesn't seem mean-spirited, per se, though the director's own history with both band and Tyler makes one wonder whether there is not some intended retribution for past slights.
Indeed, if the film has one negative quality, it is Mr. Tebo's occasionally intrusive voiceover, in which he explains his 15-year relationship with Tyler (as a chronicler of Aerosmith, among other things). He makes fun of himself for including his own story, but that doesn't make its inclusion any more necessary. Most of the movie focuses squarely on the writing and performance of the new songs, and that's where the cinematic energy lies. Anything else feels like an audience clapping off-beat: we appreciate the enthusiasm, but wish it would stop.
Otherwise, the enormous strength of the film – beyond Tyler's own magnetic presence – is the backup band, Loving Mary, comprised of three men and three women (there is also a fourth woman in the movie – the one on fiddle – who is not part of this sextet). They are amazing musicians, all accomplished in their own right, and possessed of oodles of charisma to match that of their adopted lead-singer. Together with Tyler, they make beautiful music, driving away whatever other imperfections of the film with the power of their magnificent harmonies. "Steve Loves Mary" would have been a better title, but whatever the movie is called, it offers up glorious concert footage for all to enjoy.
– Christopher Llewellyn Reed (@ChrisReedFilm)