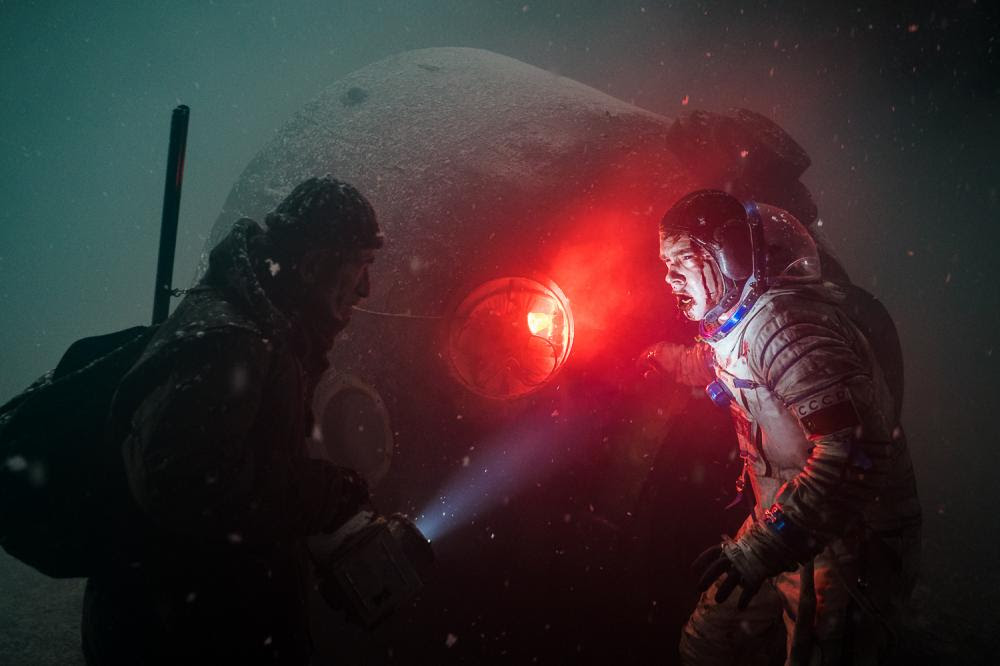 (Egor Abramenko's Sputnik premiered at the 2020 Tribeca film festival and lands (see what we did there?) on vod Friday, August 14 via IFC Midnight. Like what you see here on Hammer to Nail? Why not give just $1.00 per month via Patreon to help keep us going?)
I'm not going to pretend that I've been following muskovian science fiction for years. I will say that Solaris is one of my favorite films of all time. However, if you're looking for a slow-moving thinkfest, then the latest entry from Mother Russia will leave you disappointed. Still, there are a few similarities between Solaris and Egor Abramenko's Sputnik which premieres this weekend. There is a scientist who specializes in communicating with troublesome subjects. She finds herself brought in to a government project the has gotten out of control. There are issues of loyalty – to the project, to your fellow man, and to your country. And of course, there is the standard and yet never-fully-mined science fiction theme of the pursuit of scientific advancement running into the guardrails of moral restraint.
Set in 1983, Sputnik looks into the aftermath of a spacecraft mission failure that left one member dead, one in a coma, and one…changed. Psychologist Tatiana (Oksana Akinshina) is recruited by a general and brought to a top-secret facility in the middle of nowhere, to find out just why Valery (Pyotr Fyodorov) has no memory of the crash or what happened to his flight team. As she works with him, the government's secret becomes clear, every night a parasite exits his body and feeds on human flesh, something even Valery does not know.
The film, which has its origin in The Passenger, a short which premiered at Austin's Fantastic Fest in 2017, perfectly captures Communist Russia paranoia. As Tatiana tries to do her job, she has to balance issues of control and jealously which rise with any ground-breaking research. Shot in many Soviet-era buildings, the film feels almost like a document of the time, rather than science fiction. 1983 was an interest time for the USSR. Opinions were changing, and the country felt on the verge of collapse, all the more reason those in power tighten their grip on what they can control. The choice of the title Sputnik, in addition to being less on-the-nose than The Passenger, conjures up memories of Soviet greatness, a longing for a time when the USSR lead the world in the space race. However, the word Sputnik, often translated as 'satellite,' can also mean 'companion.'
What makes Sputnik really work are the phenomenal performances by Akinshina and Fyodorov. While they initially have to face off (one more so-called 'expert' to interrogate the national hero), they gradually build up a trust to confide in each other about the horrors the occur as Vasily sleeps. The relationship is at the core of the film, a meeting of two people, despite the sci-fi trappings and the military presence. At the end of the film, and I won't ruin it, their connection has been well-developed and really feels authentic.
The Ridley Scott homage is obvious, as the slime-dripping alien comes out of Vasily's body and slithers to feed, but Abramenko wisely focuses less on the CGI creature (which looks pretty solid) and more on the terror of what Tatiana witnesses. However, where the Alien echoes are amplified strongest is in the claustrophobia of the location. Even if Tatiana can get enough help to break Vasily out of the facility, where are they going to go? How do you escape a monster that's always with you because its inside you? How can Tatiana save Vasily and kill the parasite inside of him? What will be left of Vasily?
Shot for far less than any Hollywood film, and even less than many SciFi Indies, Sputnik lacks nothing in style or substance. This is a film that satisfies both fans of body horror and of whispered thrillers. Akinshina delivers a strong female presence with the mental toughness of Ripley, the probing proficiency of Clarice Starling, and yet still manages the empathy of Leia Organa. Arriving as it does in the cinematic wasteland of mid-pandemic, Sputnik is a great choice to give you a break from binge-streaming five seasons of The Fosters on Hulu (or is that just me doing that?).
– Bears Rebecca Fonte (@BearsFonte)