Short Film Contest Winner/Runner-Up: Spring '17
Rather than starting in with some honest excuses in regards to the tardiness of posting the winners for the Hammer to Nail Spring 2017 Short Film Contest (day job is cray, Oak Cliff Film Fest rocked my socks), let me first brag a bit and say this contest marks my third year as editor of Hammer to Nail! I say that not to pat myself on the back TOO much but rather because, I LOVE this site and I love that I get to share my passion for independent film with all of you readers. It's honestly more of a communal pride that we're all still here. This may sound funny but, since I'm all about gratitude these days, I want to say how lucky I feel to edit this site and how much I appreciate my contributors and readers. So, if you're reading this, thank you! If you're a newish or first time reader, thank you and please stick around!
In the vein of gratitude I also want to add that I'm proud of how we've stepped up our game on interviews with filmmakers. This is 100% due to the tirelessly prolific Chris Reed, our lead critic. Without Mr. Reed, this site wouldn't have nearly as much in terms of updates and compelling reviews and interviews. He's the backbone around here and I appreciate him!
As you all probably know, this site is pretty niche. It's for mainly teeny, tiny indie films as well as stalwarts of the low budget filmmaking scene. Obviously we love to champion up and comers as well. As some sites (coughIndieWirecough) perhaps wisely have moved towards more mainstream coverage as well as (gasp!) television, we're sticking to our guns here at Hammer to Nail. Our little indie guns. Pew Pew! But there's a certain calm confidence I feel as I see filmmakers HtN has championed like David Lowery, Joe Swanberg, Ava Duvernay, Alex Ross Perry and Lena Dunham move into the mainstream while still keeping the same sensibility they had when we gave them some early press. We'll be here for the next generation of filmmakers allowed through the golden gates who get to actually make a living making movies.
So, that brings us to the winners of the Hammer to Nail Spring 2017 Short Film Contest. This one was a tough fought battle and, as you will see, ended up with a rare TIE for runner-up. I'm also incredibly stoked that we had three incredibly talented, smart and awesome women on our jury, a first time thing here at HtN as far as I can tell. Let's meet them, shall we?
Sarah Adina Smith is a writer/director/editor who landed on the map with her brilliant film The Midnight Swim (available now on Netflix Instant). Her latest, Buster's Mal Heart is dropping on Blu-ray on July 18 and she's also director on several episodes of the Duplass Brother's latest HBO project, Room 104 which premieres July 28.
Laura Moss Laura works as a filmmaker and production designer in New York City where she recently completed her studies at NYU's Graduate Film Program. She was also the winner of our winter shorts contest with her fantastic Fry Day which is already hitting the festival circuit hard.
Brea Grant might be more commonly known as a "scream queen" but her talents lie in writing and directing as well. You might recognize her from turns on Dexter and Halloween 2 and she also appears in David Lowery's upcoming A Ghost Story. You can also listen to her new book chat podcast Reading Glasses on the Maximum Fun network.
And now, a word from our sponsors! Or, better, these are the fine fests that our winner and runners-up will receive film festival submission fee waivers from! They are IFFBoston, Maryland Film Festival, Nashville Film Festival, Montclair Film Festival, Oak Cliff Film Fest, St. Cloud Film Fest, Sun Valley Film Fest,  Julien Dubuque International Film Festival,  Oxford Film Fest, Indie Memphis, Sarasota Film Festival, Denver Film Festival, San Diego International Film Festival and Cleveland International Film Festival!
Winners and runners-up also get subscriptions to the amazing Fandor!

Fandor makes it easy for you to find the right film to watch. With the biggest handpicked collection of the most-talked-about independent films from around the world, there's always something great to watch, whatever your mood, on almost any device. But they're more than just a destination for exceptional films. They're also building a community of film lovers and makers and developing industry-leading initiatives, including FIX and Fandor edu.
And now, for our runners-up…
Runner-Up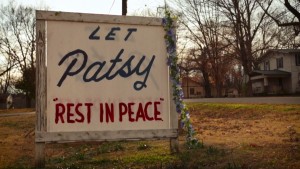 Let Mama Rest
(Directed by Craig Jackson; 8 mins, 9 seconds)
There's an old saying about the truth being stranger than fiction and, for me, those are the kinds of documentaries I prefer. I think myself and many other documentary fans reached the saturation limit with huge, sprawling docs that detail the earth's rapidly approaching destruction years ago. Yet the cottage industry of high-priced docs detailing how the rich hose the poor and how we're all doomed keep on coming. Craig Jackson's Let Mama Rest isn't that at all which in and of itself is refreshing. Rather, the film is a small, short documentary in stature but speaks to a larger story of red tape and the wealthy basically bullying the poor all the while keeping them trapped under their thumb.
Jackson is a very active filmmaker and his last 2 projects include a collaboration with Neil Young called Seeding Fear  as well as a recent doc called Mother Canada which just premiered at Hot Docs. In Let Mama Rest Jackson trains his camera on James Davis, an elderly man who, in trying to keep with his wife's dying wishes, buries her in his front yard. That doesn't go well for Davis or his newly deceased beloved and the short doc covers the fallout from Davis' decision. At once a frustrating situation and a kind of allegorical look at sticky governmental overreach, Let Mama Rest is a tightly wound short doc that is very much worth your time.
Runner-Up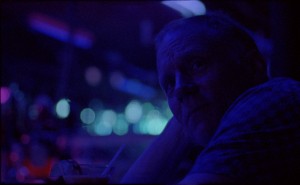 True Blue
(Directed by Chris Osborn; 18 mins, 39 seconds)
It's almost a bit tough to recall that Chris Osborn's short film True Blue is less than 20 minutes. That's because the film not only has several fantastic levels coursing through it but it also manages to create a world that feels real. Like, I can imagine the two characters Larry and Patrice (David Warshofsky, Michael James Shaw) living real lives somewhere out there after their "chance" encounter in an Atlantic City hotel/casino.
Of course excellent cinematic characters are given lifeblood by great actors but without the partnering subtle direction of writer/director Osborn, there wouldn't be much of a film to rave about. True Blue is both an interesting character study as well as a sort-of "post-LBGTQ" film in the vein of Moonlight. That is to say, we may be dealing with "gay" characters but True Blue is about much deeper issues. Both Warshofsky and Shaw fully inhabit their roles and the film possesses a certain earnestness as well as a somewhat prickly underbelly. All in all, a solid little film.
Winner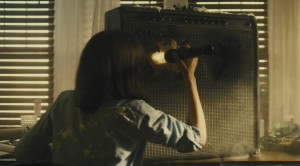 The Privates
(Directed by Dylan Allen; 13 mins)
Much like True Blue, the short that Dylan Allen's wonderful short The Privates has narrowly beat out to win the HtN Spring 2017 Short Film Contest Crown, this film succeeds brilliantly via terrific acting and excellent world building. In The Privates we meet a very nervous pop-punk band named, you guessed it, The Privates. They have their first gig that night and it's rife with potential for more, they just need to tighten up a bit to impress the right people.
As fate would have it, some serious pre-show shenanigans go down that at once promise to make The Privates superstars…if they can survive the fallout. Literally. As noted, The Privates (produced by HtN Shorts contest veteran Eddy Vallante) succeeds because of great acting and world building but also because of Allen's clever dialogue and excellent direction of his four main actors who maintain very individual personas as well as tight, witty banter. It would be very poor form of me to give away the awesome and hilarious pratfalls that befall The Privates so, I won't. But you can watch the short when it premieres on Vimeo Wednesday, July 26. Stay tuned…
So, that's a wrap on the Spring 2017 Short Film Contest! It was once again an excellent batch of submissions and, as you can probably guess from our tie at runner-up, the jury really had their work cut out for them. We will be back in a few weeks with the Summer 2017 contest so keep your eyes glued to HtN!