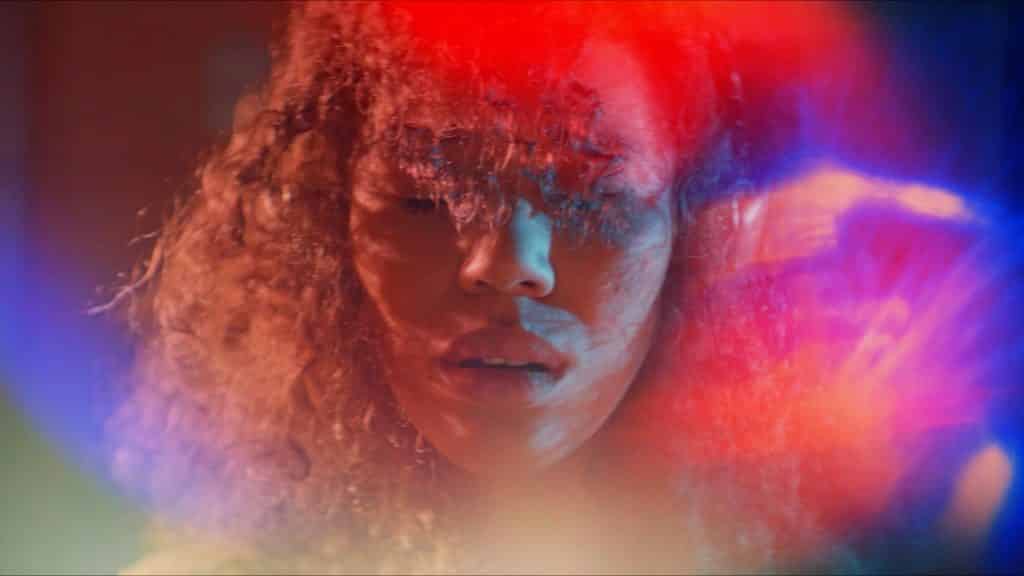 (The 2021 SXSW Film Festival kicks off March 16 and runs through the 20th, all online. Hammer to Nail has tons of coverage coming your way so stay tuned! Like what you see here on Hammer to Nail? Why not give just $1.00 per month via Patreon to help keep us going?)
Synesthesia, the condition by which people see sounds, is one of the rarest things to be chronicled. It is also completely impossible to describe see anyone who does not also share in this condition. The brilliance of director Alex Noyer's feature debut The Sound of Violence finds synesthesia becoming the driving force behind our anti-hero's need to kill, making her one of the most forgivable serial killers to haunt a slasher flick.
Premiering in the SXSW midnight section, the film stars Jasmin Savoy Brown as childhood trauma victim Alexis who witnessed her PTSD-suffering veteran father kill her mother and brother. Of course, she heard none of it because an earlier accident she had lost her hearing. Her tragedy only completes when she takes a hammer to the back of her father's head. As she ends his life, Alexis experiences a strange sequence of lights and colors that leave her exhilarated and smiling, a condition which must surely have confused the police officers investigating the death of the rest of her family. Now, years later, she has recovered her hearing but longs for the orgasmic feeling she experienced as a child killing her father. Teaching music, she spends her nights trying to crack the formula for brutal violence that gave her access to her synesthetic abilities. Facing the terrifying reality that she may be on the verge of losing her hearing again, she dives into gruesome sound experiments creating bizarre torture music with the unknowing help of her roommate Marie (Lili Simmons). Marie is also the unknowing target of Alexis' affection.
The Sound of Violence works because, as horrible as the things Alexis does to create her 'music,' it is impossible to completely blame her. Synesthesia is something that is barely understood and for someone who goes in and out of periods of hearing loss, the wave of sensory bliss must be both overwhelming and undeniably alluring. When it turns out the only way to activate the senses is through violence, Alexis' journey is easy to criticize but certainly logical. Noyes also excels at structure, allowing Alexis to slowly build her experiments up until they reach a maniacal level. The picky critic may wonder where her engineering skills to create the elaborate torture musical instruments come from, but I believe someone who is truly motivated can achieve anything. Think about the lengths to which an addict will go to get their next fix – especially a highly functioning one. Throughout the film Noyer delivers – I'm hesitant to convey pleasurable, but let's say – 'tortured' soundscapes that come from Alexis's disturbed mind, which are terrifyingly brilliant. The production design of the 'kill instrument' is also worthy of being singled out for inventiveness.
Another thing Noyer develops well in The Sound of Violence is Alexis's budding feelings for Marie. It does feel a little bit like the 'Psycho Lesbian' trope, but I am on record (even with my own films) that women and Queers have just as much right to be serial killers as any three-first-named cis white males. When Marie's final turn to get it on with Alexis shifts from 'Romantic Two-Girl Friendship' to 'girl-on-girl-is-hot' I have to say, given the straight male writer/director, it's quite believable and well planted. I'm sure it helps that Jasmin Savoy Brown is Queer and can police any authenticity violations on set, something too few artists consider when casting. Instead of feeling tacked on for titillation, the payoff is handled sensually and non-exploitatively. I do wonder what the film might be like in the hands of a female or queer director. There is always that suggestion that when something goes wrong in somebody's head it's more likely that there is something deviant in their sexuality as well. But like I said, Noyer still sold it for this here Queer. 
Less effective is the underdeveloped B-story of hunting down serial killer Alexis by Detective Fuentes (Tessa Munro), a character I can literally tell you nothing else about other than the previous half of this sentence. Because the murders are so ingenious, it would have been more interesting if the hunt to take Alexis in was just as stimulating. Actually, Marie's boyfriend Duke (played perfectly poseur-pretentious by James Jagger) does a much better job on the hunt. He's also the textbook straight-obstruction to queer contentment (I really feel like that should something I can hyperlink too as well, who do I talk to?). I mean Duke's considerate, good-looking, monied with pretty decent taste in Art, how do you pull a fence-sitter like Marie over to the land of unicorns and rainbows.   
One other missed opportunity, I think there was far more to explore in the story prior to Alexis going full American Psycho. My favorite scene involves Marie and Alexis recording a dominatrix torturing her compliant, leather-clad sex slave so Alexis can record it for her bizarre music. The tension and depth in that 5-minute-sequence is barely approached again through the rest of the running time, and there is not even a kill. Also, it might have been interesting to see more guilt on Alexis's part, not because I'm some sort of morality manager, but because, as a complicated character with her history, Alexis might seek out other methods for tapping into her visions. The fear of losing one's hearing, especially as a musician, would certainly be devastating. I wanted to see her struggle with her choices, and yet still make them.
Still, The Sound of Violence's an excellent slasher flick with a great performance from the lead character. It toys with gore but never feels indulgent. With the supporting elements of production design, sound, and editing, the film really rises above the typical midnighter and should be in perfect harmony with audiences on the genre festival circuit and in their homes. A very solid debut narrative that shows great promise from inside the heteropatriarchy.
– Bears Rebecca Fonté (@BearsFonte)