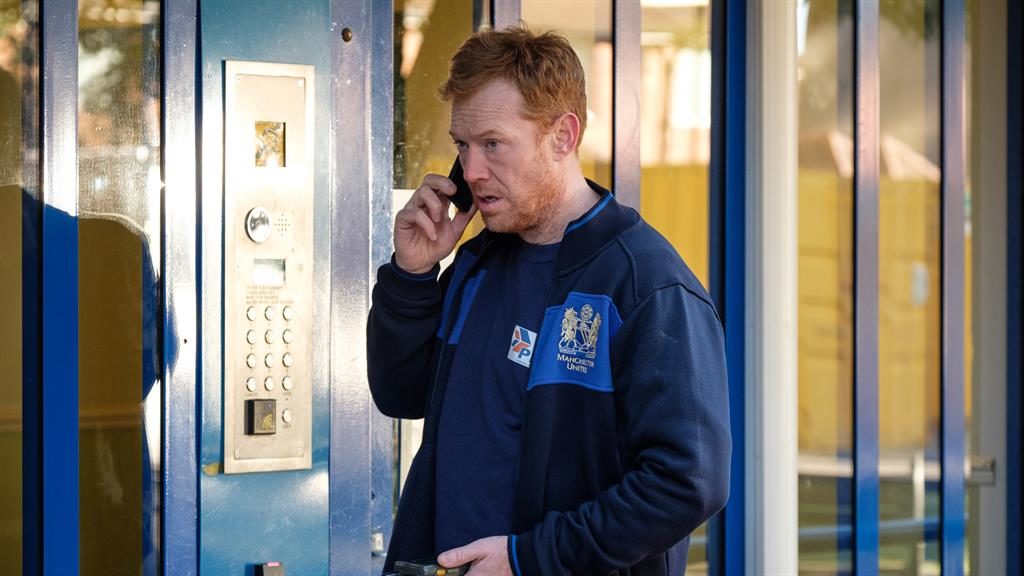 (The 2019 Toronto International Film Festival, or "TIFF"  runs September 5-15. Hammer to Nail has boots on the ground with Matt Delman and Chris Reed covering so keep your browser pointed here! Like what you see here on Hammer to Nail? Why not pay just $1.00 per month via Patreon to help keep us going?)
Ever wonder how your Amazon package gets to your doorstep? Over the years Director Ken Loach has taken a particular interest in Britain's invisible working class. His protagonist in the Palme D'Or-winning I, Daniel Blake was old and injured and could no longer work as a carpenter. This time around his main character Ricky (Kris Hitchen) is able-bodied—you could say he's in his 'prime'. But as soon as we see him put a big down payment on a delivery van, we know he's in trouble.  His son, Seb (Rhys Stone), asks his father, 'What color?' and then matter-of-factly labels him a 'white-van-man,' and that's what he is. But the rules of the game are stacked against Ricky, and all of his fellow drivers. His entrepreneurial hopes quickly turn into a blue-collar nightmare. Despite the film's Kafkaesque qualities, Loach finds time to paint a multi-dimensional portrait of a loving family, which makes it all the more devastating when it all falls apart.
Ricky takes a new job delivering packages, but he's not technically an 'employee.' He's contractor status, which the foreman Maloney (Ross Brewster) pitches to him as 'being his own boss.' Not exactly…the logistics company that oversees the operation is taking advantage of labor laws. Ricky's wife Abbie (Debbie Honeywood) also works long days. She tends to the elderly and the disabled, and now must take the bus after selling her car to afford the down payment on the delivery van. She's the heart of the film, and Loach does a fine job packing her with emotional resonance—like in the scene where she breaks down crying while one of her elderly clients brushes her hair. They have a daughter, Lisa, who serves as another bright spot. A day on the job with dad delivering packages and earning extra tips is one of the film's happy moments, of which there are several. (Loach affirms that Indian takeaway is one of life's transcendent pleasures).
But difficulties and bad fortune abound, overriding any sense of progress. The narrative arc of the story feels more like quicksand. When Ricky tried to get a day off to deal with his rebellious teenage son, Maloney gives him a sermon about how he uses workers' constant complaints as fuel to build a 'protective shield' around his depot. A more stirring speech happens later when the policeman who arrests Seb for shoplifting attempts to get through to the boy by pointing out his father's love and dedication. It's telling that the most decent characters work for the government, and that Ricky's similar dedication to his shitty materialistic job may eventually kill him.
The script is by Paul Laverty, who also collaborated with Loach on I, Daniel Blake and many of his other films. The cinematography is by Robbie Ryan, who is another frequent collaborator, and who has also worked with Yorgos Lanthimos (The Favourite), Andrea Arnold (American Honey) and Noah Baumbach (The Meyerowitz Stories), to name a few. Here he favors naturalism over the stylized approach of some of his other work. Casting mainly unknown actors helps to achieve the realism Loach is aiming for, as it may have been harder to believe a famous celebrity in a losing battle with capitalist society. The radiant casting by Kahleen Crawford must be commended.
It's safe to say you will never look at a deliveryman the same way after seeing Sorry We Missed You. Loach's films are empathy-vehicles, and we're fortunate to take the ride from a seat of privilege. The ending is taken a bit to the extreme, but it's a fitting dystopian send off for Ricky, and perhaps not as hyperbolic as it initially seems. We're reminded of the simple truth that some folks don't have the luxury of a day off.
– Matthew Delman (@ItsTheRealDel)
Like what you see here on Hammer to Nail? Why not pay just $1.00 per month via Patreon to help keep us going?