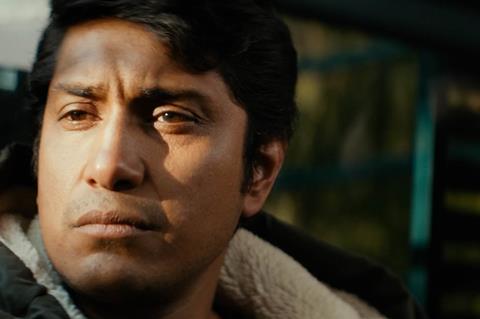 (The 2021 Sundance Film Festival runs January 28- February 3, all virtually as well as with drive-ins sprinkled around the U.S.. Hammer to Nail is bringing you a ton of coverage so, keep coming back! Like what you see here on Hammer to Nail? Why not give just $1.00 per month via Patreon to help keep us going?)
Memory, art, and science collide and float beautifully together like the titular butterfly in Alexis Gambis's film, Son of Monarchs (Hijo de Monarcas). From the opening close-up shot of a butterfly cocoon being carefully dissected in a lab, to the following breathtaking scene of two young brothers witnessing large packs of monarchs converging in bundles in the trees of the Mexican forest, you can tell that this film will be something special. 2021's winner of Sundance's Alfred P. Sloan Prize, the film not only tells a story of an immigrant's struggle with identity, but also turns the focus away from Mexico's social and political issues (though it doesn't ignore them) and onto the true beauty of its nature and traditions.
The film centers on Mendel (Tenoch Huerta, in a striking performance), a Mexican-born biologist living in New York studying the colors of butterflies, who often reflects back on his childhood in the village of Michoacán with both fond and painful memories. Early in the film, Mendel gets called back home for the first time in years to attend the funeral of his grandmother, who not only raised both him and his brother after their parents' death in a flood but whose influence also inspired him to pursue his scientific dreams. He is welcomed back warmly by his remaining relatives and old friends, with the bitter exception of his older brother Simon (Noé Hernández), who clearly harbors deep resentment toward Mendel for having left. The two brothers' relationship in the present is a huge contrast from their more close bond during their childhood where a younger, more curious Mendel looked up to Simon.
More than half the film shines a light on Mendel's life in New York, where he devotes much of his time to his research, along with entering a chance romance with HRC paralegal Sarah (Alexia Rasmussen), whose hobby as a trapeze artist also intertwines with the film's serene imagery of monarchs at flight. The film relies heavily on different kinds of imagery and sequences to explore Mendel's emotional state, from nightmares of being tangled in vines underwater, to a window cracking into butterfly-like veins, to a close-up shot of a lifeless butterfly in a cocoon being carefully scissored open.
Scars of the past take a toll on Mendel in the present, making him withdraw from Sarah and react unemotionally to his research being published, much to the slight concern of his personable, knowledge-hungry supervisor (William Mapother). And out of an obsession with the iconic butterfly he is researching, he gets his arm tattooed using Monarchs' vividly orange ink extracted from their wings in the lab. It is until he returns to Michoacán for his niece's wedding where he finally confronts his brother about what really happened the night their parents died does he get closer to a feeling of closure and peace.
A former biologist himself, Alexis Gambis penned the film with enough insight to make it seem personal to both his own Latin and scientific roots. The result is a work of pure empathy and warmth with characters conceived from a place of care and unity. Not too often has Mexico been portrayed in modern cinema for the beauty of its nature and its peoples' sense of togetherness. Gambis's direction and Tenoch Huerta's performance sublimely coexist to tell a uniquely layered story of an immigrant's fractured sense of identity in an ever-changing world. An overall harmoniously coherent pairing of science and cinema.
– M.J. O'Toole