THE CURBSIDE CRITERION: SOME LIKE IT HOT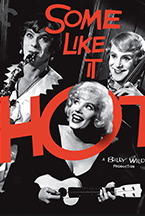 (We here at Hammer to Nail are all about true independent cinema. But we also have to tip our hat to the great films of yesteryear that continue to inspire filmmakers and cinephiles alike. This week, our new addition to the site, "The Curbside Criterion" continues where HtN staff can trot out thoughts on the finest films ever made. This week Brad Cook dresses down the new Blu of Billy Wilder's beloved Some Like it Hot. Like what you see here on Hammer to Nail? Why not pay just $1.00 per month to help keep us going?)
The hard copy essay by film writer Sam Wasson included in this Criterion release of Some Like it Hot begins: "Most great movies are great, as their admirers show us, because they contain hidden multitudes. These great movies, they are palimpsests, rich in layered meaning and subtle complexity. 'Look again,' we're told (and tell each other). 'There's even more in there the second time around.'"
After continuing to extoll the virtues of great movies, Wasson quips: "Some Like it Hot is not one of these movies."
This film is, in many ways, a precursor to the tropes found in modern sitcoms, such as Tom Hanks and Peter Scolari dressing as women to get a cheap apartment in Bosom Buddies or John Ritter pretending to be gay to also get cheap accommodations in Three's Company. Someone has surely written an academic paper about movies and TV shows depicting people pretending to be something they're not for financial reasons, and what that says about our modern society.
Desperation is also the driving force behind cross-dressing in Some Like it Hot: After witnessing the infamous St. Valentine's Day Massacre, Joe (Tony Curtis) and Jerry (Jack Lemmon) try to flee so they're not whacked too, but dire straits force them to dress as women so they can join an all-female band on a train headed to Miami. The band's vocalist and ukulele player is Sugar Kane, played to sultry perfection by Marilyn Monroe.
Joe and Jerry find themselves competing for Sugar's affection, and when they arrive in Miami, Joe further complicates the situation by adopting an alternate persona: Junior, a Shell Oil heir who plays hard-to-get with Sugar. Meanwhile, a real millionaire, Osgood Fielding III (Joe E. Brown), makes his move on Jerry, who's still in disguise. Many complications ensue along the way to a satisfying conclusion.
However, don't let the contents of this review so far make you think that Some Like it Hot is a mere trifle that could have been pared down and aired on ABC on a Thursday night in 1979. The screenplay by director Billy Wilder and I.A.L. Diamond is whip smart, with plenty of quotable lines and a near-perfect storytelling rhythm. Curtis, Lemmon, and Monroe all turn in top-notch performances, and there's a crackling energy on the screen that has a "They don't make 'em like this anymore" quality to it. (Yeah, okay, get off my lawn.)
In addition, don't forget that this movie was released in 1959, when mainstream America was still very conservative and the idea of two men cross-dressing on-screen for much of a movie was risqué for many theater patrons. There was a bit of "Think about the children!" handwringing that accompanied its debut nearly 60 years ago, which makes it worth your time simply for that reason.
Or, if you don't care about such things, consider what Wasson says about Wilder when noting that the director was thrilled with audiences' uproarious reaction to the movie's famous last line: "That's what mattered to Billy Wilder: the laugh. A man with a message to deliver to is audience would have had his ending in mind from the beginning; Wilder just wanted us to have fun, and as the line makes clear, any kind of fun, any way we can – or, when life gives you lemons, make a martini."
This new Criterion Blu-ray edition of Some Like it Hot features a sparkling 4K digital restoration with the uncompressed monaural soundtrack, if that's important to you. It also offers this fine menu of bonus features:
Costumes by Orry-Kelly (19 minutes): The only new piece created for this disc, it features two costume historians, Deborah Nadoolman Landis (who's also a costume designer) and Larry McQueen, talking about Orry-Kelly's Oscar-winning work on the movie. Unsurprisingly, the costumes were a key part of the film's success.
A commentary by film scholar Howard Suber that was recorded for Criterion's 1989 laserdisc release of the movie. It's one of those "film class on a disc" tracks that Criterion is famous for.
Billy Wilder and Dick Cavett (56 minutes): Another throwback piece, this interview aired over two days in January 1982. It covers Wilder's career from his early days in Germany and includes plenty of interesting stories from his many years of filmmaking.
Marilyn Monroe (9 minutes): This is a 1955 audio interview with the actress about her career at that time. It's a shame that she tends to be remembered only one way. While she was never going to rival, say, Katherine Hepburn, she had some acting chops and excelled in roles that fit her well, such as Sugar Kane in Some Like it Hot.
Jack Lemmon (10 minutes): This 1988 interview with the venerable actor is from a French TV show and covers his work on the movie.
Tony Curtis and Leonard Maltin (32 minutes): Shot in 2001, Maltin interviews Curtis about Some Like it Hot.
Behind the Scenes (60 minutes total): This is three separate making-of and remembrance pieces created by MGM/UA for various home video releases between 2001 and 2006. Wilder, Curtis, and Lemmon participated in these, along with people like late director Curtis Hanson.
Like what you see here on Hammer to Nail? Why not pay just $1.00 per month to help keep us going?
– Brad Cook (@BradCWriter)