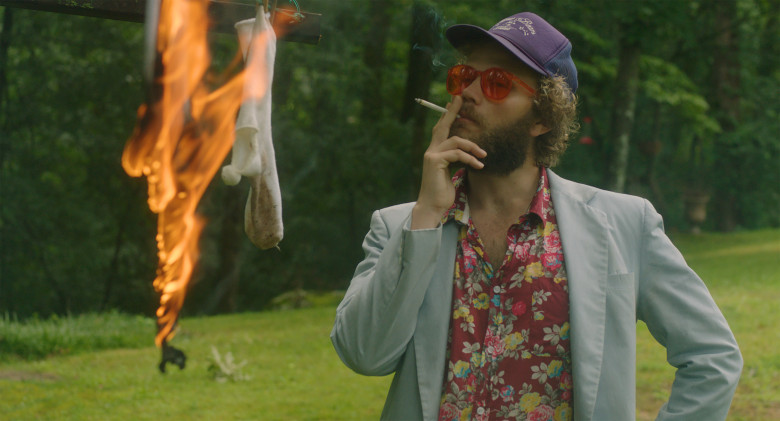 (Like many other film festivals, the 2020 Tribeca Film Festival was physically cancelled but has moved online. Hammer to Nail is excited to bring you our usual amazing coverage so keep an eye out! Like what you see here on Hammer to Nail? Why not give just $1.00 per month via Patreon to help keep us going?)
Socks are, indeed, on fire in director Bo McGuire's appropriately titled documentary portrait of his family history, Socks on Fire. Still, there's more to the story that burning foot covers, which here, up in flames or not, are a metaphor for the airing (and scorching) of one's dirty laundry. As much a meditation on American southern identity as anything else, the film approaches its material, hardly new in the canon of personal stories brought to cinematic life, through the prism of McGuire innovative eye and penchant for hybrid techniques, mixing staged sequences and moments of directorial sleight of hand to create a powerful tribute to the resilience of idiosyncrasy. Let us all be who we were meant to be, and may the haters vanish in the smoke of their own inferno.
McGuire, making his feature debut, is also the movie's central protagonist, sauntering through the locations like a stylish master of ceremonies, his hat and suit a ubiquitous presence as he explores the tragedy of his grandmother's death and its consequences. Though initially a loving group, his mother's generation had, over the years, suffered differences of opinions about their youngest sibling, McGuire's Uncle John. His Aunt Sharon, especially, as she grew more religious, became ever more disgusted with her brother's homosexuality and, worse, love of drag. This is not what Alabama was to her, and upon Nanny's passing, she refused to accept that the matriarch's house go to John. Court battles ensued; internecine strife is the worst.
None of these details do we learn in direct ways, for McGuire has a different agenda than mere storytelling. Instead, he is here to weave a mystic fable of loss and recovery, slowly feeding us elements that illuminate small parts of the larger whole. It's a wonderful way to go about it, given that homophobia among the devout and bigoted is nothing surprising. Indeed, what intrigues about Socks on Fire is McGuire's poetry, both visual and spoken, enveloping us in the past, present and future of the director's clan and the simultaneous specificity and universality of their tale. Each unhappy family may, according to Tolstoy, be unhappy in its own way, but most families, happy or not, have some discord beneath the veneer of contentment. We can all relate.
McGuire has a lot of fun with the mise-en-scène, creating scenes with actors as earlier versions of his subjects, and even allowing these actors to engage with their real-life counterparts and with him, blending the world of fact and fiction in a way both revealing and highly entertaining. He also employs other methods, such as floating objects and symbolic smoke, that further push the work towards the realm of hybridity, without ever seeming to sacrifice the essential truth of the narrative. Form and content meld into a vivid celebration of individuality, making of Socks on Fire a visionary evocation of the human will to live on one's own terms.
– Christopher Llewellyn Reed (@ChrisReedFilm)