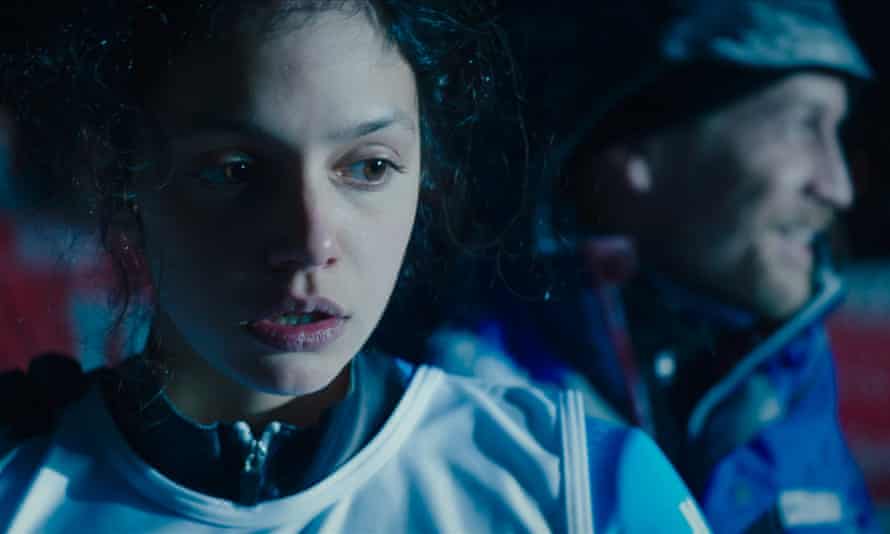 (Director Charlène Favier's debut narrative feature Slalom is available now via Kino Lorber. Like what you see here on Hammer to Nail? Why not give just $1.00 per month via Patreon to help keep us going?)
The most dangerous moments in Slalom, French director Charlène Favier's debut narrative feature, come not on the open ski slopes, but in the training areas, away from prying eyes. There, coach Fred claims his prerogative over star athlete Lyz, all of 15 years old. Though she appears to want a connection with this surrogate father figure (her own dad long absent), it is hardly of the kind he initiates. Still, she emerges as more than a mere victim, but a strong-willed survivor capable of reclaiming agency, no matter the obstacles. In this complex, disturbing film, inspired by Favier's own past as a competitive skier, though the right and wrong of everything may be clear, the path between the two is murky. Beautifully photographed and acted, Slalom offers powerful twists that engage at every turn.
When first we meet our protagonist, we see and hear but blurry body parts and heavy breathing, foreshadowing the unwelcome events to come. In this opening, Lyz (Noée Abita, Genèse) is one of a group of young hopefuls, all working out under the severe, watchful eye of Fred (Jérémie Renier, Double Lover). She joins her fellow wannabes in a combined scholastic/athletic boarding program, her mother stopping by at the start to see her off. The stakes are high for all involved, as they dream big, the Olympics their end goal. Lyz wants the big prize, as does Fred, his own career cut off many years prior due to injury.
Slowly, via barked commands, sullen responses and lingering gazes, a rapport of sorts develops, especially once Lyz proves herself better than her classmates. She's hungry, not only for the win, but for approval, especially given her mother's frequent absences from the competition sidelines. As she becomes the school's obvious chance at the big time, Fred's interest grows, and for a bit, there's nothing too inherently wrong with that (though he could, in general, be less overall abusive as a pedagogue). But then he acts on an impulse both morally indefensible and criminal. It's a betrayal with profound consequences.
Do not expect easy solutions here, however, for Favier is far more interested in exploring the corrosive effects of Fred's breach of trust, and by extension that of all men in positions of power who do the same. She simultaneously allows room for the usual adolescent longings, here never allowed to fully blossom, which complicate Lyz's reaction. This doesn't mean that Favier excuses what Fred does; in fact, it makes it even more terrible, for he robs Lyz not only of innocence but of the pleasure of enjoying her first crush. 
Both Abita and Renier do remarkable work here, the former perfectly encapsulating teenage confusion and the latter humanizing monstrous acts (indeed, they are so horrible because so human). Favier's cinematographer, Yann Maritaud (Cuties), is an equal partner in the raw intimacy of the scenes, bringing the camera in close so we can't look away. Not all is terrible, for underneath the trauma is a determined soul finding her way. 
Shot in and around the majestic scenery of Val-d'Isère, the movie further elevates its urgent drama, setting it against the gorgeous, if unforgiving, landscapes of France's Alpine southeast. The score, by a trio of composers (Alexandre Lier , Sylvain Ohrel and Nicolas Weil), does what music should do, accompanying and gently underlining emotions without overwhelming them. As difficult as Slalom may be to watch, at times, everything comes together in flawless synchronization, flowing smoothly, if steeply, into the heart of the matter. The battle between characters may be undecided, but we have a clear cinematic winner, for sure. 
– Christopher Llewellyn Reed (@ChrisReedFilm)