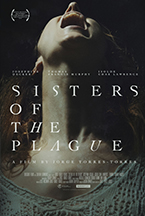 Jo (Josephine Decker) makes a living in New Orleans by telling ghost stories. She leads walking ghost tours around the French Quarter and participates in performance art pieces ("Haunted Gatherings") inside supposedly haunted locations. Her mother was a psychic, and Jo too feels a intrinsic connection with spirits. One particular spirit seems to be haunting her, prompting a string of nightmares and hallucinatory visions, which lead Jo on a quest to find out the truth about the mysterious death of her mother.
All the while, Jo cares for her alcoholic father (Thomas Francis Murphy) who spends his waking hours coughing up blood, drinking beer and screaming profanity. Having lacked the love and attention of her father for a majority of her life, Jo sees this as an opportunity to finally get to know him, even if he is a bitter and belligerent drunk. There is also an ulterior motive, Jo suspects her father is most likely withholding information about her mother's death.
When Jo is not around, the burden to take care of her father reluctantly falls upon her girlfriend, Kate (Isolde Chae-Lawrence). Jo sees this as an opportunity for Kate and her father to get to know each other, but Kate would prefer not be around a dying man. As you might expect, the presence of Jo's father in their household puts a tremendous strain on their already fragile relationship.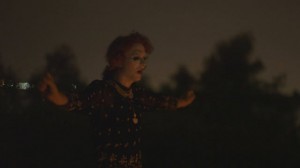 Unveiled at Outfest 2015, Jorge Torres-Torres' (editor of Toad Road and Felt) Sisters of the Plague is a subtle and unassuming ghost story. With limited use of special effects, Torres-Torres' feature-length narrative debut relies heavily upon the naturally eerie atmosphere of the French Quarter and no holds barred performances by the principal characters to convey the film's otherworldly turmoil. That said, the acting is remarkably realistic, steering clear from the Hollywood caricatures of these character types that we know all too well. As the possibly possessed psychic, Josephine Decker's convulsive and hysterical performance never feels staged; she goes just far enough to seem frightened as all hell, but never crosses the line into parody. We experience the intensity of Jo's visions via Decker's facial expressions; other than her labored gasps for air, Decker's fear is expressed mostly without vocalization. Thomas Francis Murphy takes his role as the drunken curmudgeon and transforms it into a brutally authentic human being, never once succumbing to Hollywood's stereotypes of drunkenness. Despite his character's gruffness, there is an innocent twinkle in Murphy's eyes that provides a certain glimmer of charm. Most importantly, every word that comes out of Murphy's mouth is as wholeheartedly believable as the blood that is conjured up from his lungs.
The most remarkable aspect of Sisters of the Plague is Ashley Connor's sublimely intuitive cinematography. Connor's camera exists in a perpetual state of motion, floating around the film's subjects with the restlessness of an uneasy spirit. Maintaining an intimate proximity to the actors, Connor uses gliding and sweeping movements to accentuate the shapes of their bodies, sometimes predicting and other times echoing their movements. The closeness provides a unique sensuality to Connor's work (as seen in Butter on the Latch, Thou Wast Mild and Lovely and Funny Bunny), as her camera emits feelings and emotions, essentially becoming a character within the film.
It is interesting how Jo and Kate's relationship subtly shapes the narrative. By giving Jo a female partner, it seems to grant Jo a certain level of independence. Horror films are traditionally a masculine genre, but there is a refreshing lack of masculinity in Sisters of the Plague (even the haunting spirit is female). Both Jo and Kate are able to retain their femininity, and other than a few feeble attempts at guilt trips, Kate does not try to control Jo's actions; we can only assume that a male partner would have played a more active role in the direction of Jo's story. It is not to say that they are directionless, but Jo and Kate tend to act on instinct and emotion, which lends a distinct fluidity, borderline haphazardness, to the narrative. You might even go as far as saying that this feminine narrative approach makes Sisters of the Plague one of the most unpredictable horror films of recent memory.
– Don Simpson (@ThatDonSimpson)