SIMONE: WOMAN OF THE CENTURY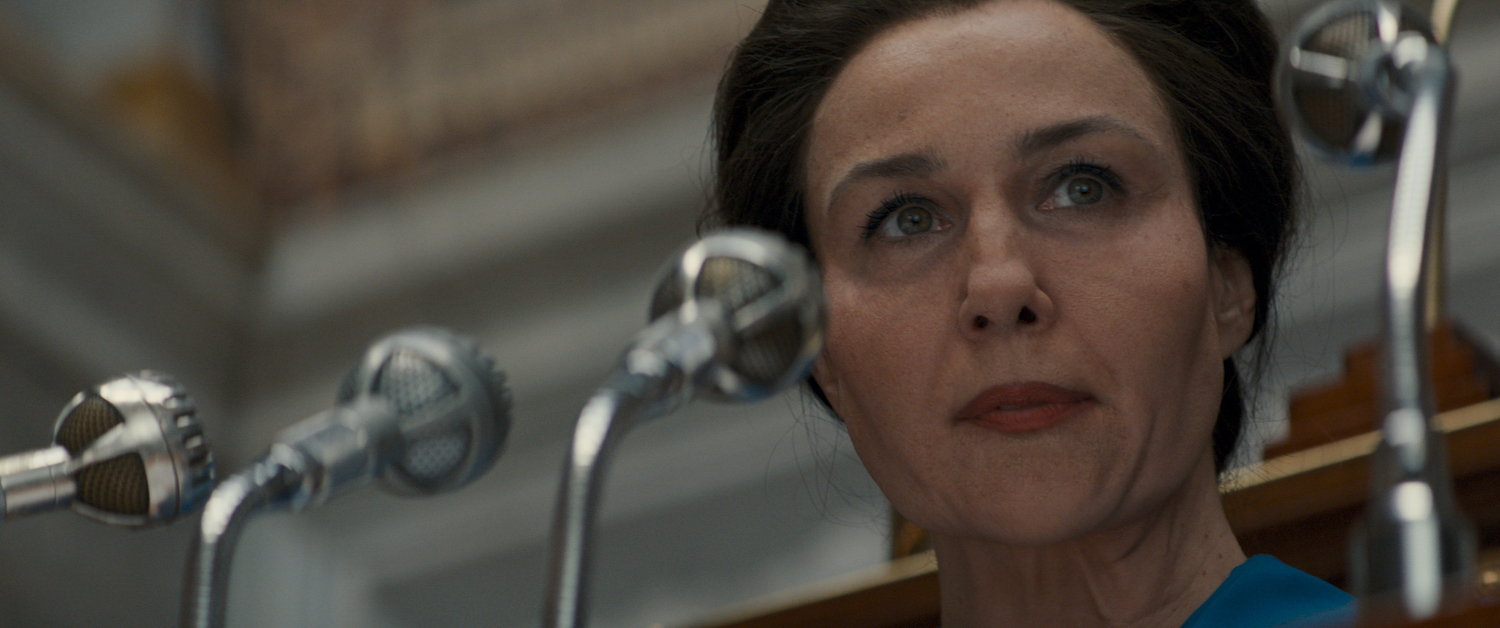 (Check out Chris Reed's movie review of Simone: Woman of the Century, in theaters August 18. Seen it? Join the conversation with HtN on our Letterboxd Page.)
The French politician Simone Veil (1927-2017)—not to be confused with French philosopher Simone Weil—suffered unbearable trauma and tragedy early in life, yet used those experiences to improve the lives of others. A Holocaust survivor whose parents and brother perished in death camps, she became a champion of the dispossessed as a lawyer, magistrate, and then government minister. In 1974 and 1975, she led the movement to decriminalize abortion in France, an effort still celebrated today. She was quite the shero.
In his latest biopic, Simone: Woman of the Century, director Olivier Dahan (Grace of Monaco) explores the life of this remarkable woman, casting two different actresses in the lead role (not counting the child version). They are Rebecca Marder (Deception)—who plays Simone from her teen years to about 40—and Elsa Zylberstein (Isn't She Lovely?), who takes it from there. Given that Dahan cuts back and forth through time, intercutting different moments as the narrative allows, we alternate between the two of them, their performances blending into one portrait.
Born Simone Jacob and raised in Nice, in the south of France, in a family of atheist Jews, Simone saw her life shattered with the arrival of the Germans and the division of France into occupied and collaborationist zones. Though they successfully hid in plain sight for a while, the Jacobs were eventually rounded up in 1944 and sent to concentration camps. Simone, her mother, and sister Madeleine (aka Milou), ended up in Auschwitz.
Her father and brother, Jean, vanished, most likely further east, and were never seen again, while her other sister, Denise, initially served in the resistance before also being deported (she, too, would survive). From Auschwitz, Simone, Milou and mom walked as part of the 1945 "Death March," final destination the Bergen-Belsen camp. There, mom would perish, though Milou and Simone made it to liberation.
We only gather the full details over the course of the film, Dahan reserving the worst of it until after we have come to know the older Simone and see her accomplishments. She married Antoine Veil after the war, and at first, though they had both been students at the prestigious Sciences Po (short for "l'École Libre des Sciences Politiques"), Simone was relegated to the role of housewife and mother (of three boys). This interlude would not last long.
Soon, with the grudging support of her husband (who, though loving, wondered who would take care of the kids if they both pursued careers), Simone went back to school, got her law degree, and then worked her way up the ranks of the Ministry of Justice to improve the lot of prisoners, particularly women prisoners. She would always hearken back to her internment days and think, "We can and should do much better."
By the time we get to the 1974/5 abortion debates (and before that, contraception debates), she is France's Minister of Health. Soon, she will become the European Parliament's first President, in 1979. And on and on, always promoting women's rights and looking out for the oppressed (including AIDS patients upon her return to national government in the 1990s).
Hers is an inspirational life. Simone: Woman of the Century mostly does her proper cinematic service—as do Marder and Zylberstein—though at times we might wish that Dahan would trust the story without needing to underline big, dramatic moments with music. The score threatens to overwhelm the performances, in places. Overall, however, this biopic proves a worthy tribute to its incomparable subject.
– Christopher Llewellyn Reed (@ChrisReedFilm)
Samuel Goldwyn Films; Olivier Dahani; Simone: Woman of the Century movie review